About this Event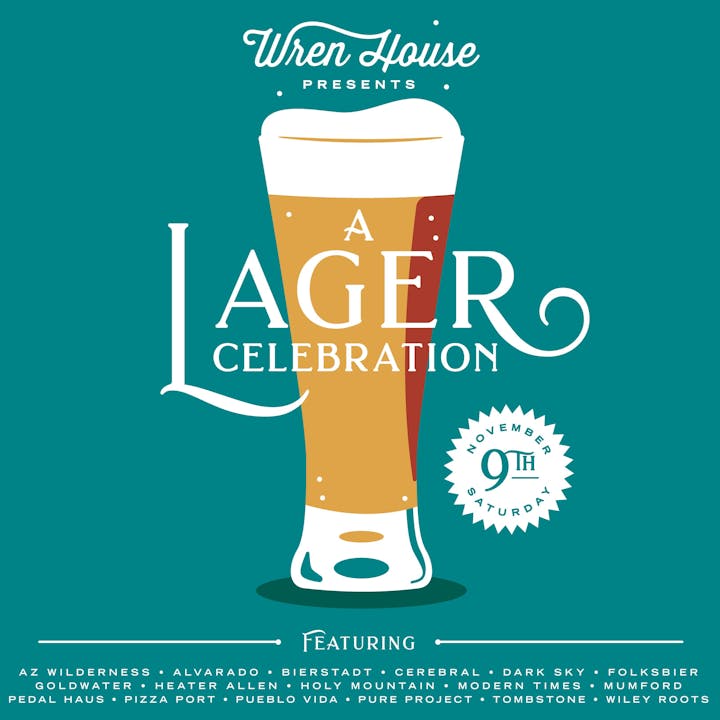 We are incredibly excited to announce a project we've been working on and dreaming of for a few years!!! Coming Saturday, November 9th, we'll be hosting "A Lager Celebration" with some of our friends, peers and most importantly, the best lager makers in the industry! This isn't a beerfest free-for-all that we're all familiar with. It's intentionally small and aimed to be a place we can all relax, enjoy, converse and share our mutual passion and respect for the style. It'll take place at Galvanize in Downtown Phoenix and will hopefully become a thing for many years to come!
Where is it at?
Galvanized Phoenix @ 515 E Grant St, Phoenix, AZ
What Breweries are attending and what brands?
Alvarado CA - Monterey Beer & Peninsula Pilsner
Arizona Wilderness AZ - Ocktober Forest, Camp Light, Picture Perfect, & Specialty Beer
Bierstadt CO - Slow Pour Pils
Cerebral CO - Character Reference & Tactical Maneuver
Dark Sky AZ - This is Livin' & Weight of Sound
de Garde OR - F.A.I.L.
Folksbier NY - OBL & Wisen Beer
Goldwater AZ - Hoppy Lager & Chida Vida
Heater Allen OR - Pils & Rauchbier Hell
Holy Mountain WA - Low Drone & Athanor
Modern Times CA - Ice & Gin Ice
Mumford CA - Festival Lager
Pedal Haus AZ - Light Lager & Hoppy Lager
Pizza Port CA - tbd
Pueblo Vida AZ - Stadt Bier & Elskalt Oktoberfest
Pure Project CA - Rain & Shirebourn
Tombstone AZ - Munich Dunkel & Doppelbock BA
Wiley Roots CO - Local Beer & Festbier
Wren House AZ - Little Spill Pils, Pollinator, Valley Beer, Little Spill Pils, Senor Gallo, & HydroLager
(subject to change)
What time is the event?
The festival will take place over a single session on Saturday, Nov 9th, 2019. The session will run from noon to 4:30 PM. Last call will be at 3:45 PM and last pour 4:00 PM
Is the event indoors?
Yes
Is there an age limit?
All attendees must be at least 21 years old with a valid ID.
What can I bring?
Please no pets, children, or strollers. Do not bring any coolers, canopies, umbrellas, or tables. Bags are permissible but are subject to security inspection upon entry into the festival. No weapons of any kind are permitted.
What do I get with my admission?
The General Admission ticket gets you a branded stemmed lager glass taster. Once inside the event, you'll have access to twenty 4 ounce pours from the breweries on our list!
Will there be food?
There will be food available for purchase provided by Moonrise Standard, Arcadia Meat Market, and Nelson's Meat + Fish.
Who will be pouring the beer?
Representatives from each brewery
Which beers will be served?
All things lager!
Where do I park?
We strongly encourage that attendees use services like Uber, Lyft, or local taxis. There are parking spaces at the venue and the street.
How do I enter the event?
Bring an e-ticket via the eventbrite app or print them out and bring them with you.
Will there be enough beer?
Some breweries will kick their kegs before last call, but we will do our best to avoid this.
How do I apply for media passes?
Send an email with your request to allister@wrenhousebrewing.com. Please include the name of your publication or account and your estimated reach.
The Rules
Please DO NOT bring outside food or open any cans/bottles during the festival.
It's a celebration and we want everyone to have a good time, but anyone that's visibly intoxicated and acting inappropriately will be asked to leave. There is no re-entry to event grounds. Once you exit, you must leave the premises.
Tickets are non-refundable and subject to applicable taxes and fees, as well as changes. All sales are final!