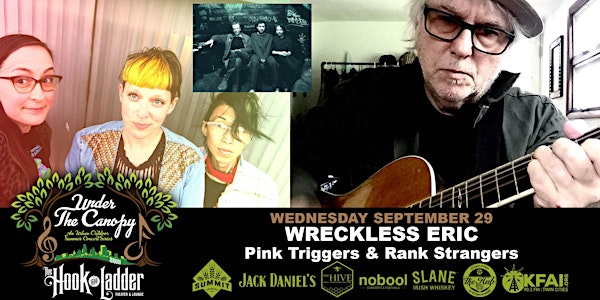 Wreckless Eric with guests Pink Triggers, Rank Strangers
UnderCurrentMPLS, Summit Brewing, Jack Daniels, Slane Whiskey, & Nobool
Event Information
Performers
Wreckless Eric
Pink Triggers, Rank Strangers
Location
The Hook and Ladder Theater
3010 Minnehaha Ave
Minneapolis, MN 55406
Under The Canopy - Wreckless Eric with guests Pink Triggers & Rank Strangers
About this event
===============
Hook and Ladder Theater COVID-19 Policies – Effective Immediately
*** All Hook and Ladder Theater performances will require guests show proof of full Covid-19 vaccination for entry.***
Acceptable forms will include any digital, photo-copy or hard-copy card that matches the individual's state-issued ID. We REQUIRE all guests to wear masks indoors while visiting our facilities, unless actively eating or drinking.
The Hook recognizes all CDC and MDH guidelines as relates to capacity, safe-distancing, hand-washing, sanitation, masking, etc. The mandates are constantly changing, so please read the eMail (sent to all attendees 31 hours prior to event) or check online for our current covid-19 policies & protocols.
By purchasing a ticket to this event, you and your party agree to abide by: The Hook's Code Of Conduct. Found online at http://uptownvfw.org/code-of-conduct.
NO REFUNDS
===============
UnderCurrentMPLS, Summit Brewing, Jack Daniels, Slane Irish Whiskey, The Hive & Nobool Presents
Wreckless Eric
with guests Pink Triggers, and Rank Strangers
Wednesday, September 29
Under The Canopy at The Hook and Ladder Theater
"An Urban Outdoor Summer Concert Series"
Doors 6:00pm :: Music 7:00pm :: 21+
Tickets*: $15 ADV / $20 DOS - General Admission
* Does not include Fees
** Must purchase the entire pod of seats
** In the event of further reduced capacity, tickets will be honored in the order they were purchased. Reserved seating will be first priority.**
RAIN or SHINE
-----
As Wreckless Eric he needs little introduction — he wrote and recorded the classic Whole Wide World and had a hit with it back in 1977. Since then it's been a hit for countless other artists including The Monkees, Cage The Elephant and most recently for Billie Joe Armstrong of Green Day.
As Eric Goulden it's a little more complicated - a musician, artist, writer, recording engineer and producer, he didn't like either the music business or the mechanics of fame or the name he'd been given to hide behind, so he crawled out of the spotlight and went underground. He went on to release twenty something albums in forty something years under various names - The Len Bright Combo, Le Beat Group Electrique, The Donovan Of Trash, The Hitsville House Band, and with his wife as one half of Wreckless Eric & Amy Rigby, finally realizing he was stuck with the name Wreckless Eric.
Eric's three most recent albums 'amERICa', Construction Time & Demolition and Transience are widely praised as his best work to date. His albums encapsulate pop, bubblegum, garage trash and psychedelia. His live performance is a sonic journey through time and space incorporating songs from all stages of his long career. Unmasked, unhinged and still alive - a survivor of Covid-19 (resulting in a near-fatal heart attack), Eric presents himself alone if not simply with electric and acoustic guitars, electrified harmonica, piano and electronics of his own making.
"The achievement for Wreckless Eric is to have made new music that connects to old music without maudlin nostalgia or huffy defensiveness, refusing to let age dim the passion for the music that means the most to him. In other words, he rocks." ~ Ken Tucker, FRESH AIR / NPR
"burns like a lost Crazy Horse classic." ~ Ben Graham, SHINDIG! 
"a scarily powerful and forward-moving musical threat." ~ David Quantick , MOJO MAGAZINE
ABOUT THE SUPPORT BANDS FOR THIS SHOW:
Pink Triggers is a garage grunge punk band from Minneapolis, formed in 2019. 
Rank Strangers makes original independent rock music, based in Minneapolis, established 1990. Their extensive discography includes 19 full-length, extended play, or single releases plus numerous benefit/tribute/sampler projects.
SET TIMES:
6PM Doors Open
7PM Rank Strangers
7:45 Pink Triggers
8:30 Wreckless Eric
Show is done by 10PM
Food & Beverage
The Hook & Ladder Theater boasts a full bar with exciting signature summer drinks, ice cold Summit Brewing beer and has also partnered with food vendors to present an exciting summer menu along with a number of scheduled 'pop-up' chef appearances. Make it dinner and a show Under the Canopy!
-----
Thank you to our supporting partners: Summit Brewing, Jack Daniels, Slane Irish Whiskey, The Hive Realty, Nobool Presents, KFAI 90.3FM, The Hub Bike Co-op, Music In Minnesota, Geek Love Cafe, Moon Palace Books, Lake Street Council, & The MN State Arts Board
-----
COVID Safety
If you have any covid symptoms stay home!
Arrive early to allow time to get into the venue and your seats.
Wear a mask indoors while visiting our facilities, unless actively eating or drinking.
Respect the space of others.
Enjoy The Show!
The health and safety of our guests, artists, and staff is our top priority. We are monitoring the situation closely and will continue to follow the guidance and recommendations of the Minnesota Department of Health. Thank you! 
The Hook's current covid-19 policies & protocols.
You are solely responsible for assessing and implementing the appropriate safety and security measures for yourself.  Your participation in safe practices is required.  Continued violation of social distancing and unsafe practices may cause you to be asked to leave the event.  
What's expected of attendees:
The World Health Organization, Center for Disease Control and the Minnesota Department of Health all have resources and guidelines available to understand the risks of attending events.  Your understanding of this information provided by the above mentioned agencies is your responsibility.
We require that attendees self-certify that they do not have symptoms, have not been diagnosed with or had direct contact with a known or suspected COVID-19 case in the past 14 days, and will comply with the event's safety policies and procedures including wearing face covering, physical distancing, and other determined requirements. Violation of policies will cause removal from the event.
Waiver:
By purchasing a ticket and or attending the event automatically begins the Assumption of the Risk and Waiver of Liability Relating to Coronavirus/COVID-19.
Assumption of the Risk and Waiver of Liability:
The novel coronavirus, COVID-19, has been declared a worldwide pandemic by the World Health Organization. COVID-19 is extremely contagious and is believed to spread mainly from person-to-person contact. As a result, federal, state, and local governments along with health agencies recommend social distancing and have, in many locations, prohibited the congregation of groups of people. The Hook and Ladder Theater has put in place preventative measures to reduce the spread of COVID-19; however, we cannot guarantee that you will not become infected with COVID-19. Further, attending events could increase your risk of contracting COVID-19.
As our guest you will agree to the following assumption of risk and waiver of liability: "By purchasing a ticket, I acknowledge the contagious nature of COVID-19 and voluntarily assume the risk of being exposed to or infected by COVID-19 by attending events and that such exposure or infection may result in personal injury, illness, permanent disability, and death. I understand that the risk of becoming exposed to or infected by COVID-19 at the event may result from the actions, omissions, or negligence of ticket holders and others, including, but not limited to, employees, volunteers, and program participants and their families. I voluntarily agree to assume all of the foregoing risks and accept sole responsibility for any injury to my guest(s) or myself (including, but not limited to, personal injury, disability, and death), illness, damage, loss, claim, liability, or expense, of any kind, that I or my guest(s) may experience or incur in connection with my guest's attendance at the event or participation in concert programming ("Claims"). On my behalf, and on behalf of my guest(s), I hereby release, covenant not to sue, discharge, and hold harmless The Hook and Ladder Theater, its employees, agents, and representatives, of and from the Claims, including all liabilities, claims, actions, damages, costs or expenses of any kind arising out of or relating thereto. I understand and agree that this release includes any Claims based on the actions, omissions, or negligence of the The Hook and Ladder Theater, its employees, agents, and representatives, whether a COVID-19 infection occurs before, during, or after participation in any event program."
To ensure the safety of our staff and guests, we are asking you to assess any symptoms you may have prior to attending the Event. Please review each symptom listed below and answer "yes" or "no" if this is a symptom that you or your guest(s) are experiencing and cannot attribute to another health condition. You must simply answer these questions for yourself.
Do you have:
* Fever or feeling feverish?
* Chills?
* A new cough?
* Shortness of breath?
* A new sore throat?
* New muscle aches?
* New headache?
* New loss of smell or taste?
If you answered "Yes" to any of the symptoms listed above, please contact us for options. Please send an email to tickets@thehookmpls.com or call us at 612-345-7166. We are looking forward to seeing you at the The Hook and Ladder Theater this summer!
Performers
Wreckless Eric
Pink Triggers, Rank Strangers
Date and time
Location
The Hook and Ladder Theater
3010 Minnehaha Ave
Minneapolis, MN 55406
Refund policy