Description
The Wreckers Ball will be held at our store in downtown Baltimore on October 14th. Join us for a wrecking good time! Live music, dancing, games, a live auction, and a raffle. Food will be provided by Mission BBQ and an open bar will serve beer, wine, and your choice of construction themed cocktails! The attire is "construction chic" – essentially anything construction-related or casual.
For information on sponsoring the event, which includes complimentary tickets, please email deb@secondchanceinc.org. To volunteer at the event, please email kc@secondchanceinc.org.
Second Chance was founded in 2001 to provide people, materials and the environment with a second chance. We deconstruct buildings and homes, recycle and salvage usable materials, and make them available to the public in our 200,000 square foot retail space. With the revenue generated, we provide job training to those with obstacles to employment. Second Chance has done a remarkable job funding its own programs over the past 15 years. However, as we seek to expand operations and involve more individuals in workforce development, we have begun fundraising. "The Wreckers Ball" is one such event, and we are hoping you can join us.

Your support is GREATLY appreciated, and you'll hear directly from the people you help at this inspirational event! Sixty percent of your ticket is tax deductible.

Ample free parking available in store parking lot.
All ticket sales are final. Guests must be 21 years and older to attend.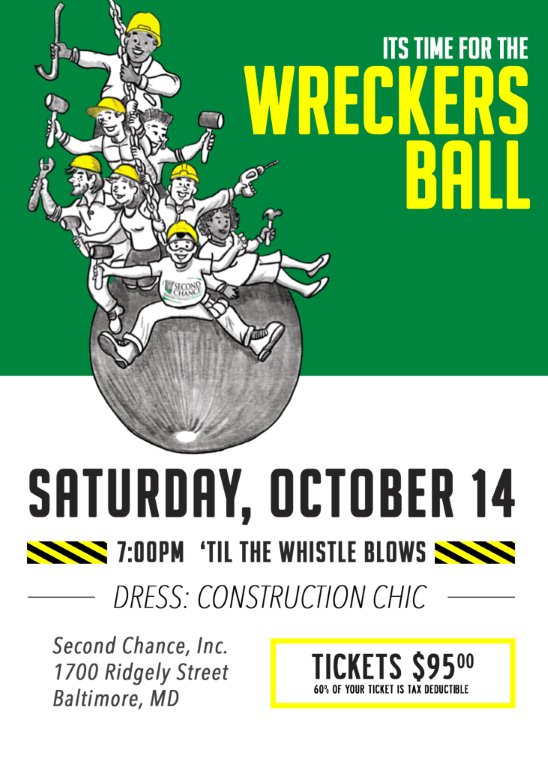 Date and Time
Location
Refund Policy