About this event
A Graffiti HeArt production and a 'gift' to CLE and the community from Graffiti HeArt consisting of a series of 15+ small to medium murals, including two WRDSMTH stapel large pieces (Greater Collinwood, Midtown) throughout Cleveland and Northeast Ohio 
The tour is a placemaking opportunity, encouraging the community, street art enthusiasts, and visitors to explore the city and seek out the murals, becoming a tour experience and creating street art DESTINATION!
This awesome public art experience is inspired by Sylvia Paul, first-generation Greek American, that grew up in Cleveland,  who gave the poem "how do I love thee" to her husband, Harry, in a love letter in the 1940's; Sylvia died in 1991 and her love for her husband, family, and Cleveland lives on through this curated mural tour. WRDSMTH Party and fundraiser event will be held on Friday, August 13th - held at the Graffiti HeArt gallery & museum at 4829 Superior Avenue. 
The Public will be able to seek out WRDSMTH throughout the week to watch him install the many mural pieces the week of August 6th.
The WRDSMTH 'How Do I Love Thee tour' is funded by Graffiti HeArt and Cuyahoga Arts & Culture grant funding.
#WRDSMTHCLE21
Thanks to our sponsors:
ASPIRE TO INSPIRE ~ Mary & Phil Borba
LOVER ~ FIT TECHNOLOGIES
HEARTLAND ~ Pattie Wagoner, Fran Belkin, DayGlo
PARTNERS ~ Cuyahoga Arts & Culture, CLE Urban Winery, OHR Rents, Purple Films,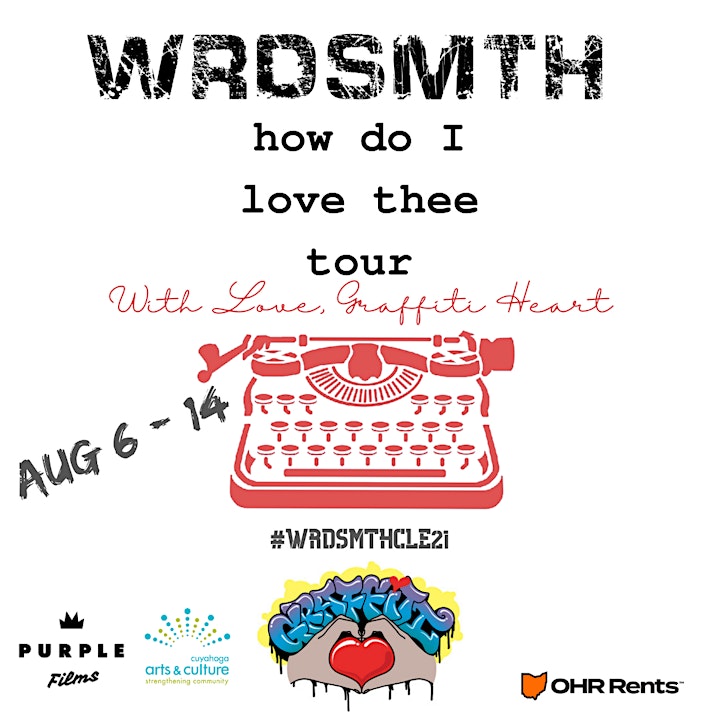 Organizer of WRDSMTH 'How Do I Love Thee Tour' August 6 - 13th!
Graffiti HeArt is a 501(c)3 non-profit organization with focus on promoting graffiti art and artists, curating and managing approved commissioned projects (private and public) that beautify communities, while also raising funding towards art scholarships for the underserved youth through the Cleveland Institute of Art's Pre-College Program. Since 2015, with the support of our generous sponsors, artists, donors, and volunteers, Graffiti HeArt has sent more than 35 underserved youth through the Pre-College Program at the Cleveland Institute of Art, raising more than $80,000 in scholarship funding for young inspiring artists, while also coloring our communities through projects such as the the Beau Stanton "Guardian" and RISK murals in St.Clair Superior District, as well as the the Underground Railroad mural in Bedford, Ohio, the Greeting From Cleveland mural in Ohio City, the "More Heart than Art" mural in Gordon Square Arts District, the "Color Block" wall in Tyler Village, the Puerto Rico "Mujeres Fuertes" mural, BLM street mural, Euclid Green mural, Welcome to Parma and Welcome to Tremont murals, as well as several others.  In addition, Graffiti HeArt is responsible for indoor mural installations including those found in the Cleveland Public High Schools, Airgas, Dealer Tire, Avalution Consulting, Bridgeview, and last but not least, CLE Urban Winery's mural and signage, our very special community partner! Promoting artists through positive ways to revitalize and beautify spaces in your community.  In 2019, Graffiti HeArt opened up its new home and graffiti gallery at E. 49th and Superior Avenue in Cleveland, Ohio.  This new space is used to further advance the recognition of aerosol artists in the graffiti and mural art form, holding workshops, demonstrations, gallery shows, and events!
INSPIRING Health and Art in the Community! A.W.E.S.O.M.E...Art, Walls, Education...Serving Our Mission Everywhere!