WRANGLER PRESENTS MULTICULTURAL WESTERN HERITAGE MUSEUM VIRTUAL TELETHON
About this Event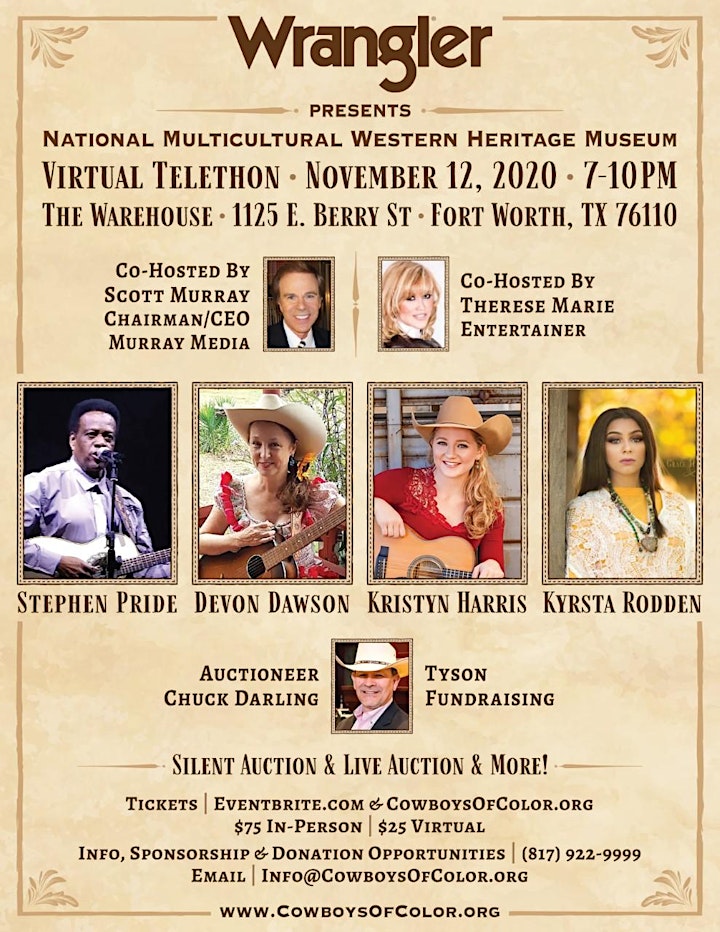 WRANGLER PRESENTS NATIONAL MULTICULTURAL WESTERN HERITAGE MUSEUM VIRTUAL TELETHON
FORT WORTH, TX…September 23, 2020 – The stars align on Thursday, November 12th during the National Multicultural Western Heritage Museum Virtual Telethon. The event kicks off at 7 PM and will broadcast live from The Warehouse on Berry located at 1125 E. Berry Street, Fort Worth, TX 76110. A limited number of in-venue seats will be available for purchase.
The telethon will be hosted by long-time DFW Metroplex television personality and community service legend Scott Murray, President & CEO of Murray Media, and Entertainer Therese Marie. Country music artists Stephen Pride, Devon Dawson, Kristen Harris, and Kyrsta Rodden will provide entertainment throughout the evening. Special guests also include Museum Hall of Fame Alumni and Community Leaders. Professional Auctioneer Chuck Darling of Tyson Fundraising will facilitate the live auction which features tickets to top sporting events, concerts, and experiences. It will be a fast-paced, exciting, and fun evening for both in-person attendees and those donating and bidding from the comfort of their homes!
"We are excited to present this incredible evening of musical entertainment, great auction prizes and visits from some of our past honorees," says National Multicultural Western Heritage Museum Co-Founder, Jim Austin. "We depend on the generosity of our community supporters to operate the museum, and we are grateful for the ability to successfully pivot as so many other non-profits have had to do during this time." Donations will help sustain the Museums' programming that educates and empowers, while, in turn, enriching the community.
Tickets to the National Multicultural Western Heritage Museum Virtual Telethon are on sale now at Eventbrite.com and cowboysofcolor.org. In-venue seats are $75 or $25 to view virtually. For more information or to become a sponsor, call 817-922-9999 or email info@cowboysofcolor.org.
ABOUT THE NATIONAL MULTICULTURAL WESTERN HERITAGE MUSEUM
The National Multicultural Western Heritage Museum and Hall of Fame is a non-profit 501(c)(3) organization located in the Historic Fort Worth Stockyards. The mission is to highlight the significant contributions made to the settling of the western United States by cowboys and cowgirls of multicultural ancestry, as well as preserve the history of the U. S. Buffalo Soldiers and Tuskegee Airmen.
Telethon Sponsorship Opportunities
Western Heritage Museum Virtual Telethon
November 12, 2020 | Sponsorship Levels
PRESENTING SPONSOR $10,000.00
o 1 Minute Video Presentation Featuring Your Representative during Virtual Event
o Branded Slide with Logo
o Banner and Pop Up Ad
o Prominent Sponsor Acknowledgement before and during Live Event
o 25 Links to View the Live Event On-Line
o 20 Tickets to Attend the Event In-Person
o Branding with Logo on Online Registration Page
o Logo and URL Inclusion on Museum Social Media Platforms and Website
o Ad Space in Museum Newsletter (Full size Ad)
PLATINUM SPONSOR $5000.00
o Video Ad - :30 Seconds
o Branded Slide with Logo
o Banner with Pop Up Ad
o Premier Sponsor Acknowledgement before and during Virtual Event
o 20 Links to View the Live Event On-line
o 12 Tickets to Attend the Event In-Person
o Logo on Museum Social Media Platforms and Website
o Ad Space in Museum Newsletter (1/2 Ad)
GOLD SPONSOR $2500.00
o Sponsor Acknowledgment
o Branded Slide with Logo
o Banner and Pop Up Ad
o 15 Links to View the Live Event On-line
o 8 Tickets to Attend the Event In-Person
o Ad Space in Museum Newsletter (1/4 Ad)
SILVER SPONSOR $1000.00
o Sponsor Acknowledgement
o 10 Links to View Live Event On-line
o 4 Tickets to Attend the Event In-Person
BELT BUCKLE SPONSOR $500.00
o Sponsor Acknowledgement
o 6 Links to View the Live Event On-line
o 2 Tickets to Attend Event In-Person
SADDLE SPONSOR $250.00
o Sponsor Acknowledgement
o 4 Links to View the Live Event On-line
o 2 Tickets to Attend the Event In-Person
SPURS $100.00
o 4 Links to View the Live Event On-line