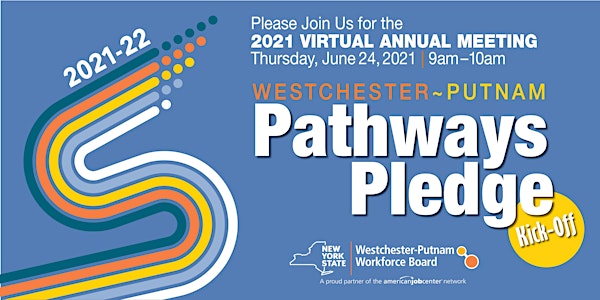 WPWDB 2021 Virtual Annual Meeting
Westchester-Putnam Workforce Development Board's 2021 Virtual Annual Meeting.
About this event
County Executives George Latimer of Westchester and MaryEllen Odell of Putnam invite businesses, partner agencies, community organizations, and educational leaders to participate in the Westchester-Putnam Workforce Development Board's 2021 Virtual Annual Meeting on Thursday, June 24, 2021 from 9am to 10am.
This year's meeting will include a Pathway Pledge modeled after the NYS Pathways Pledge initiated by Governor Cuomo and the Reimagine NY Commission, to create more inclusive workforces and expand career pathway opportunities for those traditionally underserved.
The Pathways Pledge: As stakeholders in the Westchester-Putnam Workforce Development Board Network, we pledge to each other to take action, to make a difference, to do our part to move the needle and be held accountable for our contributions:
Employers
Examine current job descriptions and update credential requirements.
Consider taking out 4-year degree minimum criteria for jobs that don't require it.
Write a training plan to expand existing workforce skill sets.
Create an employee recruitment plan and consider alternative employee recruitment methods, including one for those with disabilities.
Map out resources that can help an employee get back to work, e.g., childcare, transportation, etc.
Education Providers
Visit an employer's worksite and ask about the specific skill sets needed in their sector.
Hold a career exploration job fair.
Provide students technical and trade educational information.
Celebrate alternative technical career paths with equal emphasis as 4-year degree pathways.
Introduce soft skills training in the curriculum.
To make the pledge go to:
https://rebrand.ly/pathwaypledge
Registration: This event will take place virtually using video conferencing technology. We ask that you pre-register for this event. All are invited to join. Instructions on how to log on and participate will be sent in advance of the meeting date.