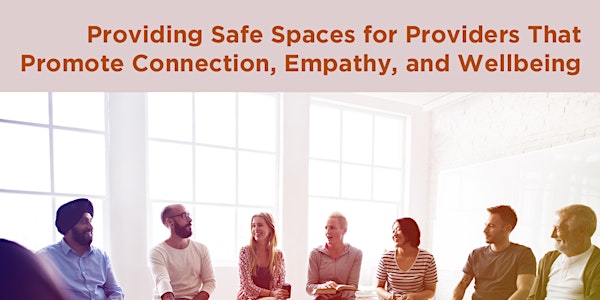 WPSC Lunchtime Webinar Series: Care for the Caregiver | Providing Safe Spaces for Providers That Promote Connection, Empathy, and Wellbeing
Refund Policy
Contact the organizer to request a refund.
Description
Today's link: https://zoom.us/j/974855384

A phone number should pop up once you launch Zoom through the link.
If not:
+1 646 876 9923
Meeting ID: 974 855 384#
A unique participant ID should up as well.
In discussing care for the colleague, the question of how to build compassion for your providers into the system is a crucial one for healthcare organizations to address. Balint groups are a well established format for discussion of cases that are challenging for providers, from complex patient interactions to unexpected events, with a goal of helping participants transform uncertainty, confusion, and difficulty in the patient-provider relationship into a more therapeutic alliance. Providers can derive benefit from these safe spaces that allow them to process comfortably with other providers and compare notes, while benefits to the patient can flow downstream in the form of improved care and outcomes -- in fact, Balint groups were first formed in London in the 1950s by psychoanalysts Michael and Enid Balint who coined the term "patient-centered medicine." Led by Dr. Robbie Sherman, Medical Director for the Patient Experience and Physician Development at the Polyclinic, this presentation will inform the audience about the structure of Balint groups, how they help to foster wellbeing, prevent burnout, and offer positive effects to patients, and how participants can go about joining or forming a Balint group if they are interested. This webinar is appropriate for physicians, nurses, front-line clinicians, safety and quality officers and executives, patient advocates, and anyone with concern for the importance of building compassion into both sides of the patient-provider relationship. This webinar is eligible for 1.2 CNE credit hours. *NOTE: This webinar will be held via Zoom. The link to the Zoom URL will be sent to all registered attendees prior to the event.*

About Dr. Robbie Sherman
Current Medical Director for the Patient Experience and Physician Development at the Polyclinic, Dr. Robbie Sherman graduated from the University of Washington School of Medicine in 1981, completed her residency in Family Medicine at Swedish Hospital in Seattle in 1984 and is Board Certified in Family Medicine. She practiced family medicine in Seattle for over 30 years. She is passionate about the therapeutic nature of the physician patient relationship for both the patient and the physician. Long known for her compassionate communications with patients she began studying how to teach and coach those skills in 2007 with multiple courses in physician coaching and support, communicating well with patients and leading Balint groups. In 2015 she "retired" from her continuity practice and is now working full time in Patient Experience and Physician Development and support at The Polyclinic, a multispecialty group in Seattle, as well as serving as their internal locums in Primary Care.
She is a member of the Academy on Communication in Healthcare, a Credentialed leader for the American Balint Society, and volunteers as Peer Support for health care providers who are experiencing adverse events. She is currently in the "Faculty in Training" program for ACH, a two year program for leadership, coaching, facilitation and personal development.

She lives in the Fremont neighborhood of Seattle with her husband of 38 years, Charlie and their Havanese puppy, Pico. She enjoys playing piano and viola in chamber ensembles, singing in her church choir, knitting and baseball.