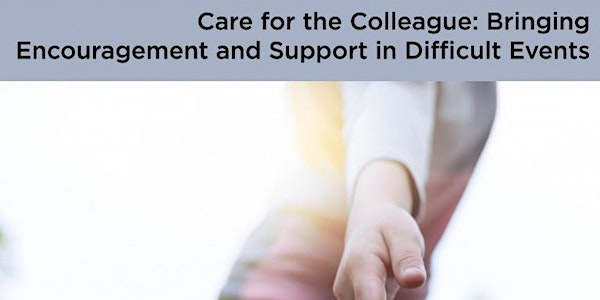 WPSC Lunchtime Webinar Series: Care for the Caregiver | Bringing Encouragement and Support in Difficult Events
Refund Policy
Contact the organizer to request a refund.
Description
LINK
Click the link below to join the webinar:
https://zoom.us/j/281398896 Please allow a few minutes for Zoom to set up.
PHONE
Dial:
US: +1 646 876 9923 or +1 669 900 6833
Webinar ID: 281 398 896

Or iPhone one-tap :
US: +16468769923,,281398896# or +16699006833,,281398896#

International numbers available: https://zoom.us/u/adjyuA3NH7
DESCRIPTION
Learn about designing, implementing, and monitoring a successful Care for the Colleague program! Presented by Kit Hoffman with first-hand experience of setting up such a program at Confluence Health, this webinar offers listeners a chance to learn about designing automatic, non-punitive support that reduces psychological, physical, and professional distress for healthcare professionals and equips them to deliver safe, compassionate care. Kit will share the unique approach they've brought to this effort in designing Confluence's BESIDE program, incorporating a mental health professional into the process, and go over research identifying key elements of Care for the Colleague programs with practical steps for implementation and evaluation. Finally, you will learn brief skills to help you respond to a healthcare professional who has had an adverse or stressful patient event. This webinar is appropriate for front-line clinicians, patient safety and quality professionals, mental health professionals, healthcare leadership, and anyone else interested in learning about implementing care for the colleague in the workplace. This webinar is eligible for 1.2 CNE credit hours. *NOTE: This webinar will be held via Zoom. The link to the Zoom URL will be sent to all registered attendees prior to the event.*

About Kit Hoffman, PsyD
Kit Hoffman is a post-doctoral psychology resident who is developing and implementing the BESIDE Program at Confluence Health in Central Washington. BESIDE stands for Bringing Encouragement and Support in Difficult Events. BESIDE is Confluence's Care for the Colleague program that supports healthcare providers involved in adverse patient events. Dr. Hoffman holds a Doctorate Degree in Clinical Psychology from the Chicago School of Professional Psychology in Los Angeles, California. Before coming to Confluence, Dr. Hoffman had a background in health psychology. In 2017, she completed her internship as a Behavioral Health Consultant at HealthPoint here in Seattle, Washington. While she was at HealthPoint, she saw the need for providing support to overburdened medical professionals. Dr. Hoffman is passionate about delivering quality healthcare by supporting the wellbeing of our healthcare providers. To support her own wellbeing, Dr. Hoffman spends as much time as possible in the healing space of nature.