Music lifts our spirits and helps focus our energies. Exercise gives us energy and keeps us healthy. Celebrate both with WPR's virtual 5k!
About this event
Music lifts our spirits and helps focus our energies. Exercise gives us energy and keeps us healthy. Celebrate the power of both with WPR's virtual Classical 5K Run/Walk/Roll this June. Whether you're a seasoned runner or someone just looking for a fun, healthy outdoor activity - our virtual run/walk/roll lets you go at your own pace on your own schedule. No crowds, no parking, no official starting line.
Join Ruthanne Bessman in a special edition of "Classics By Request" Saturday June 12 starting at 10 a.m., and run the WPR Classical 5K while listening to some great classical music. Send in your music request at wpr.org or by calling Listener Services at 800-747-7444.
What: Run, walk or roll 3.1 miles/5 kilometers (or more) while listening to WPR classical music or any classical music of your choice.
Where: Anywhere you want. Map your own route (or use a treadmill) and track your own time.
When: Complete your "course" between June 12 and June 19, 2021.
Who: Open to all ages and abilities.
Cost: Free, but you can support WPR by getting one of our fun and funky "Classcial 5K" shirt for $35. All proceeds support WPR.
Every participant gets a free, customized "print at home" race bib you can wear for running and/or photos.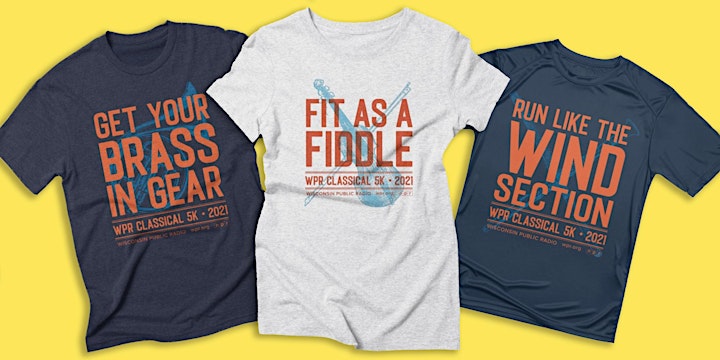 Organizer of WPR's Classical 5K Run/Walk/Roll
Wisconsin Public Radio is a civic and cultural resource which exists to enlighten and enrich the quality of life for the people within its listening area. 

WPR reflects the values and resources of the university and the state of Wisconsin and embraces the "Wisconsin Idea," helping to extend the borders of the university to the state and beyond, and providing significant programming by, for and about the people of Wisconsin.

WPR's mission is to realize the Wisconsin Idea by producing, acquiring and delivering high quality audio programming that serves the public's need to discuss ideas and opinions and that provides cultural enrichment, intellectual stimulation, and intelligent, enlightening entertainment.

WPR is a partnership of the Educational Communications Board and the University of Wisconsin, and we will build on the strength of this partnership to maintain and expand where possible a high-quality dual service broadcast signal throughout the state (The Ideas Network and the NPR News and Classical Music Network), while at the same time exploring and developing new platforms to deliver our content to listeners.