Description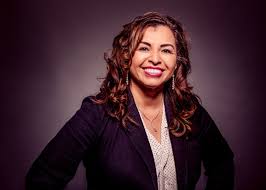 The Downtown StL chapter is hosting this Power Luncheon: Claim your power and influence!
Whatever your role, you are an influential leader in your organization. Gabriela Ramiez Arellano will talk about what it means to have power and influence, how to use your influence effectively, and actionable strategies to grow your power and influence at any level.
Originally from Guanajuato, Mexico, and inspired by her own experience growing up as a new and poor immigrant in the United States, Gabriela has a passion and commitment to help others.
Now in St. Louis, Gabriela finds her voice helping small-business owners achieve their dreams. She and her husband own a Mexican restaurant in O'Fallon and are pleased to share Mexican culture and their favorite dishes with their customers. Gabriela has been recognized as a thought-leader in social innovation and entrepreneurship and was named one of the Top 100 people to know in St. Louis to succeed in business in 2017 and as a Diverse Business Leader in 2019.
She has appeared on St. Louis Public Radio, featured in the STL101 Speaking Series and on various panels on food entrepreneurship, and recognized as a Diversity Champion by the Missouri Department of Transportation and a Diversity and Inclusion Champion by the St. Louis Council of Construction Consumers.
Gabriela sits on the board of the Contractor Loan Fund, the St. Louis Equity and Inclusion Collective, United Way Multicultural Leadership Society, VISION St. Louis Planning Committee, Fontbonne Arts and Science Advisory Board, and WomenFuture Conference Advisory Board. She is trying to conquer her fear of networking and speaking in public.
Gabriela holds a Bachelor's degree in marketing from the University of Missouri - Columbia and a MBA from Lindenwood University. She and her husband own Don Emiliano's Restaurante Mexicano. Gabriela is co-host of the Auténtico Podcast with new episodes every Wednesday to empower and showcase bilingual Latinx professionals and small-business owners, share their stories and lessons learned.
There will be open networking before and after the presentation.
Seating is limited. Please RSVP so we have a place setting ready for you!
WPN Power Lunch, 11:30 a.m. to 1:30 p.m. Tuesday, Sept. 17
John D. McGurk's Irish Pub and Garden, 1200 Russell Blvd.

See the host/hostess for directions.