Description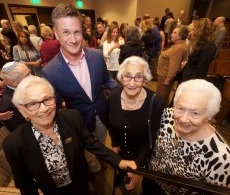 The July WPN Meeting will be held at the LA Museum of the Holocaust!
We're in for a real treat for the evening with a tour, dinner and meeting, film, and Q&A.
It all starts at 6 PM!
Please be sure to RSVP.
We will be starting with a tour of the museum to begin the evening.
The Los Angeles Museum of the Holocaust in Pan Pacific Park is the oldest museum of its kind in the United States. Founded in 1961 by a group of local Holocaust Survivors who wanted a permanent, safe home for their Holocaust-era photos and artifacts, the museum moved to its permanent home in Pan Pacific Park in 2010. The museum dedicates itself as a primary source institution, commemorating those who perished, honoring those who survived, and housing the precious artifacts that miraculously weathered the Holocaust era. Los Angeles Museum of the Holocaust provides free Holocaust education and opportunities for dialogue with Holocaust survivors to the public.
After the tour, we will have dinner and meeting, followed by the film "After Auschwitz".
After Auschwitz is the latest film by documentarian Jon Kean. It's an emotional sequel to his acclaimed film Swimming in Auschwitz, where he followed the lives of six women as they faced the fall of Europe and the horrors of the Nazi Third Reich in Auschwitz-Birkenau. After Auschwitz follows the lives of the same six women as they transition from the fear of imminent death the day before liberation in 1945 through their post-war returns to hometowns in Europe to continued survival in present day Los Angeles. Their stories of the changing face of American society in the second half of the 20th century are much more resonant as they are told through the lens of people who have survived the worst atrocity in modern history. It is s story that is as powerful through the lens of history as it is personally accessible through our present day society.
The film will be introduced by its producer, Jon Kean and a Q&A will follow with Jon and Renee Firestone, one of the survivors featured in the film who went on to become a famous clothing designer whose designs are part of LACMA's permanent costume collection.
We're looking forward to seeing you there at this very special experience and meeting!
Please RSVP!