WOW! — Standing OUT-Standing UP

Tuesday, April 20, 2010 from 6:20 PM to 9:10 PM (NZST)
Event Details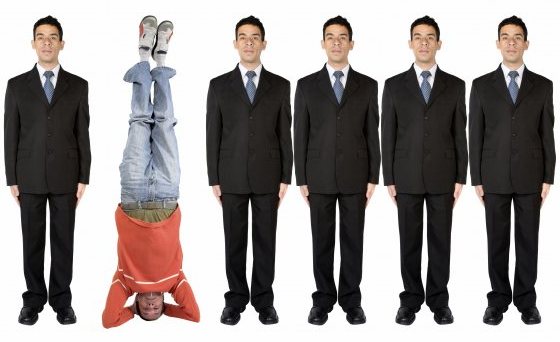 This picture sums up precisely what you'll be experiencing on 20 April LIVE in Wellington.
Sure, there are 6 people in that picture. Yet you notice just one.
And in this increasingly competitive business world, that's precisely what you want to have happen isn't it – you want to stand out – you want to have people choose you over your competitors — you want people to say 'yes!' more quickly too.
This is THE program that shows you how to do that. And it's all about having people say 'WOW' whenever they deal with you. And increasingly it's all about taking incredibly small yet profoundly important steps to 'nudge' potential customers into becoming actual ones.
It's also all about doing something different to keep them coming back.


And all of that, plus much, much more is precisely what you'll learn in this special program. As a direct result, you'll sell more, more easily, more frequently. Plus you'll have a whole lot more fun doing it too. 2010 will not only look good for you, it WILL be great for you armed with these exciting and fresh insights and skills.
You'll get:
Example after example – including the most stunning way you've ever seen to lift prices
Structure upon structure – the real clues to doing it consistently
Idea after idea – taught in such a way to make sure the real 'message' stays with you forever
and much, much more - all designed to lead to a stronger, more sustainable and profitable business for you.


And you'll be enormously inspired by the man who created this powerful, business-building program - Paul Dunn. Right now, more than 156,000 companies around the world are using his audio and video programs. Yet the LIVE programs such as this one add in some powerful new material plus additional 'oooomph' and presence to make things really happen for you in new ways.
You'll experience too how the so-called 'soft stuff' of gratitude and giving absolutely must play a part in what we do in business in 2010. And you'll see that coming alive in this unique program in a powerful way.
So do come. And that is so easy to do. Here's why:
Because this event is fully and generously sponsored, if you're a business owner (or if you're thinking of becoming one) you're able to come AND bring your team for free PROVIDED YOU BOOK EARLY. If you miss the 'early bird' cut off, then it's still ridiculously inexpensive at just $37. The value you'll get far outweighs that as you'll see.
The feedback from this event is stunning; Preston Phillip-Clarke put it like this: 'Paul not only shifts the boundary of what's possible — he blows an irreparable hole in it.' Finance Master Peter Spann says, 'Paul is THE guru on business dynamics and customer experience. This is a full of impact, high value evening with a real legend. It's an absolute must-attend if you own a business.' Master Furniture Retailer Angus Dawson says, 'I've been to so many events but I've never, ever left one so inspired and so ready to take positive action as this one. Paul just nails it!'
Just go back to the top of this page and select how many tickets you'd like (there's a limit of 3 per booking). We promise you you'll enjoy it – we promise it'll make a difference.
You'll be enormously inspired and blown away by what you see and experience. And your business will be bigger because of it.
When & Where
147 The Terrace
Wellington
New Zealand

Tuesday, April 20, 2010 from 6:20 PM to 9:10 PM (NZST)
Add to my calendar
Organizer
Mark is a Director of AVN Picktree and specialises in helping clients achieve business growth, develop leadership competencies and improve team dynamics and personal performance.

Mark played rugby for London Harlequins and had representative honours in England and South Africa.  He travelled the world touring and playing rugby at the highest level. He believes that these experiences taught him the importance of proper planning and preparation and the extraordinary results that can be achieved through leadership, teamwork, co-operation and learning by doing.

He is passionate about giving back to Social Causes and is part of the revolutionary Buy1GIVE1 (B1G1) organisation.

B1G1 makes giving a literal habit . Imagine — every time business is transacted, some REAL good gets done. Buy a coffee, a kid gets water; buy a TV, a person gets sight. Effortlessly. Every second, every day, in every way.

Outside of work he is an All Pro Husband and Dad, keeps an aquarium of tropical fish and plays golf (infrquently and often very erratically!).