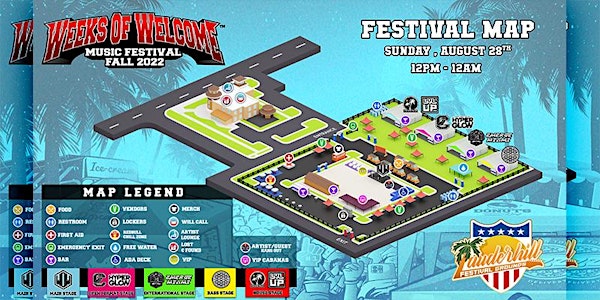 Location
Lallos Backlot (Fort Lauderdale Festival Grounds)
1400 North State Road 7
Lauderhill, FL 33313
Refund policy
Contact the organizer to request a refund.
Eventbrite's fee is nonrefundable.
This year's inaugural Weeks of Welcome (WOW) Music Festival celebrates South Florida's Official Collegiate Welcome.
About this event
THE NATION'S LARGEST COLLEGIATE MUSIC FESTIVAL (www.WeeksofWelcome.com)
HISTORIC COLLABORATION
9 Promotional Companies have teamed up to introduce South Florida a new generation Bi-Annual Music Festival occuring at the start of each Fall and Spring (Every January & August). Collegiate Nightlife x HyperGlow x Baile Rio x Emerge Miami x Lows Only x Big Chillin x Lvl Up x Paradise Palms x Moksha. Our combined effort, WOW Music Festival will grow to become the next major Festival in the State of Florida joining the ranks of Ultra, EDC, Rolling Loud, and more but brings Multi-Genre to the table. This is your chance to take part in the first Weeks of Welcome Festival and become a part of history.
AT THIS PRICE, WE'RE YOUR NEW FAVORITE FESTIVAL!
Experience the all new Lauderhill Festival Grounds located in the backlot of Lallos on Sunday, August 28th 2022. Weeks of Welcome offers an opportunity to build connections, make new friends, create unforgettable memories, and live your best life at a price that doesn't compromise your bank account. NOW SHIPPING NATION WIDE! Place your WOW Music Festival order today.
YOUR New Favorite Festival
With 5 Music Festival Stages, Weeks of Welcome embodies the diversity of the Collegiate Demographic by providing multi-genre, so regardless what you're into, there's a favorite stage for everyone.
JOIN the Team Behind WOW
If you're interested in becoming a Brand Ambassador for Weeks of Welcome at your college campus, please fill out our hiring form online. WOW Music Festival is approaching!
FIRST of its Kind Festival
WOW Music Festival is the first festival in the nation to empower the collegiate niche and provides innovation and affordability to all college students.
Get your Tickets Sooner and Elimate Service Fees by purchasing your tickets on our Official Website: www.WeeksofWelcome.com.
If purchased online through Eventbrite, they charge a service fee but is considerably less than what any other festival charges.
ADDITIONAL PARKING
Lauderhill Performing Arts Center Parking Lot on the corner of 441 and Sunrise. Less than a half mile walk to the festival grounds, or take advantage of our free shuttle service. This is significantly less walking distance compared to other festivals. For those requiring special accomodation, ADA Parking will be located on the south side of Lallos right next to the festival grounds.
VENDOR/SPONSORSHIP OPPORTUNITIES
Email John@WeeksofWelcome.com or Text SPONSORSHIP or VENDOR to (954) 710-7292