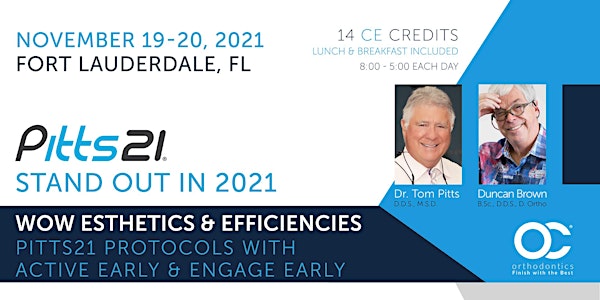 Wow Esthetics & Efficiencies - Pitts21 Protocols - 2 Day Advanced Course
Pitts21 Advanced Clarification 2 Day Course - FL
When and where
Location
Fort Lauderdale Marriott Harbor Beach Resort & Spa 3030 Holiday Drive Fort Lauderdale, FL 33316-2414
Refund Policy
Contact the organizer to request a refund.
About this event
This is a Level 2 Course.
Agenda
INTRODUCTION - DIFFERENTIATE, EFFICIENCY
The present condition of orthodontics – The urgency for a "New Orthodontic Economy"
The Pitts21 Revolution in slot design – Engage EARLIER concepts
Introducing the Clear21
DIFFERENTIATION THROUGH "PITTS ESTHETICS DISCIPLINE"
Esthetics: BEYOND THE BASICS
Beyond SAP - Updated bracket placement for esthetics and occlusion
White and Pink Tissue Revision
Marketing WOW Worthy Esthetics
EFFICIENCY IN DELIVERY THAT DELIGHTS with "PITTS ESTHETIC DISCIPLINE"
Active Early - Managing non-extraction treatment
Mechanics - For different types of cases
Control EARLIER
Engage EARLIER - Arch wire progressions
Reposition EARLIER
"Unloading" appointments
Pitts21 and Clear21: 3D Control EARLIER
Flipping and Flocking Update: Gaining Torsion EARLIER
ILSE and Disarticulation for control EARLIER
Case examples to indicate: elastics in groups, ILSE, disarticulation, NMI
(PT Exercises, tongue tamers, lip seal, swallowing)
Pitts Broad Arch Form: Esthetics EARLIER, Engage EARLIER
Class II: Protect the Profile
The Security Blanket – PHASE 1 TREATMENT
New possibilities to shorten Pitts21 treatment time
Hotel Info
Fort Lauderdale Marriott Harbor Beach Resort & Spa
3030 Holiday Drive
Fort Lauderdale, FL 33316-2414
Book your room today:
https://book.passkey.com/e/50189024
OC Orthodontics would like to provide an update on the novel coronavirus (COVID-19) as it pertains to our upcoming events. We are monitoring this situation closely, and currently there are no plans to cancel or postpone any event.
For those planning to attend an OC Orthodontics' event, we are working with our contracted venues to strengthened hygiene and sanitization with the availability of disinfectants onsite at all participating venues across public areas and high-volume touchpoints such as:
Hand sanitizer dispensers in every area around the venue
Attendees will have the hand sanitizer in every meeting room
Hand sanitizer wipes/dispensers at each feature area for all attendees upon entry and exit of the hotel
Extra cleaning staff & increased routine checks
Strict food hygiene rules are already in place, but extra vigilance will be taken at restaurants and catering outlets at the events.
We encourage all those attending to take the appropriate health precautions – both before your trip and during the course of your travel.
Our top priority is now and will remain the safety of all who are participate in any OC sponsored event. Please note that our standard policy for attendee cancellation is very generous and allows for a full refund as an account credit if registration is cancelled 10 days prior to the event.
Please also plan to monitor communications from the OC Orthodontics as this situation proceeds. We appreciate your understanding and cooperation as we prepare for another successful event season!