Don't get left out of the food, fun, laughter, and prizes WOW! 2021 ANNUAL WORKSHOP This year's theme is 'YOU ARE A RECIPE'.
About this event
Put fun on your to-do list! We are taking control over what ingredients we allow and measuring the right amount of influence one can add to our lives! Join us and our speakers as we endeavor to reveal the wisdom and confidence to transform our everyday lifestyle! For more details and/or to register go to www.womenofwisdominc.org
This year WOW workshop will include:
Morning and Afternoon breakout sessions with our special speakers
Wisdom for embracing successful relationships with confidence
Encouragement and inspiration to know the 'YOU', you need to know
A prize for just being at the workshop along with the chance to win a WOW T-shirt or WOW apron
Lunch Provided
Business Highlights to encourage you to be an entrepreneur
A wisdom presentation from our young ladies perspective
Q/A panel with speakers
...and more!
Register now online for a $20 Early-bird discount which ends July 15th, our regular ticket price is $25 ends August 11th. The door cost is $30. Don't get left out of the fun, laughter, prizes, and more!
Lunch is provided. For more details go to: www.womenofwisdominc.org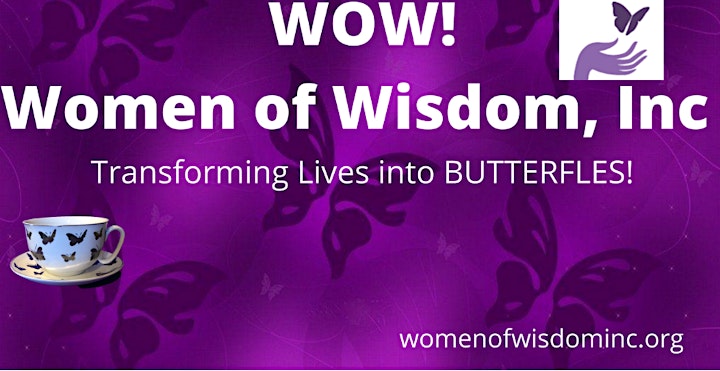 Organizer of WOW ANNUAL 2021 WORKSHOP 'You Are A Recipe'
Women of Wisdom, Inc.
We are dedicated to transforming lives from caterpillars to BUTTERFLIES! Through our annual workshops, we are empowering teen girls and women with practical wisdom and confidence. We also provide a platform for female business owners to promote their products and services along with speakers sharing their wisdom in life experiences and accomplishments.
We are currently working on a program called 'Caterpillars to BUTTERFLIES' and developing support groups that would allow us to meet regularly. We are hoping to implement these events within the next year or two.