W.O.V.E.N ~ Women of Victory Empowerment Network @ Beautiful Sandy Cove
Description
W

.

O.

V.

E.

N

GATHERING

@ SANDY COVE


OCTOBER 4-6, 2019



We cordially invite you to join us as we go


"Deeper, Wider, Yet Still in God's Presence.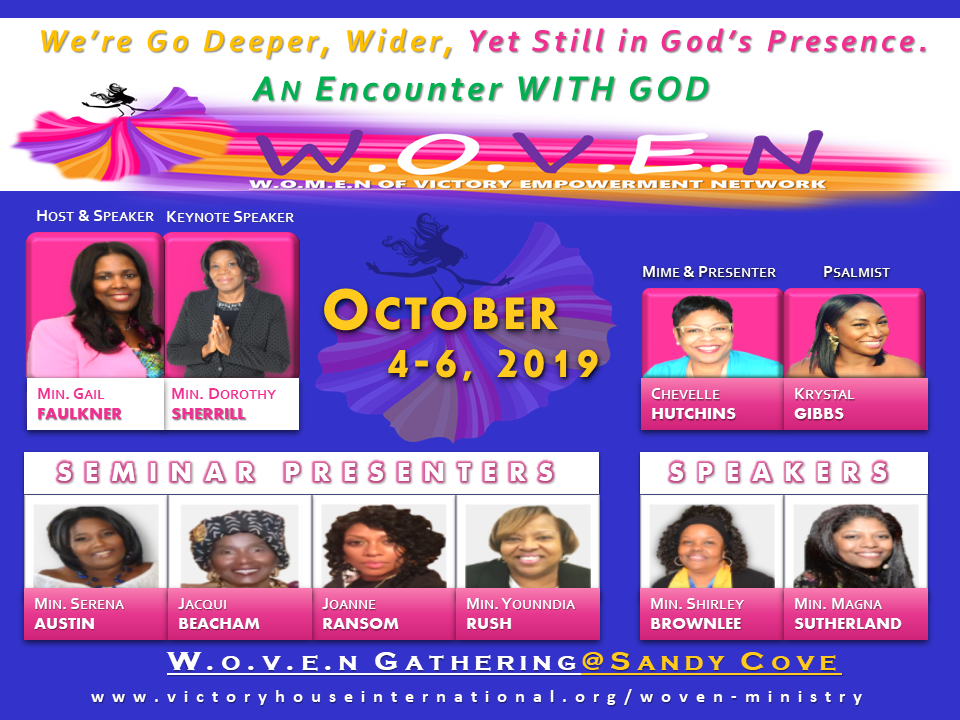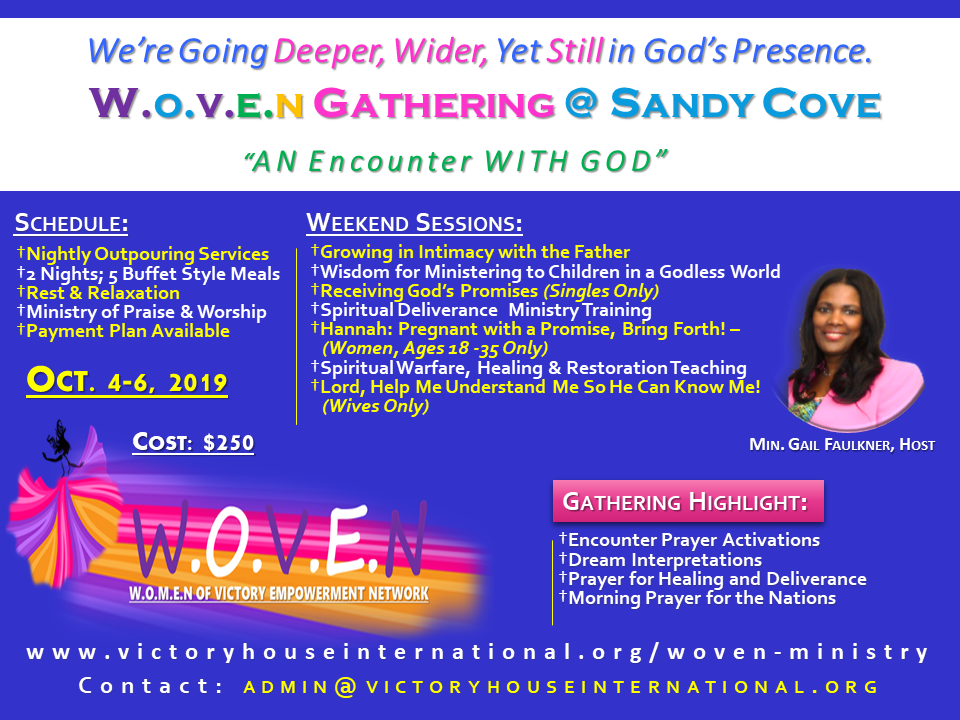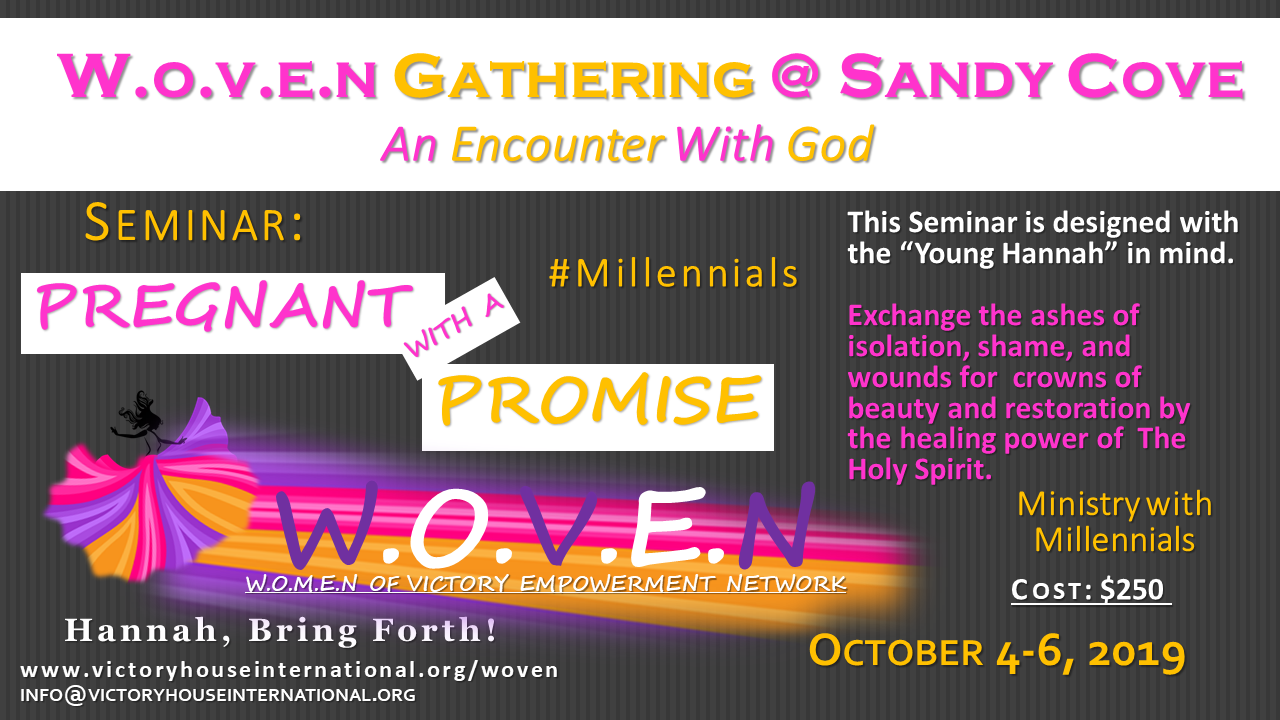 AN Encounter WITH GOD will:
Address questions you did not know needed answers,
Reveal your true inner heart issues,
Cause you to worship the Lord in Spirit and in truth,
Cause you to fall deeper in love with Jesus,
Cause you to remain still in His presence, and
Sends you out prepared to tell others about Jesus.
Our role is to gather and equip you to do great things for God. Invite a friend who can use this time basking in God's presence.

Theme Scripture:
RUTH 3:11-12 - And now, my daughter, do not fear. I will do for you all that you ask, for all my fellow townsmen know that you are a worthy woman. And now it is true that I am a redeemer.

* GENERAL INFORMATION:
* Accommodations:
2 Nights' in Deluxe Hotel-Style Rooms in the Chesapeake Lodge With Private Bath, (3 per room) (Handicap accessible rooms available.)
5 Buffet Meals
Daily Modified Housekeeping Service Provided
Prayer & Group Meeting Sessions
(Reservation with a deposit IS REQUIRED. Space is limited and offered on a first-come, first-served basis.)
_________________________________________________________________
WOVEN HIGHLIGHT SCHEDULE INCLUDES:
FRIDAY NIGHT:
Growing in Intimacy with the Father- Jackie Beacham
Encounter Prayer Activation for Healing and Deliverance – Min. Magna Sutherland
SATURDAY MORNING:
Ministry of Spiritual Deliverance Training – Min. Gail Faulkner
Ministry of Deliverance Prayer Team
SATURDAY AFTERNOON BREAKOUT SESSIONS:
Receiving God's Promises (Single Women) - Joanne Ransom
Lord, Help Me Understand Me So He Can Know Me (Married Women)– Min. Younndia Rush
SATURDAY NIGHT BREAKOUT SESSIONS:
Pregnant with A Promise, Hannah, Bring Forth! (Ages 18-35) – Chevelle Hutchins & Min. Magna Sutherland
Wisdom for Ministering to Children in a Godless World -Min. Serena Austin
Encounter Prayer Activation for Healing & Deliverance – Min. Shirley Brownlee
SUNDAY THE PREACHED WORD:
"AN Encounter WITH GOD" – Minister Dorothy Sherril
WOVEN Gathering includes:
Morning Prayer
Praise & Worship
Ministry of Mime
Breakfast, Lunch & Dinner
Personal Ministry Time
One-on-One Ministry of Deliverance Prayer
_______________________________________________________________________
* Optional Recreation: (Basketball, pool, volleyball, billiards, ping-pong, air hockey, rock climbing wall (additional fee), miniature golf, shuffleboard, sports fields, disc-golf, walking paths, trails, etc.)