Event Information
Location
Mütter Museum
19 S 22nd St
Philadelphia, PA 19103
Description
There are three ticket types available:
1. Symposium ONLY Admission - This ticket gets you into the Symposium from 9:30am-3:30pm only.
2. Symposium + Post-Event Reception Admission (21+ only) - This ticket includes admission to the Symposium from 9:30am-3:30pm plus admission to the post-event reception from 6pm-8pm filled with cocktails, hors d'oeuvres, and a performance by The Divine Hand Ensemble.
3. Reception ONLY Admission (21+ only) - This ticket gets you into the reception from 6pm-8pm filled with cocktails, hors d'oeuvres, and a performance by The Divine Hand Ensemble and a photo booth by The little Picture Booth.

Admission to the Mütter Museum is included with all ticket types.
---
ABOUT THE SYMPOSIUM
9:00 a.m. Registration opens
9:30 a.m. Commencement (Emily B. Snedden Yates, Special Projects Manager of the Mütter Museum and co-curator of Woven Strands and Joanna Ebenstein and Laetitia Barbier of Morbid Anatomy)
9:45 a.m. John Whitenight | Co-curator of Woven Strands
Keynote lecture: HAIR
10:30 a.m. Anna Dhody | Director of the Mütter Research Institute and Curator of the Mütter Museum
Combing the Collection: Hair Objects from the Mütter Museum
11:30 a.m. Evan Michelson | Co-curator of Woven Strands
Silent Flowers: Sentiment and Spectacle in the Victorian Age
12:30 p.m. – 1:30 p.m. Break
1:30 p.m. Courtney Lane | Artist and founder of Never Forgotten
Hair Art Demonstration
2:00 p.m. Karen Bachmann | Artist and Historian
Ornamental Hairwork Today: Modern Interpretations of a Bygone Art
2:50 p.m. Panel Discussion with the Collectors of Woven Strands, moderated by Joanna Ebenstein | Founder of Morbid Anatomy
Jennifer Berman, Eden Daniels, Evan Michelson, Pamela Moschini, and John Whitenight
3:30 p.m. Tour of Woven Strands led by Evan Michelson, John Whitenight, and Emily Snedden Yates, or self-guided visit to The Mütter Museum.
Presenters
Morbid Anatomy has been surveying the interstices of art and medicine, death, and culture since 2007. Initially started as a blog by Joanna Ebenstein, developed in conjunction with the exhibition Anatomical Theatre, today Morbid Anatomy is run by Ebenstein with Laetitia Barbier. Barbier has been with Morbid Anatomy since 2010, and served as programming director and head librarian of the recently shuttered Morbid Anatomy Museum. Ebenstein is the editor of Death: A Graveside Companion; author of The Anatomical Venus.
Emily B. Snedden Yates is co-curator of Woven Strands and the Special Projects Manager at the Mütter Museum and ceramic artist. During her time at the Mütter Museum, Snedden Yates has focused on the arts and facilitated theater performances such as Josh Hitchens' Frankenstein in 2015 and 2016, and the workshop performance of Mary Tuomanen and Aaron Cromie's Body Lautrec in 2014. She has previously curated exhibitions Tracing the Remains and Connective Tissue in the Thomson Gallery of the Mütter Museum.
John Whitenight is co-curator of Woven Strands and a collector of 19th century decorative arts, with one of his areas of focus being objects created by hand and placed under glass domes. This interest has culminated in Whitenight writing the book, Under Glass: A Victorian Obsession, which includes a chapter devoted to the art of hair work. His collection of domes began in 1973 and numbers over 200 fascinating items, including those done in hair. Whitenight currently serves as the senior judge of the miniature settings class at the Philadelphia Flower Show and is a member of the American Art Advisory Committee at the Philadelphia Museum of Art.
Anna Dhody is an experienced forensic anthropologist who oversees the Mütter Museum's "disturbingly informative" collection. As Curator of the Mütter Museum and Director of the Mütter Research Institute she provides a unique, informative experience for the Mutter's 175,000-plus annual visitors. Before joining the Mütter, she served as an osteologist at Harvard University's Peabody Museum of Archaeology and Ethnology. She is the author of "The Underground Crime Scene: The Use of Archaeological Excavation Techniques in the Recovery of Buried Crime Scene Evidence," a manual currently used by law enforcement agencies in several countries.
Evan Michelson is co-curator of Woven Strands and an antiques dealer, collector, lecturer, writer and award-winning curator. She is the co-owner of Obscura Antiques and Oddities in New York City, the co-star of the hit television series "Oddities" (which ran for five seasons on the Science Channel), and was a founding board member of Brooklyn's Morbid Anatomy Museum. Michelson has had a lifelong interest in arcane and beautiful objects, with a focus on the history of science, medicine, mortality, and mourning. Victorian hair work was her first professional obsession, and its intimate, mysterious, and elaborate nature continues to hold an unwavering fascination.
Courtney Lane is a Victorian hair artist and historian based out of Kansas City who has dedicated her life to pursuing knowledge of hairwork techniques as well as the peculiar history behind the art form. By creating modern pieces of Victorian hairwork and educating the public about the often misunderstood background, Courtney seeks to ensure that this sentimental tradition is Never Forgotten.
Karen Bachmann teaches at both Pratt Institute and Fashion Institute of Design. She specializes in jewelry, holloware, and decorative art. She has particular interests in medieval memento mori and 19th century sentimental work. She is a practicing studio jeweler and a former master jeweler at Tiffany & Co. She has had work published in Art Jewelry Today, and the Lark 500 series books. Written published work includes "Hairy Secrets: Human Relic as Memory Object in Victorian Hairwork Jewelry". Her most recent publication is an essay on hairwork in the book "Death: a Graveside Companion", Thames & Hudson.
Collectors
Jennifer Berman, Eden Daniels, Evan Michelson, Pamela Moschini, and John Whitenight
Jennifer Berman lives in New York City where she is a collector and playwright. She became interested in Hairwork after seeing her first Hair Wreath at a Historical Society when she was seventeen years old.
Eden Daniels is an antique jewelry dealer, jewelry designer and passionate collector with a background in costume design for film and television, who now runs a successful online jewelry shop: The Eden Collective. With an avid interest in momento mori symbolism and a focus on Georgian and Victorian jewelry, she finds the history of the pieces in her collection as fascinating as their forms.
Pamela Moschini started collecting Victorian hair art 30 years ago, a passion that has not waned over time. She has amassed 500 pieces in her personal collection; each one having a special connection or unique feature that distinguishes it from the others.
ABOUT THE RECEPTION
For 21 years & older: Enjoy hors d'oeuvres, cocktails, and musical performances by The Divine Hand Ensemble. Guests are encouraged to dress in their interpretation of Victorian Mourning attire- get fancy, button up, don an arm band, wear black, lavender, or grey...and capture your evening ensemble in a photo booth by The little Picture Booth.
---
ABOUT "WOVEN STRANDS"
A favored folk art of the 18th and 19th century, hair art was an expression of grief and love, usually created by women who have become anonymous over time. Human hair from both living and deceased persons was used to form flower bouquets, wreaths, braided jewelry chains, weeping willows, and painted scenes of mourning. Considered to be a form of portraiture, these were cherished tokens to preserve the memory of a deceased loved one, chart a vibrant family tree of the living, or to be traded as friendship keepsakes. It is rare to view such pieces publicly as they were created in domestic settings, primarily for home display.
From five private collections, the Mütter Museum along with John Whitenight and Evan Michelson have assembled an exquisite group of hair art and jewelry as well as accompanying materials that discuss the social expectations of Victorian-era mourning rituals that ruled 19th century society with strict standards.
Created in conjunction with Morbid Anatomy and co-curated by collectors John Whitenight and Evan Michelson, along with Museum Special Project Manager Emily Snedden Yates, this exhibit will be open to the public January 19, 2018 – September 16, 2018.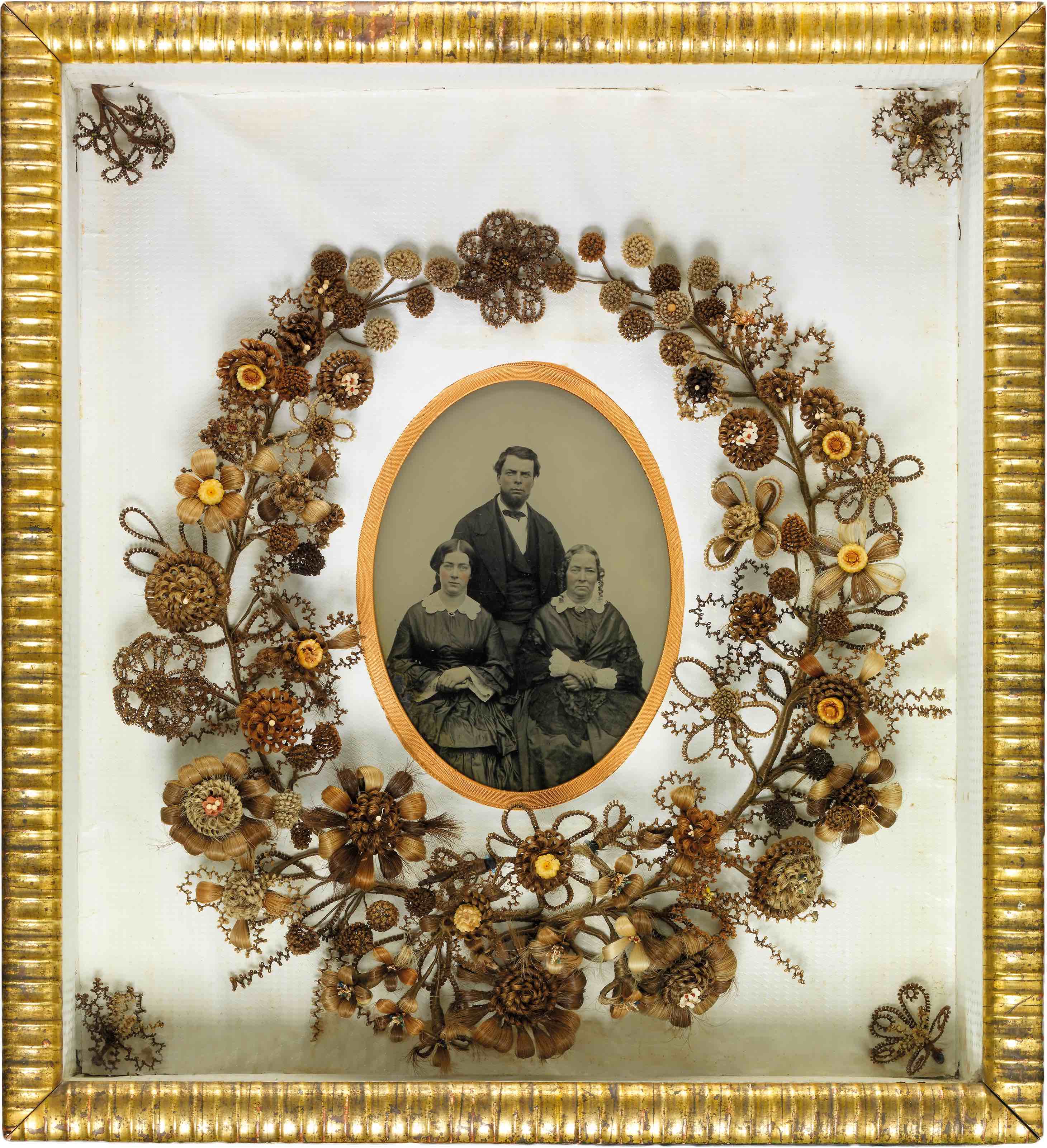 Questions? Email events@collegeofphysicians.org

Event tickets are non-refundable, but are transferable to other people.
Date and time
Location
Mütter Museum
19 S 22nd St
Philadelphia, PA 19103
Refund policy