| | |
| --- | --- |
| Wound Treatment Associate (WTA) Certification Program | |
Event Details
Wound Treatment Associate (WTA) Program  
The 12 week online course, with a post-program onsite skills check
at our facility with the help of our WOC specialty nurse.
PROGRAM COSTS
Individual Fee : $900/person
Group Fee : $750/person
Tiered Payment Plans : Reserve Seat Deposit for $500 -- Next payment in 1 month after class : $450

Payment Plan Code: For GROUPS of 3 or more : GROUP3WTA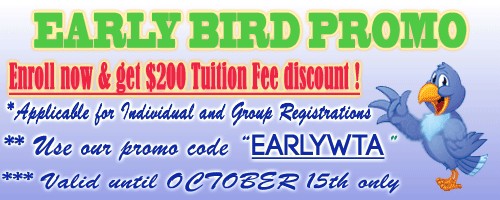 CLASS DATES: October 26th, 2015 -- January 15th, 2016 -- January 16th, 2015

Healthcare Professionals
Wish to add Wound Care Credentials after your signature?
Enroll in our WOCN - endorsed Wound Treatment Associate (WTA)
Eligible for Licensed Professionals ----- MDs, RNs, LVNs, Physical Therapists, Occupational Therapists, and Medics.
PLUS we have an alternative Certificate program for CNAs and PCAs
Acquire competencies and knowledge beyond your regular licensure specific to Wound Care, one of the most sought - after skills in BOTH long term and acute care settings.
Wish to specialize in Wound Care?
Add WTA credentials to your signature.
► Endorsed by WOCN, the Gold Standard in Wound Care Training and Treatment
► Flexible Education Program: 12 Weeks online + 2 days onsite skills testing and written exam.
►Designed to be with affordable pricing plan.
Why bother with acquiring WTA?
► Increase your marketability.
► WTA credentials are sought-after in acute, sub-acute and long-term healthcare settings.
► Employers prefer hiring nurses and allied health professionals with additional certifications. (U.S. Bureau of Labor Statistics)
► Nursing homes and home health care services, which represent large number of wound care patients, are projected to have higher employment rates at 25% and 33% respectively thru 2018 compared to hospitals at 17%.
► Wound Care RNs earned an average of $82,104 annually - that's 15% higher than non-certified staff RNs. (WOCN Survey, 2012).
Administrators:
Are you an Administrator for your Facility?
Need to implement a Wound Care Prevention & Monitoring program?
►This WTA program is the Perfect Solution --- Comprehensive but can easily be tailored. 
►Let us certify your staff, assemble a Wound Care Team and create WOCN - based protocols for your institution.
*WOCN - Wound, Ostomy and Continence Nurse society -- the leading accrediting organization in Wound Care.


WTA Program Major Topics
1) Management of Arterial / Ischemic Ulcers
2) Management of Venous
3) Prevention & Management of Neuropathic Ulcers
      -A & P of Skin and Soft Tissue
      -Skin and Tissue loss caused by External factors
      -Establishing Protocols for Prevention
      -Legal and Regulatory Issues
      -Physiology of Wound Healing
      -Systemic Factors Affecting Repair
      -Wound Assessment and Documentation
      -Guidelines for Topical Therapy
      -Assessment and Management of Refractory Wounds
WHAT TO EXPECT
1) Learn through narrated online PowerPoint presentations with access to the course coordinators to answer questions along the way.
2) After completing the lessons, take a timed online test and participate in a group clinical skills competency test at our Training Center.
3) Take the Board Exam at an assigned ATI testing center
(details discussed after passing the program -- this is a separate fee of $375 not included in the program)
Why choose WTA Program?
• Content of this program provides clear discussion of role limitations and importance of CWCN consultation for complex or non-responsive wounds.
• WTA Program includes clinical competency training and testing.
•

Pricing is designed to provide affordable wound care education.
When & Where

Educate Simplify
3580 Wilshire Blvd., 17th Floor Suite 1705 C&D, Los Angeles, CA, 90010



Organizer
Educate Simplify
BVNPT Approved IV Therapy & Blood Withdrawal Course
American Heart ACLS, BLS, PALS, NRP, Workplace CPR
     Call to Register!    213 300 5045       1 888 327 0003 
Educate Simplify dba: CreativeResol-ve Healthcare Education Company was founded in 2006 and offers an array of educational services ranging from American Heart Association courses to Continuing Education courses for medical, nursing and allied health professionals. 
Use of American Heart Association materials in an educational course does not represent course sponsorship by the American Heart Association. Any fees charged for such a course, except for a portion of fees needed for AHA course materials, do not represent income to the Association