WORTHY - "Living The 5 Factors of Success." LIVE West Coast Women's Conference

Saturday, April 6, 2013 from 10:00 AM to 3:00 PM (PDT)
Event Details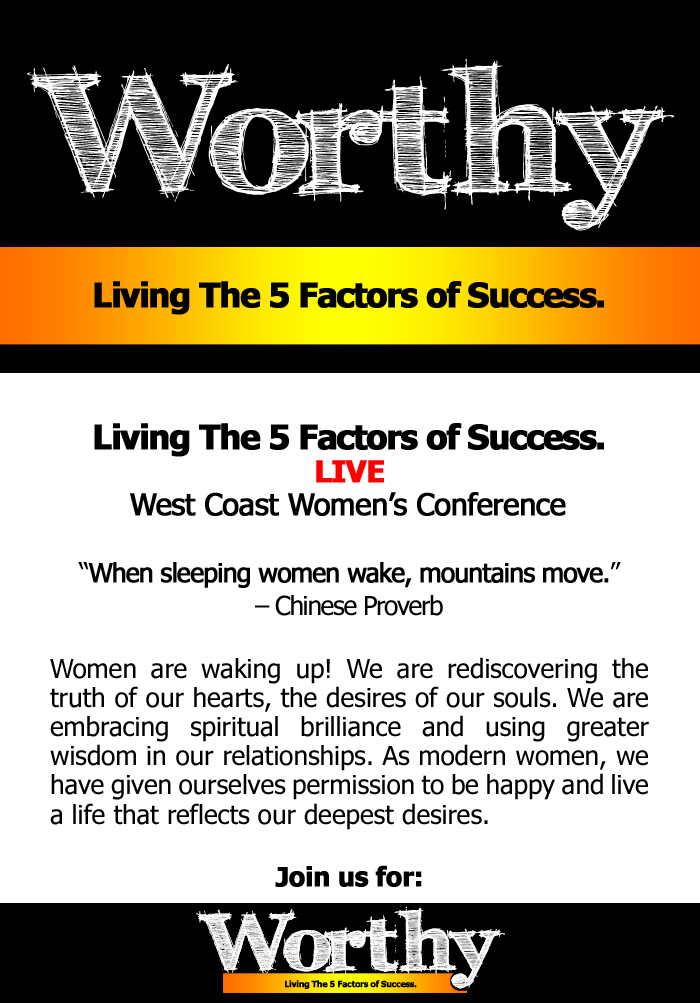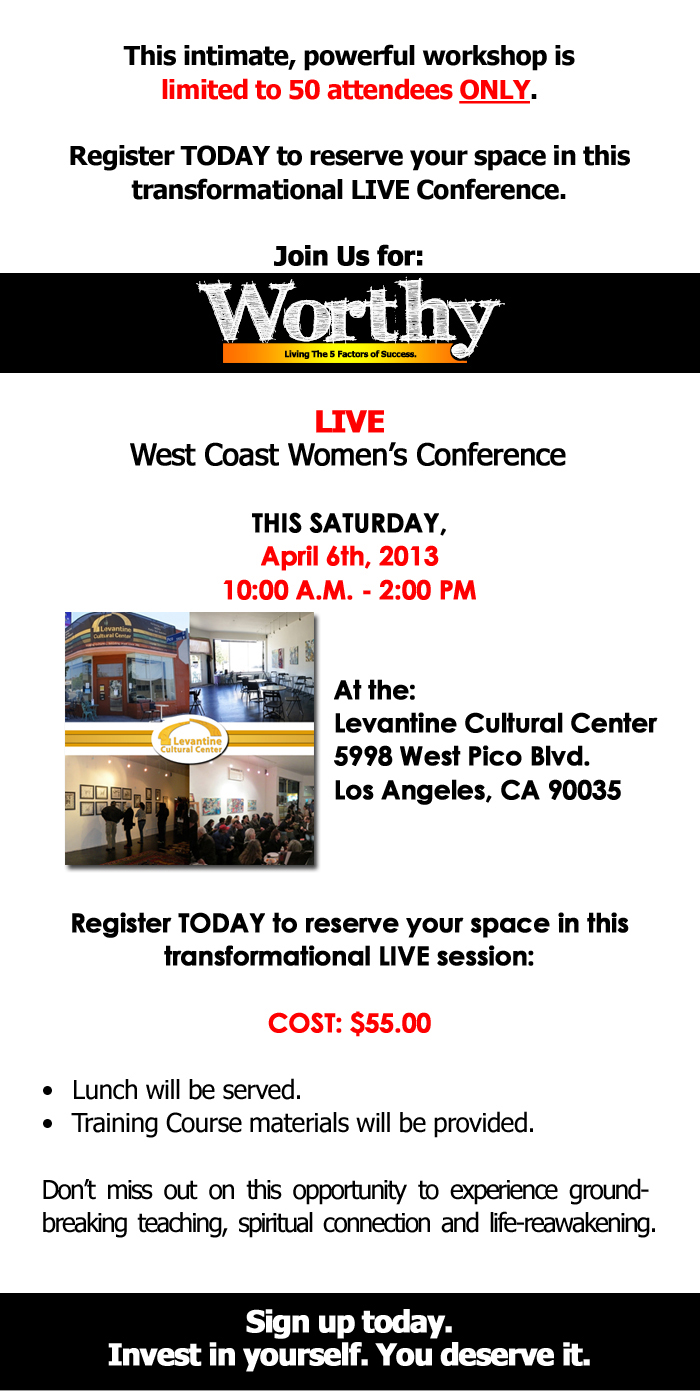 Worthy
"The 5 Factors of an Irresistible Woman."
Live West Coast Women's Conference
"When sleeping women wake, mountains move." – Chinese Proverb
Women are waking up! We are rediscovering the truth of our hearts, the desires of our souls. We are embracing spiritual brilliance and using greater wisdom in our relationships. As modern women, we have given ourselves permission to be happy and live a life that reflects our deepest desires.
Join us for:
WORTHY
"The 5 Factors of an Irresistible Woman."
During this unique 4-hour workshop hear from:
Inspirational Teacher, Author and Thought Leader Shannon Yvette Tanner as she shares profound insights into the area of purpose, passion, love and relationships. In this transparent, no-holes barred workshop, we will get past the religious fear, rigid traditions and embrace the authentic power of God's love, peace and clarity.
Rise above the hindrances of your past and ignite the promise of your future by mastering The 5 Factors of an Irresistible Woman. These transformational principles are broken up into FIVE, engaging 45 minute workshop power sessions:
Factor 1: Confidence
SELF-ESTEEM is a gift. Our self-concept impacts every area of our lives. Self-confidence plays a critical role in our romantic, business, personal happiness and relationships. The way we view ourselves, impacts the way we relate to God, life and people. During this insightful 45 min session learn:
·         The 7 Pillars of Self Esteem- Based on over 25 years of comprehensive research, these classic, effective and proven principles are inspired by the body of work of Dr. Nathaniel Branden (The Pioneer of the self-esteem movement.)
·         How to nurture self-esteem for higher effectiveness in life, business and love.
·         Wholeness: The key to spiritual confidence and inner-healing.
Factor 2: Calling
PURPOSE defines the quality of our lives as woman. Our purpose in life is to discover and live a life of purpose. Purposeful living positions a woman to be a magnet for abundant, new and exciting opportunities. Purpose transforms a woman's destiny. During this impactful 45 min session learn:
·         The number one question that a woman must answer on the road to purpose.
·         Your authentic expression is a gift to the world. Learn the importance of being in sync with vision, intention and intuition.
·         Releasing the fear of uncertainty. Overcoming self-doubts that hinder moving into successful, purpose-centered living.
Factor 3: Clarity
INTUITION is a spiritual skill that must be honed, developed and trusted. We will teach the process and practice of spiritual discipline. Learn the principles of meditation, soul-sabbatical, and life balance during this engaging 45 min session.
·         Finding the center- maintaining balance, priorities and a soul-care routine that enhances clarity, wisdom and peace. Learn to trust the process. 
·         Principles of inner-healing and wholeness- learning the difference between the voice of fear and panic, and the voice of truth and sound direction.
·         Focusing on your first love; Releasing past guilt, unforgiveness and shame and strengthening your relationship with God.
Factor 4: Courage
RESILIENCE, belief and focus are the cornerstones of courage. Courage grows with consistency. Understand the principles of living a life that reflects your convictions and desires. Overcome the patterns of paralyzing fear, past self-sabotage and become the hero of your own story.
·         Recognizing the voice of self-criticism, judgment and confusion. Practice compassionate self-talk and self-acceptance for maximum clarity and effectiveness in life.
·         Stop living in "survival mode" lead a proactive life with sound priorities and wise choices that catapult you into destiny.
·         Face your soul-lies, adopt the strategy to overcome a lack of worthiness and embrace the truth that you are more than enough.
Factor 5:  Connection
RELATIONSHIPS define our legacy. Reflections are the mirror to the soul; they expose our hurts, fears and strengths like nothing else. During this candid and transparent session, Shannon Yvette Tanner will share the common ways we experience breakdown and restoration in our relationships.
·         The 5 Ways women forfeit power in relationships. Removing the hindrances to authentic love, intimacy and soul-level connection.
·         The power of vulnerability in relationships. How through keeping an open heart, you become a magnet for meaningful love and connection.  
·         Masculinity and Femininity 101- Have the rules changed? The new role of women in love and relationships.
This intimate, powerful workshop is limited to 50 attendees ONLY.
Register TODAY to reserve your space in this transformational LIVE Conference.
Join Us for:
WORTHY
LIVE West Coast Conference and Event
on
Saturday, April 6th, 2013
10:00 A.M. - 3:00 PM
At the:
Levantine Cultural Center
5998 West Pico Blvd.
Los Angeles, CA 90035
Register TODAY to reserve your space in this transformational LIVE session:
COST: $55.00

Training Course materials will be provided.
Don't miss out on this opportunity to experience ground-breaking teaching, spiritual connection and life-reawakening. Join us for: WORTHY- "The 5 Factors of an Irresistible Woman." 
Sign up today. Invest in yourself. You deserve it.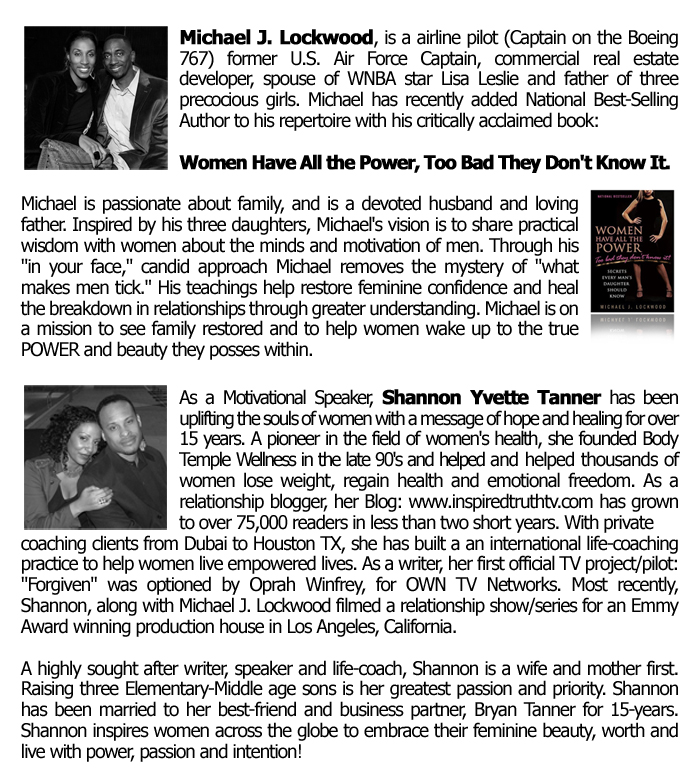 When & Where

The Levantine Cultural Center
5998 W. Pico Blvd.
Los Angeles
90035


Saturday, April 6, 2013 from 10:00 AM to 3:00 PM (PDT)
Add to my calendar
Organizer
Shannon Yvette and "Inspired TRUTH for Relationships."