Worship/Prayer Summit 2 Chronicles 7:14 James & Nicole White-Host Gues...
Actions and Detail Panel
Worship/Prayer Summit 2 Chronicles 7:14 James & Nicole White-Host Gues...
Sat, January 14, 2017, 8:30 AM – 12:00 PM CST
Description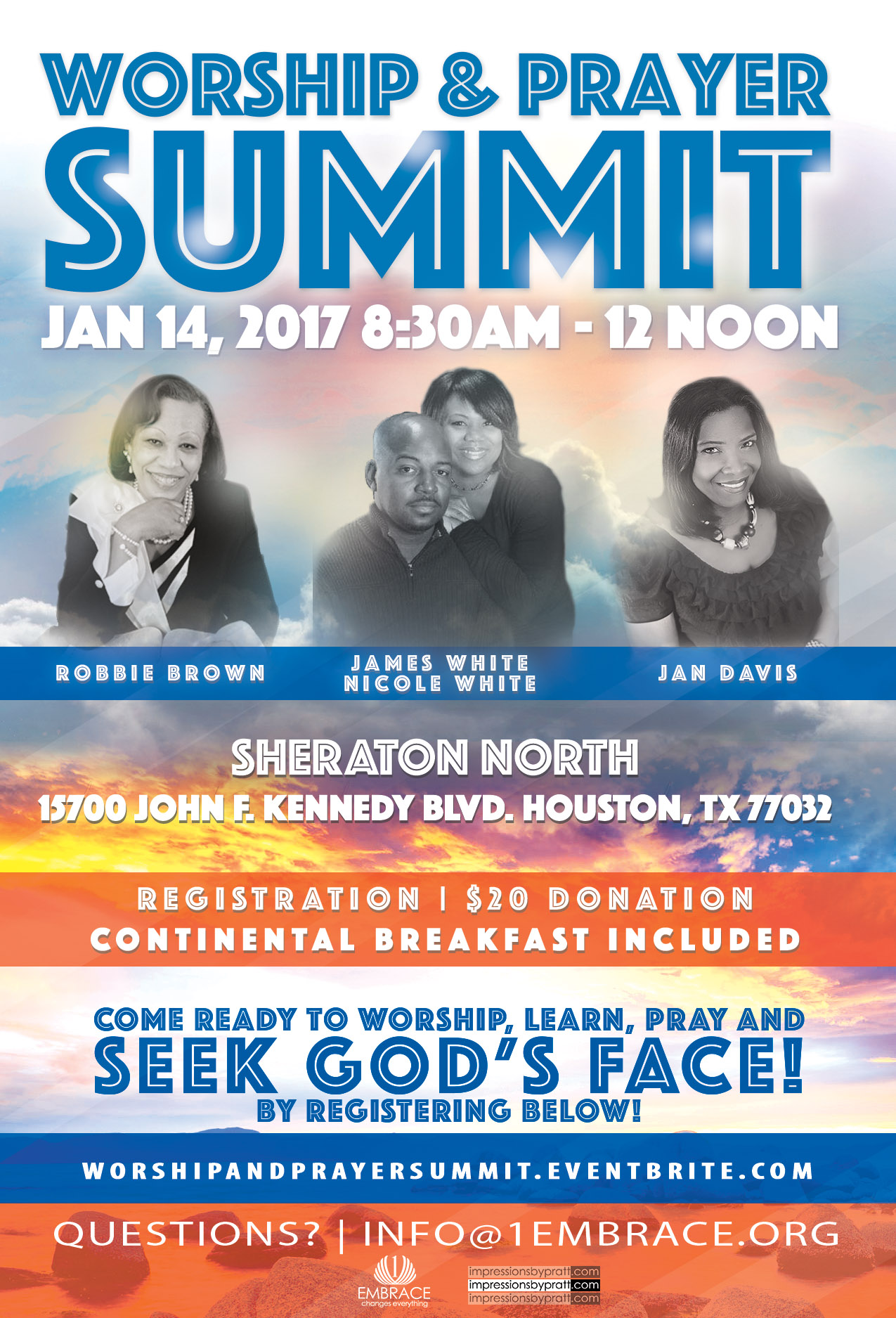 ---
GUEST: Worship Leaders and Recording Artists: Tanner Gray, Krystal Holmes and Shawni Richardson
2 Chronicles 7:14
"If My people, who are called by My name, will humble themselves and pray and seek My face and turn from their wicked ways, then I will hear from heaven, forgive their sin, and heal their land."
OUR WHY: We worship, but in a way distinct from a praise and worship service. We read Scripture, but differently than on a typical Sunday morning. We pray with a unique flow; unlike a Wednesday night prayer meeting. Nor do we function as merely a prayer retreat, designed for spending personal time with the Lord. We certainly are not a prayer conference; do not expect any sermons or study outlines.
The Worship & Prayer Summit utilizes all of the above experiences, but in such a unique way it becomes a wonderful yet indescribable encounter.
Think of a Worship & Prayer Summit as a place where all of God's children-red, yellow, black, and white-can gather in a humility that produces biblical unity. It's an environment that welcomes the expression of every person, culture, and tradition. It's a prayer meeting where all have the freedom to be themselves, yet the responsibility to serve others.
OUR FACILITATOR: Our facilitator is the Holy Spirit. He is the leader. He sets the agenda.
A team of men and women are assigned to discern the voice of the Spirit as we journey in prayer together. They will point us in His direction. They will give guidelines and guidance. They will remind us to stay on the Spirit's course. They even will turn us back if we go too far afield. Listen closely to their instruction; they will give clear indications as to what prayers are appropriate in each session. Listen also for changes of direction and tempo as the session of prayer proceeds.
These men and women welcome your feedback between prayer sessions, as well as during the course of the Summit. Your insights and ideas assist them in discerning the will of God for our prayers. For the sake of order and continuity during the session, we ask you to walk quietly to one of the team members and briefly share your sense of new direction, then allow him or her to seek the Lord on how to act on your insight.
OUR FOUNDATION: Our foundation is the Word of God; it is our authority.
The Bible remains central in every prayer session. Our prayers are both based upon and bound by the teaching and truths of Holy Scripture.
A Prayer Summit is a life-changing worship and prayer experience. A Prayer Summit is a time to connect with others who have a heart for prayer and community transformation and a time of healing and refreshment. The purpose is to seek God, God's Kingdom and God's righteousness with the expectation that God will guide us through a humbling, healing, uniting process which will lead us into unity of heart, mind and mission.
Come expecting to connect with God through worship and through prayer.
Come expecting the Spirit of God to be our guide.
In Jesus Name, AMEN.