Description
SPEAKER: Jason Moore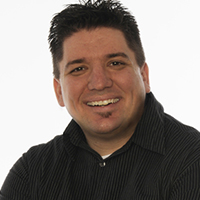 An award winning digital artist, Jason continues to establish new styles for visual imagery in worship that he hopes will help the church reach the culture we live in. He leads seminars across North America on creating cutting edge worship, with an emphasis on demystifying the productions process.
In 2000, Jason co-founded Lumicon Digital Productions, a non-profit arm of UMR Communications whose purpose is to be a comprehensive teaching center for assisting churches in the ministry of digital culture. After 2 years of casting vision and producing high quality worship resources for churches through Lumicon, Jason established Midnight Oil Productions along with Len Wilson.
---
WORKSHOP
This workshop is designed for worship leaders and teams to have a "hands-on learning experience designed to bring creativity to congregations of any size, means, and worship style."
There will be four sessions, each one addressing a different aspect of worshiping creatively.
Session 1: Culture- In this session, learn how to engage our culture through metaphor, story, experience, and participation.

Session 2: Art- In this session, you will learn 7 time-teseted principles for design and more.

Session 3: Team- In this session, learn who should be on your team, and how to collaborate with them through an intentional process.

Session 4: Technology- In this session, elarn how to keep the bar high once raised and what technology is needed to create what you dream.
---
SCHEDULE/MEALS
Saturday, November 5th from 9:00 am to 4:00 pm
Lunch is available for purchase on the event checkout page near the bottom! Add your lunch to your order before clicking 'pay now'!

If you choose not to purchase lunch you will be expected to provide your own.

Light snacks will be provided throughout the day.
---
~~~For more information about this event: 972-526-5052~~~