Description
Worship Summit Live is a full day of worship technology and church production learning education. This Digital Summit is an online gathering of emerging thought leaders pushing the boundaries of technologies for worship. Join this Digital Summit with like-minded individuals from all around the world who have a passion for sharing the good word in local and online communities. This Summit will focus on the powerful communication technologies available to churches who wish to connect their services with members of the church who cannot make it any given Sunday.
Worship Summit Live is all about the connections your church can make. This event is a celebration of the opportunities made by live streaming. Come for a day of collaboration, and Q&A with the experts speaking on a number of timely topics. This summit is the best way to jump-start your church's communications outreach and audiovisual team goals.
Who should attend?
Anyone interested in live streaming
We are living in a digital age. Live streaming is now the fastest, most authentic way to reach an audience. With Facebook, YouTube, Amazon, Twitter, and LinkedIn all offer live streaming... the social communication implications are wide-reaching. If you're interested in spreading the message of god with modern online tools... This is the event for you.
Why?
Two words: Interactivity & Engagement. Live streaming is interactive, and it's your opportunity to engage with online audiences and create a lasting impression that could one day lead to the front doors of your church. Live streaming is quite literally changing the way online services are being delivered. Uncovering the power of live streaming can connect your church with members who are on vacation, shut-ins who cannot physically make it, and new generations of younger folk. At the Worship Summit Live, you will gain strategies from top industry leaders. Virtual and in-person attendees can participate in live demonstrations, and join break-out sessions and get in-depth information from a host of expert panelists.
Schedule: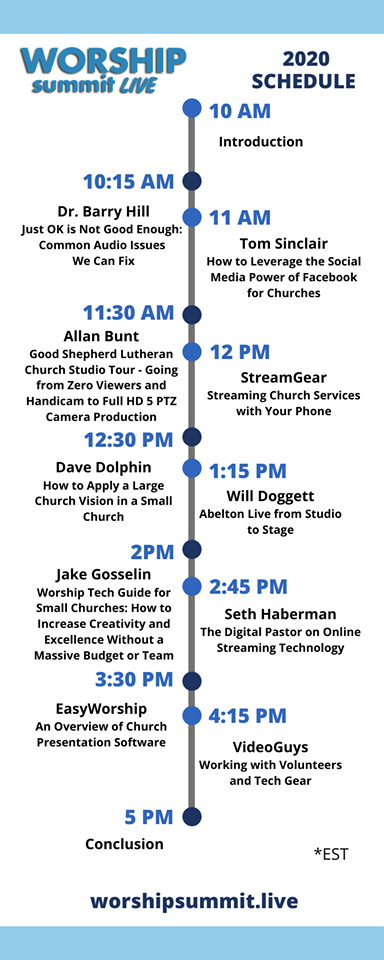 Church Production Crews & Volunteers
Live video production isn't easy. That's the truth. You have to create a plan, implement it, and produce engaging content that holds your audience's attention. This summit will prepare your team with forward-thinking plans of action that can lead the way.
You can accelerate your church's interaction with online audiences and create lasting connections with your church's message with viewers. These interactions help build your community both online and in church.
Creative Minds Come Alive
Live streaming is perhaps the latest new trend in online communications. Learning how to harness these capabilities can streamline your church's community outreach possibilities. Maybe your churches Pastor wants to start his own live show. Perhaps you have an online community ready to help share your message. The power of live streaming on social media can reach into places you can only imagine.