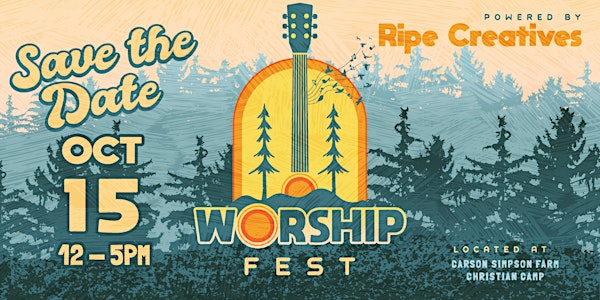 Worship Fest
Carson Simpson Farm , in partnership with Ripe Creatives, presents Worship Fest. This is a free community concert coming this October.
When and where
Location
Carson Simpson Farm Christian Camp 3405 Davisville Road Hatboro, PA 19040
About this event
Worship Fest is to be held on October 15th from 12pm.-5pm. and will be a completely free festival for churches and the community.* The mission behind Worship Fest is to spread the gospel, through worship, arts, and community fellowship. Throughout the event, local church's Worship teams will perform and Ripe creatives will have hip hop artists, spoken word poets, artists, and Ripe's very own Worship team perform. We are so excited for this opportunity for every tongue, tribe, and nation to gather and worship our awesome God! We ask that you please confirm your attendance by purchasing a free digital ticket. A reminder that Carson Simpson Farm Christian Camp prohibits any smoking, drugs, and alcohol use.
*Food and Beverages will be available for purchase from a variety of food trucks.