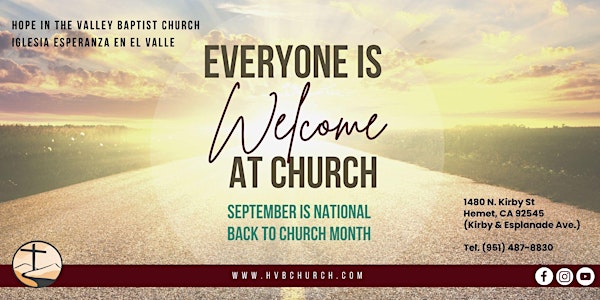 Worship & BBQ at Hope in the Valley Baptist Church in Hemet /San Jacinto
Let's worship & free BBQ @ Hope in the Valley Baptist Church" in Hemet. September is National "Back to Church" Month.
When and where
Location
Hope in the Valley Baptist Church 1480 North Kirby Street Hemet, CA 92545
About this event
We welcome you to "Hope in the Valley Baptist Church" in Hemet. September is National Back to Church Month. Please come as you are.
[ Free Fun Events in September Sundays ] 9/18 @ 12:30pm: BBQ Lunch. Enjoy a delicious BBQ lunch after 11am service. 9/24 @ 5:30pm: Lord's Supper Banquet. Dinner will be provided. Chicken with mashed potatoes, veggies, and green salad.
[ HVBC Community Support Ministries ] * GriefShare (Every Tuesday 5:30pm~7pm - Register online): It hurts to lose someone… Let us give you a hand at GriefShare. GriefShare is a friendly, caring group of people who will walk alongside you through one of life's most difficult experiences. You don't have to go through the grieving process alone. * DivorceCare (Every Tuesday 6:30pm~8pm): DivorceCare is a 13-week program that covers important topics for those who are going through a divorce or who have gone through a divorce and may still need to heal. This program is rich in wisdom and loving, Godly teaching and support. Come and see what the program can do for you! * Grounded (Every Thursday 6pm~7:30pm): Your disorders don't define you. A helpful reminder from the GROUNDED Ministry of Hope in the Valley Baptist Church. Come and join us if your life has been impacted by brokenness caused by issues surrounding mental illness, or abuse, or you live with someone else who has. * Celebrate Recovery (Every Thursday 6:30pm~8:30pm): CR is all about community and relationships. It's a Christ-Centered program that gives people the resources and relationships to help recover from life's hurts, habits, and hang-ups.
[ Worship Services & Bible Studies ] Sunday Worship: 8:00am & 11:00am (Worship Center). En Español Servicios: 11:00am (Fellowship Hall). Online Live: 11:00am (Facebook and YouTube). Sunday School Classes at 9:30am (for all ages). Wednesday Bible Study Classes at 6pm: Bible in One Year (Caleb), General Adult Bible Study. AWANA Wed. 5:30-7:30pm (3yrs through High School) Paradigm Tuesday 7pm: Young Adult Ministry (Lobby)
You can find more information about our ministries available on our website www.hvbchurch.com or call the church office at 951-487-8830.
Hope in the Valley Baptist Church / Iglesia Esperanza en el Valle
Location: Hope in the Valley Baptist Church Iglesia Esperanza en el Valle 1480 N. Kirby St., Hemet CA 92545 (Kirby & Esplanade Ave.) (951) 487-8830 www.hvbchurch.com Hvbchurch@Hvbchurch.com
Church in Hemet, CA, Church in San Jacinto, CA
Church in Winchester, CA: Gospel Community Church 28200 Wescott Ct., Winchester, Ca 92596 https://www.winchestergcc.com
See you soon!