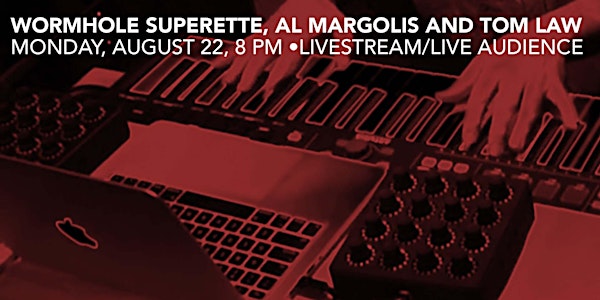 Wormhole Superette, Al Margolis and Tom Law, August 22, 8 PM
Join Wormhole Superette ( Tracy Lisk and Irman Peck) and Al Margolis and Tom Law on Monday, August 22 at 8 PM at Green Kill.
Refund Policy
Contact the organizer to request a refund.
Eventbrite's fee is nonrefundable.
About this event
Join Wormhole Superette ( Tracy Lisk and Irman Peck) and Al Margolis and Tom Law on Monday, August 22 at 8 PM at Green Kill.
This event will be livestreamed on the Green Kill Sessions YouTube Channel and will be open to a live audience of 30. Tickets are 5 dollars.
1. Please click "Tickets" button to access livestream or live audience ticket.
2. Select "Livestream Ticket" or "Live Audience Ticket". Audience members attending in person must be masked! Please choose the right ticket. A Livestream Ticket provides you with a link to the Green Kill Sessions livestream which can be accessed remotely on your own equipment. A Live Audience Ticket puts you on a list for a reserved set at the event, and also provides you a livestream link. If you are coming to the event, please arrive 15 minutes before starting time. There are no ticket sales at the door. All tickets must be reserved on Eventbrite.
3. Enter the number of tickets you would like to buy.
4. Enter your credit card information: Name, Number, Expiration Date, and CVV code. Double-check the info you entered. Make sure it's correct. It's easy to slip up!
5. select "Place Order". You will then have access to the page which has a watch event link. Click on that link to see the YouTube event address. An email will also be sent to the email address you provided with the link.
Shortly before the event, you will receive a reminder link.
Please be advised that tickets are not transferable. If you wish to buy a ticket for someone else, you must use their email when buying a ticket for an event.
Because COVID is still a potential hazard guests attending the livestream in person must be masked and vaccinated. Artists organizing events can limit the number of a live audience or decline to invite any in-person attendance.
Wormhole Superette ( Tracy Lisk and Irman Peck)
Tracy Lisk
Tracy Lisk is a drummer based in Philadelphia, Pennsylvania.   Ms. Lisk's history as a painter and background in Brazilian percussion inform the substance of her improvisations which contain references to rhythmic structures while maintaining a fluid, suspended continuity.  In addition to her work with Wormhole Superette, she has collaborated with Gary Hassay, William Parker, Andrea Pensado, dancer Ryuzo Fukuhara (JP, SI), and Mia Zabelka (AU).
Irman Peck
A 40+ year improviser/composer,  Irman Peck is a veteran of various East Coast Underground, Post/Punk and No Wave scenes. He's a founding member of both Greg Weavers "Los Dominos" and Brian Kelly's "Suns".   I. Peck plays electronically processed strings with a focus on bass, both electric and upright.  As well as Wormhole Superette, Irman is currently part of the Duo "Fronds & Fringe".
Al Margolis and Tom Law
Al Margolis
Al Margolis has been working under the musical pseudonym If, Bwana since New Year's Day 1984. The moniker is an acronym for "It's Funny, But We Are Not Amused." He has since earned an international reputation for his experimental noise music.
Tom Law
Tom Law is a composer/improviser from Saugerties NY who performs laptop-based electroacoustic music.  He also plays viola da gamba, and curates a series of concerts at Opus 40 sculpture park that range from early music to avant pop.  A native South Carolinian, he opened the figmental Conundrum Music Hall in West Columbia 2011, and closed it in 2015.