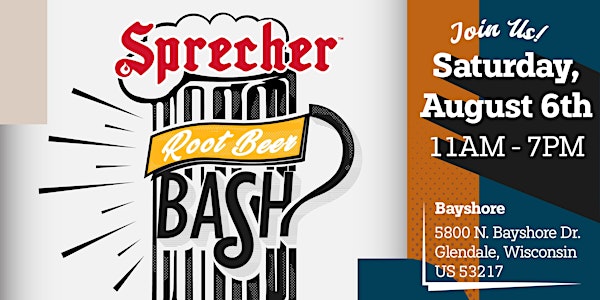 World's Largest Root Beer Float Festival - Free Sprecher Floats for All!
Welcome to Glendale's Annual Sprecher Root Beer Bash, Presented by BAYSHORE, Culver's of BAYSHORE and SPRECHER!
When and where
Location
Bayshore 5800 North Bayshore Drive Glendale, WI 53217
About this event
Schedule of events:
11am- Root Beer float giveaway. Get your free Sprecher Root Beer Float!
11am- FREE Goody Bag giveaway (first 500 attendees) SPONSORED BY THE FRIENDSHIP CIRCLE OF WI
11am-1pm: Kids Dance Party in THE YARD
11am- 1pm: FREE Balloon Artist & Face Painting
11am-3pm: Kids Petting Zoo, Tie Dye Tent (while supplies last), Free Canva Panting (First 50 Kids - ToDoArt Painting Booth)
11am-5pm: Art & Artisan Vendors
11am-7pm: Food Truck Alley: Oxtail Noodle House, Shorty's Grilled Cheese, Tatay's Truck
1pm-2pm: Live DJ
2pm-4pm: Cold Sweat & the Brew City Horns
5pm-7pm: BLOCK PARTY plays your favorite rock, pop, dance & country music. Pump your fist or dance the night away - we want every show to be a party! PRESENTED BY CLARK DIETZ.
Food & Beverage Information:
Enjoy great tastes and treats throughout the event. Grab a beverage from Flip Flop Tiki Bar, and local foods down Food Truck Alley. There is also a variety of food and restaurants located at BAYSHORE including Kilwins, The Cheesecake Factory, California Pizza Kitchen, Fresh Fin, Culvers, Potbellys and more.
Artists & Vendor List:
Orange Pops, LLC-Jayna's Home Goods, Tres Ojos,Katlyn Boss-, AZ Tees, Stacey's Knitting, Dawn Priddy & Michele Ward, Shred 415 , For the Love of Drax LLC, Fresh Chef MKE, Boom Chakra Laka, Thomas Ertl Designs, CoolAFglass, Rivet + Bezel, The Mil Clothing Company LLC, Natural As Can Be Skin Care Products, Alzada Downs Avon, SistaSista Clothing + Jewelry, Travel Collective @ Bayshore, Wealth, Wicks, and Wine, Brass Bell, MKE with Kids, Waverly Educational Consulting, Goody Gourmet, Tiffany;s Desserts, Gigi's Playhouse, Transition Health, Kilwins MKE...and much more!
HOST: Welcome to Glendale (CVB)
PRESENTING SPONSORS: BAYSHORE, CULVER'S OF BAYSHORE & SPRECHER
SPONSORS:
We thank our generous sponsors for making the Root Beer Bash possible: Sprecher, BAYSHORE and Welcome to Glendale, The North Shore Chamber of Commerce, Town Bank, Jilly's Car Wash, The Barnes Realty Group (Realty Executives), Clark Dietz. The Friendship Circle of Wisconsin, and Glendale Heights Child Care. Culvers of BAYSHORE and Shorewood.
Our sponsors:
Sprecher- http://sprecherbrewery.com
BAYSHORE- https://thebayshorelife.com
Welcome to Glendale- https://welcometoglendale.com
North Shore Chamber- https://welcometoglendale.com/gaba/north-shore-chamber-of-commerce-membership/ Culvers- https://www.culvers.com
Town Bank- https://www.townbank.us/?cid=organic:yext:yext-referral-traffic:TB11831:202201 Jilly's Car Wash- https://jillyscarwash.com
Realty Executives- https://www.realtyexecutives.com
Clark Dietz - https://www.clarkdietz.com
The Friendship Circle of WI - https://www.fcwi.org
Glendale Heights - https://www.glendaleheightschildcare.com