World Women Trade & Investment Forum – (WWTIF) Malaysia 2020
About this Event
Proudly hosted by Malaysia World Chamber of Commerce (MWCC)  World Women Trade & Investment Forum (WWTIF) Malaysia 2020 is an unprecedented event focusing on businesses all across Asia. 
WWTIF for the first time in Asia brings community of aspiring women entrepreneurs and investors from more than 10 countries under one roof to explore funding and trade collaborations.
A great platform to network and discuss pressing issues affecting funding opportunities, emerging investment options and technological impact on business.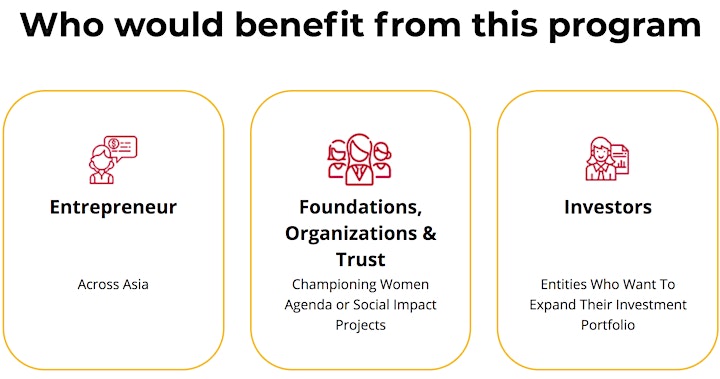 Typical challenges faced by women entrepreneurs worldwide
Gender bias
Major part of Asia especially, it has been a patriarchal notion for a long time that women should be relegated to domestic and household chores. This especially stands true for the rural segment and smaller towns.
Women investors not a dime a dozen
Asia has a flourishing start-up ecosystem, but there are only a handful of female investors who have successfully achieved such a status to invest in start-ups and upcoming businesses. Only a few women entrepreneurs have completed the lifecycle of entrepreneurship that includes starting a venture, raising money, exiting it and giving in to healthy returns. The main reason there are very few angel investors who are women.
Socio-Culture
It has been proven in studies that female entrepreneurship is hindered more by social and cultural constraints rather than access to finance, particularly in Asia.   In some cultures, a woman is required to look after family, especially the kids and juggling entrepreneurship with balancing life at home can be challenging for many. Not all women aspiring to be entrepreneurs have domestic assistance and so multitasking might serve as a hindrance towards the entrepreneurial aspirations of a woman.
Awareness on Entrepreneurship
Beside education or the right knowledge to initiate a business, many other factors must be considered, particularly for SME's.  The lack of mentorship, guidance, funding awareness and opportunities are some reasons that may pose hinder women to initiate and move ahead in their entrepreneurial ventures
Investment Awareness
Funding is the cornerstone of any business, be it capital investment, operational, business expansion in domestic or international market. It is essential for entrepreneurs to understand how, why, when, what and where to seek funding as the need arises.
Entrepreneurs expanding their businesses have financing needs that may exceed micro-credit ceilings. Many of these SME entrepreneurs seek capital funding from personal networks, family and friends. Many shy away from the traditional banking and financial institutions due to high financing costs.
Agenda
Day 1
Fashion/Textile Showcase from 3 countries
- Malaysia / Bangladesh / India
Day 2
Keynote Speaker – VVIP Government official
Challenges and Opportunities for Women Entrepreneurs
- Family Run Business
- Digital Trends in Business
Know more about different funding strategies
Understand more about policies, schemes and incentives of Government to support Women Entrepreneurs across Asia & Middle East
Success Stories from Women Leaders - #EachforEqual
Day 3
B2B Networking & Presentation
Business Pitching for Investment
Exclusive Networking Luncheon
- Investors, Industry Experts , and Entrepreneurs
Get In Touch
Phone
| +60126927468 - Dr Jayanthi
| +60162220101 - Datin Malliga
| +60126376228 - Angela Low
| +60163871294 - Ms Maria
| +60103780067 - Malvesa
Email
| myworldchamber@gmail.com
Website