Description
Human Impacts on Estuaries: Sea Level Rise and Algal Blooms
In Observance of World Wetlands Day/47th Anniversary of the Ramsar Convention
8:30 am Parking, check-in, continental breakfast
9:00 Peter Bryant, President of Newport Bay Conservancy, Introductions on the Ramsar Convention
9:05 Monique Myers, California Sea Grant Marine Science Institute, UCSB, "Vulnerability Assessment of the Santa Barbara Area Coastal Ecosystem"
9:35 Juliette Finzi-Hart, Director of Outreach, U.S. Geological Survey, Pacific Coastal and Marine Science Center, Santa Cruz, "The Coastal Storm Modeling System (CoSMoS) for Sea Level Rise and Storms in Southern California"
10:05 Break
10:30 Meredith Howard, Southern California Coastal Water Research Project (SCCWRP), "Harmful Algal Blooms in California Estuaries"
11:00 Katherine Mackey, Department of Earth System Science, UCI, "How Photosynthesis Shapes and is Shaped by Ocean Processes"
11:30 Evyan Sloane, California Coastal Conservancy, "Living Shorelines"
- Guests will be provided with a continental breakfast and snacks.
Afternoon Demonstrations 1PM
Make sure to stick around after the morning talks for two exciting demonstrations.
NBC will be providing breakfast and snacks during the morning symposium. If participants want something more substantial between the morning talks and afternoon demonstrations, feel free to bring your own sack lunch. Both demonstrations will happen at the Science Center, one in the teaching lab and one outside by the docks.
Follow and Learn about the Ocean and Wetland (FLOW) Project at Bolsa Chica: Jerry Donohue, Jim Robins, Jennifer Robins and Judy Huck from Amigos de Bolsa Chica demonstrate how Citizen Scientists properly collect water and plankton at specific sampling stations, how they analyze the samples collected and what they do with the data that is collected.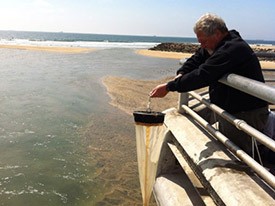 Eelgrass and Oyster Restoration Project in the Upper Newport Bay: Dr. Christine Whitcraft, Associate Professor, California State University, Long Beach and Victoria Wood, Masters candidate with Dr. Danielle Zacherl, California State University, Fullerton demonstrate typical eelgrass planting with oyster bed configuration, and how these species work side by side to enhance the habitat of this tidal wetland.