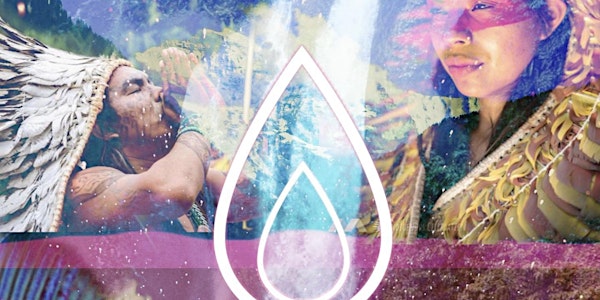 World Water Drop: NFT Benefit Event for The Yawanawa Tribe
An interactive & educational celebration with WaterNow to raise funds to support the Yawanawa Tribe in the Amazon.
When and where
Location
Center for the Higher Self 3204 Northwest 2nd Avenue Miami, FL 33127
Refund Policy
Contact the organizer to request a refund.
Eventbrite's fee is nonrefundable.
About this event
Join Center for the Higher Self and Ziome on this #WorldWaterDay, March 22nd in MIAMI as we gather to celebrate with WaterNow 👇🏼
💧WORLD WATER DROP: NFT Benefit Gala for the Yawanawa Tribe in the Amazon💧
Your ticket will directly support the Mutum Village to get clean water & will act as an exclusive NFT!
What awaits you:
༺ Aquaculture Dining Experience by Alex the Fungi featuring a Water Prayer and talk by Aixa Amankay
༺ Live Music
Jen Rose, Dreemy, Emilia Garth, Keysel, JennAyni
༺ Regenerative Future Panel
Aixa Amankay, Danielle Bigby, Karuna Ji, Courtney Murtha
༺ Water Activations
Tal ~ Tara Eshed, Carolina Franccesca
Melody Maradiago (Body Painting)
༺ NFT Showcase curated by MAGI & Ziome
༺ Conscious Market 

The protection of our precious natural resources is equivalent to the wellbeing of our native people, who have been the OG guardians for millennia.
With everything going on in the world these days, it is most essential we support the protectors of our planet's biodiversity. All of life depends on it.

EVENT SCHEDULE:
5:30 pm - Doors open for Dinner - TICKETS $177
6:30 pm - Dinner with Aixa Amankay, Danielle Bigby and Flower & Tim of Her Heartsong
7:00 pm - Doors open for Guests - TICKETS $55
7:30 pm - Water Prayer & Activations
8:00 pm - Panel Discussion on Regeneration via Web3
9:00 pm - Live Music and Dancing
https://www.eventbrite.com/e/world-water-drop-nft-benefit-event-for-the-yawanawa-tribe-tickets-294313287967
ABOUT YAWANAWA:
One of the greatest needs in the Yawanawa village Mutum, led by Chief Matsini, is access to clean drinking water. The community has gotten all its drinking water traditionally from the river Rio Gregorio, but due to the cities and industries that are getting closer, the rivers are polluted and not safe to drink. The Brazilian government has provided a well for the villages, but the supply is limited, and the water is not at all clean enough to meet proper standards of drinking water. We wish to give the Yawanawa people of Mutum a hand with improving their quality of water and thus their standard of living.
ABOUT AIXA AMANKAY:
Born in Neiva Huila, Colombia on December 23, 1975.
From a young age, Aixa's interests have revolved around the research, recovery, understanding, and sharing of the ancient wisdom and medicines of the South and North American indigenous communities. This work and research has taken her from the heart of the Amazonian rain forests, to the peaks of the Andes, to the plains of South Dakota, to the pyramids in Central America – in order to directly understand the use of natural medicines and ancient healing methods.
She is a devoted Sun dancer, Moon dancer and Medicine Woman, who works to awaken the consciousness and the fulfillment of the prophecies of the Condor Eagle, bringing the understanding of
all Native American traditions to blend in harmony and respect.
Aixa is an Energetic Healer, Certified Massage Therapist, Herbalist, Birth and Postpartum Doula, Placenta Specialist, and Doula Trainer, who has dedicated the last 20 years of her studies to the ancient traditions related to healing womanhood.
Aixa was a board member of the Inti Wayna Foundation (Children of the Sun) in Peru, Colombia and the United States and of the Greenway Foundation in Massachusetts, USA. These institutions support and encourage young people from the Amazon to study and learn from their elders and medicine teachers.
She was co- founder of the Fundación Inti Wasi- Casa del Sol (Inti Wasi-House of the Sun Foundation) in Colombia. The mission of this foundation is to promote the local Native communities' economic, social and spiritual development through the recovery of their traditional ways.
As an ordained Minister of the Native American Church and the Universalist Church and Founder of the Inti Runa Native American Church (NAC), Aixa performs traditional native social blessings such as weddings, blessing ways, moon planting, coming of age, naming ceremonies, sweat lodges, Traditional Medicine Ceremonies and others.
At the moment she is the Main Minister of Inti Runa NAC in South Florida, as well as leading and organizing several national and international annual gatherings in the USA, Colombia, Puerto Rico, Mexico, Central America, Canada and Europe, such as Vision Quests, Moondance, and Condor Eagle Gatherings
ABOUT WATER NOW:
WaterNow Inc. is a 501c3 nonprofit focused on improving water quality around the world through a number of water saving techniques. Specifically, WaterNow prioritizes Indigenous communities that have been systematically left out by governments and other humanitarian sources. In just 6 years of operations, the WaterNow team has served more than 100,000 people in 11 countries, with a number of important projects in the pipeline, including for the Yawanawa people in the Brazilian Amazon. Find out more about current outreach efforts at WaterNow.us/donate
ABOUT ZIOME:
Ziome is a community space that connects creators working in sustainable development, both virtually and IRL. Membership in the collective will be signified through NFT ownership. We are currently activating the space to educate the local community on both sustainable development and the power of NFTs and Web3. Our intention is to create a community hub where innovators, artists, scientists, and everyone in between will come together and collaborate on climate change solutionism.