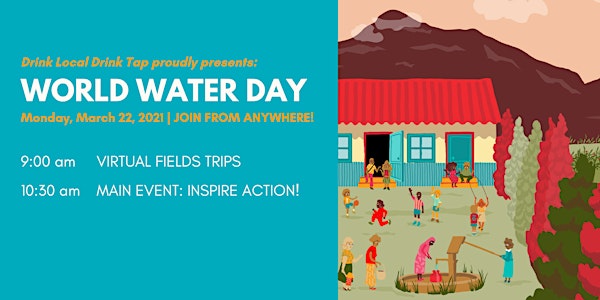 World Water Day
March 22 is the United Nations World Water Day. DLDT is celebrating with a virtual - and FREE to attend - main event & virtual field trips.
About this event

This year's event experience will include several opportunities to engage!
1) Watch the 1-hour Live Stream from 10:30 am-11:30 am on March 22.
Students and educators are invited to attend.
The entire experience will include live programming as well as a chat box for guest interaction, commentary and questions.
Hear from our inspiring keynote speaker - plus meet Drink Local Drink Tap team members from the U.S. and Uganda.
This event will include the rollout of a new DLDT Wavemaker Curriculum with recommendations for how students can take action.

2) Take virtual field trips and connect with unique destinations and partners throughout the day - starting as early as 9:00 am.
Visit Drink Local. Drink Tap. and other exciting exhibitors during a self-guided journey of exhibit exploration. Booths will open at 9:00 am!
Booths will be attended from 9:00-10:30 am.
Educators will also have an opportunity to participate in a free curriculum training at a future date in time!
To finish registration, click on the GREEN REGISTRATION button and follow the prompts.