Location
825 North Capitol Avenue
Indianapolis, IN 46204
Description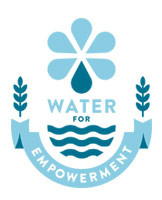 Join Water for Empowerment's World Water Day celebration to learn more about our charitable work and help us reach our $15,000 fundraising goal. The event will have a children's art exhibit and a sneak peek of a Nicaraguan art exhibit to be featured at our gala event on November 10, 2018.

Light hors d'oeuvres and drinks will be served. This event doesn't have any registration fees. Donations for our fundraising campaign are greatly appreciated, but are not required to attend this event.
HELP US RAISE $15,000 BY WORLD WATER DAY ON MARCH 22, 2018
This is our third year as a WaterAid America charitable partner. The project we support in Nicaragua empowers women through microfinance loans and job training opportunities focused on clean water initatives. The women in the program recieve job training to build latrines and rainwater catchment tanks, repair water wells and pumps, and educate families and schools about hygiene.

Please consider donating to our fundraiser on YouCaring, a crowdfunding platform. All donations will help empower women and girls through clean water initiatives in Nicaragua.