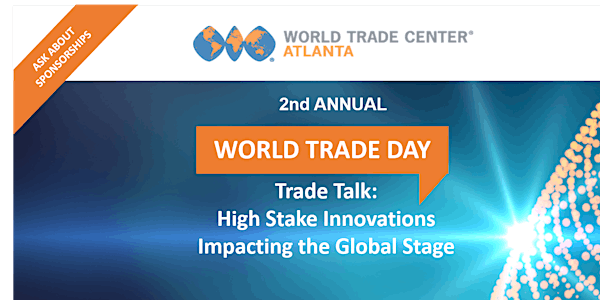 World Trade Day - Trade Talk: High Stake Innovations Impacting the Global...
Location
2450 Galleria Pkwy, Atlanta, GA 30339
Description

No doubt about it– technology is changing the way we do business everyday.
Whether navigating global supply chain details, creating innovative products and processes, or meeting new compliance and security standards, technology is impacting international trade.
The 2nd Annual World Trade Day Conference and Networking Event 2018 (worldtradeday.com) is convening thought leaders and executives to foster key conversations and connections regarding the expanding role innovation is playing in global trade and investment relations.
Hundreds of experts in international trade made our first World Trade Day (May 2017) one of the largest of its kind in the nation. This year's event will also be livestreamed to over 300 World Trade Centers around the world to ensure a global audience.
This year we have tailored many of the education panels and the "Conversations that Matter" audience engagement format to help you solve your organization's global growth challenges.
Here is a sneak peek at the 2018 program, which also includes dedicated networking sessions throughout the day.
PROGRAM AT-A-GLANCE
All Day Registration, Networking and Global Business Exchanges
7:30am – 5:00pm
Morning Parallel Panel Discussions
From Brexit and NAFTA to Africa and China: Geopolitical Forces Impacting Global Market Opportunities
Financing Your Global Expansion in Today's Ever-Changing Digital Era
Growing Globally – What's Holding You Back? Identifying and Addressing Pain Points.
Luncheon and Distinguished Panel Discussion
High Stake Innovations Impacting the Global Stage – Where Does Georgia Lead?
John C. Portman Global Leadership Award, Presented by Jack Portman
Afternoon "Conversations that Matter" – Parallel Roundtables
Artificial Intelligence and Machine Learning: What Is It and How Does It Impact Your Company?
MedTech: Revolutionizing the Way We Manage Our Health
Advanced Manufacturing: Disruptive Innovations, Global Supply Chains and Complex Markets – What's Your Strategic Plan?
Closing Guest Speaker - Navigating the U.S. Tax Cuts and Jobs Act and Its Impact on Trade
Reception & Networking!
Optional: 7:35pm Baseball Game - Atlanta Braves vs. San Francisco Giants
10 minute walk from the conference hotel at SunTrust Park (additional cost). Bring your new contacts and colleagues and enjoy the evening after a successful World Trade Day! Buy your baseball tickets here!

Please download the FULL AGENDA to access panel descriptions and speakers.

SPONSORSHIPS STILL AVAILABLE! Click here to download a sponsor package.

#WTD2018 will be the best World Trade Day yet! Register today to ensure you have a spot in one of the most talked about international business events in the southeast.