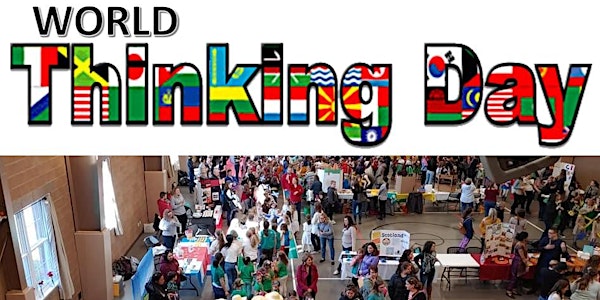 World Thinking Day
Girl Scout Troops host a table representing a country. Scouts visit the stations travelling the world in an evening.
When and where
Location
Sashabaw Middle School - 7th grade cafeteria 5565 Pine Knob Lane City of the Village of Clarkston, MI 48346
About this event
TIMELINE:
5:30 pm
Troop set-up team arrives. Two adults and two scouts.
6:00 pm
Scouts arrive
6:15 pm
Flag ceremony. Scouts follow behind flag bearers to join the parade of nations.
Scouts visit the stations.
7:45 pm
Scouts join in a friendship circle and sing Make New Friends until they receive the friendship squeeze.
Clean up and depart.
TROOPS BRING:
1. Scouts create a display with facts/pictures on the country and decorate your table. Bring a tablecloth!
2. Bring your country flag – make one from cloth or poster board for the flag ceremony.
3. Dress in native costume – optional (always the cutest part!)
4. A passport for each girl (name and troop # on each). Update image to the flag for your country. Passport should be on a string around the neck – long enough to reach table for stamps.
5. Stamp and ink pad to stamp the passports. Stickers are fine too.
6. Bites – small food or drink samples from your country (approximately 150-200). Please label any items with peanuts or tree nuts.
7. Serving utensils (i.e. toothpicks, spoons, paper towels, napkins, cups).
8. SWAPS – a crafted pin to represent your country (approx. 10 -15 per scout) Remember to bring something to carry your SWAPS. Troops larger than 10 scouts should choose two different SWAP types.
SCOUTS BRING:
One or more items for Disaster Relief at Work. DRAW provides emergency relief to communities that have been hit by natural disasters. Items in need are:
bath towels
hair brushes and combs
shampoo
Clothes line (25 to 50 ft.)
Clothes pins (25 to 50 ct.)
COSTS:
Troops choose their country as an add-on when they purchase tickets.
Scouts are $10 each - includes a fun patch and 10 bite tickets.
Additional bite tickets are sold at the event: 10 for $1.
No admission charge for adults and tagalongs.
Juliettes and tagalongs are welcome.