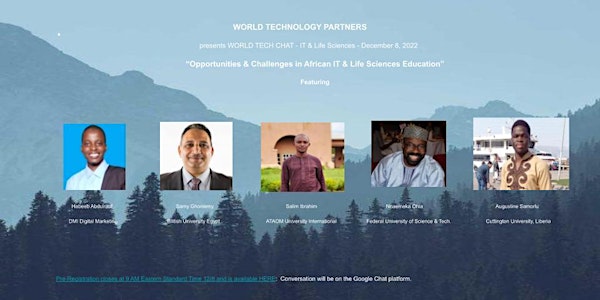 World Tech Chat - Opportunities & Challenges in African IT & Life Sciences
Join us for our World Tech Chat as we showcase and promote trends and perspectives of tech leaders and educators from around the world.
About this event
The Chat will begin at the following times: US West Coast - 11 AM, US East Coast - 2 PM, Monrovia - 7 PM, Lagos - 8 PM, Cairo & Pretoria - 9 PM
Join us for an interactive discussion focusing on Opportunities and Challenges in African IT & Life Sciences Education in the coming year.
Our panelists include:
Habeeb Abdulrauf, Marketing & Sales, DMI Digital Marketing, Nigeria
Samy Ghoniemy, Professor of Info. Tech, British University in Egypt
Salim Ibrahim, IT Lecturer, ATAFOM University International, Nigeria
Dr. Nnaemeka Ohia, Senior Lecturer, Info. Tech., Federal University of Science & Tech., Nigeria
Augustine Samorlu, Dean, College of Natural Sciences, Cuttington University, Liberia
Moderator: George Nikanorov, Chairman, World Technology Partners
The panel will discuss their (and your) ideas on opportunities and challenges the education sector and specifically IT and Life Science research will face in the coming year and beyond.