Description
18th Annual WORLD SOUND HEALING DAY: FEBRUARY 14, 2020

"The Sound Heard Around the World" - A Global Online Celebration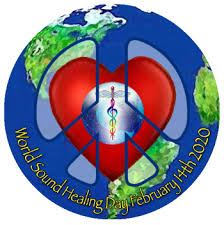 Join Sound Pioneer Vickie Dodd of Sacred Sound Works hosted by Joule L'Adara of Sounding Circles in a free online gathering to celebrate World Sound Healing Day! Vickie will lead you through the powerful practice of sounding the "Global Ah" together with thousands of people around the world. This Free Online Event will take place Friday, February 14th at:
USA: 3pm Hawaii, 5pm Pacific, 6pm Mountain, 7pm Central, 8pm Eastern
Internationally, this live call will take place on Saturday, Feb. 15th:
UK: 1am, Europe: 2am, Australia: 9am WA, 11am QLD, 11:30am SA, 12pm NSW & VIC
Register & participate in this world-wide celebration here for free. A link with login details to join on Zoom (or by phone if you don't have an internet connection) will be sent to you upon registration.
This Webinar will last approxomately one hour. Should you be unable to join us live a link to the recording will be sent to you the day after the online event.
---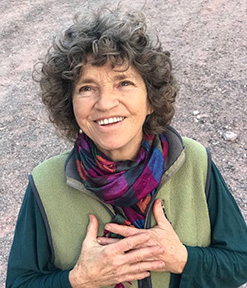 Director of Sacred SoundWorks, Vickie Dodd is an internationally known pioneer in the field of Sound as a Bodywork. She is an Aston-Patterning Teacher, author, poet, nutritionist, herbalist, workshop leader and musician. She started using sound as a healing modality in her work with her clients over 30 years ago. She has trained with many master teachers in the art of body therapies and spiritual purification tools. The essence of Vickie's work is a multi-dimensional approach to using Sound as an evolutionary tool, emphasizing maturation of the emotional body.
Vickie has the rare ability to "sense" the subtle rhythm, vibrations, and tones that all matter produces. She uses her remarkable gift of "sounding" to match the unique soundprint of a person. To this sensitivity Ms. Dodd has added serious study and exploration into the curative aspects of sound, color and movement. She has designed a system, which integrates emotional memories within the physical body and facilitates the release of long held emotional distress. She has consulted with organizations and professional groups, assisting them to address specific issues they encounter in their work and life responsibilities.
Vickie teaches others how to listen to themselves and to use their voices to recapitulate the memories and history that resides in their bodies. These teachings empower and educate the serious sound student to direct and evolve their emotional and physical maturation. She is the author of "Tuning The Blues To Gold: Soundprints" and has several recordings available. As director of Sacred SoundWorks she lives in Port Angeles, Washington, and teaches in Europe. Latin America, and many locations around the USA.
---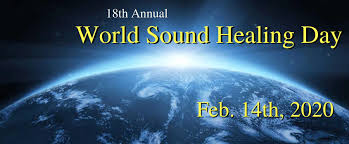 MORE ABOUT WORLD SOUND HEALING DAY:
Join thousands throughout the planet for the 18th Annual WORLD SOUND HEALING DAY on Friday, February 14, 2020. Throughout the day all over the world, people gather to sound forth for 5 minutes with the "AH", created and projected with the energy of compassion and love, sending a sonic valentine to Gaia, our Mother Earth. This event is inspired by Jonathan Goldman of Healing Sounds.
For more about World Sound Healing Day, go to: www.worldsoundhealingday.org
---