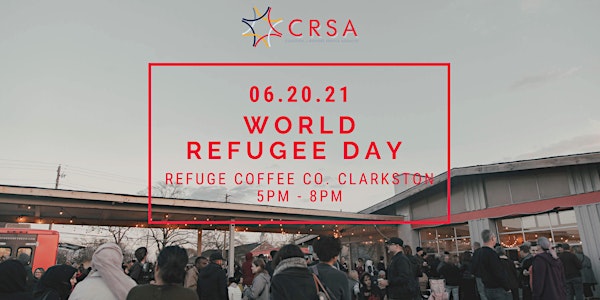 World Refugee Day Celebration 2021
Please join the Coalition of Refugee Service Agencies (CRSA) for Georgia's annual World Refugee Day Celebration in Clarkston!
When and where
Location
Refuge Coffee Co. 4170 East Ponce de Leon Avenue #NE Clarkston, GA 30021
About this event
It's time for a party!
"Before you extend your benevolence to refugees by 'tolerating' them, as if doing them a favor, remember, that you actually can really love them because there is so much you can learn from their stories. There is so much work that can be accomplished when you hold hands with these refugees towards mutual human goals." ― Louis Yako
The Coalition of Refugee Service Agencies (CRSA) is committed to holding hands with our refugee neighbors in order to achieve mutual human goals. Goals like advocacy. Education. Job-training. Language learning. Food security. Housing. Public health. You've helped us—not just working for our refugee neighbors, but with them—toward all of these goals. And we will continue that work. But sometimes we need to pause the work and celebrate.
Sometimes, we just need to throw a big party!
And what's a party without you? You're invited to join us for:
WORLD REFUGEE DAY CELEBRATION
Sunday, June 27
5:00 p.m. until 8:00 p.m.
At Refuge Coffee Co.
4170 East Ponce de Leon Ave.
Clarkston, GA 30021
Enjoy delicious food from local vendors, lots of family-friendly activities, and delicious tea and coffee drinks (lots of iced options!) as you meet your neighbors, hear from special guest speakers, gather information at our advocacy booth, experience incredible music and dance performances by community groups, and shop locally from refugee and immigrant business owners at our vendor's market!
Sometimes the best way to proclaim that #GALovesRefugees is at a party!
"Before you hate refugees, remember that ideally, most people wish to live peacefully and with their dignity intact. Remember that many of these refugees would rather come to you as 'tourists' with cameras in their hands under much better circumstances rather than as people with no options…" ― Louis Yako
"We wanted to rebuild our lives, that was all…" ― Hannah Arendt
This event is free and open to all, but it would really help our vendors to plan if you could RSVP!