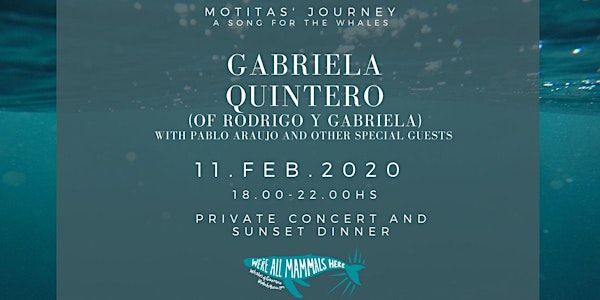 World Premiere by Gabriela of Motitas' Journey: A Song for the Whales
Private concert and dinner at sunset: Song for the Whales./Concierto privado y cena. Música para las ballenas. By Gabriela Quintero.
Date and time
Tuesday, February 11, 2020 · 6 - 9:30pm CST
Location
Thompson Zihuatanejo, a Beach Resort Carretera Escenica S/N, Playa la Ropa Zihuatanejo, GRO 40895 Mexico
Refund Policy
Contact the organizer to request a refund.
Eventbrite's fee is nonrefundable.
About this event
Exclusive world premiere of Motitas' Journey: A Song for the Whales, private concert and sunset dinner.
Join us for an unforgettable evening: A private concert and sunset dinner at the Thompson Hotel in Zihuatanejo to raise funds for the Whales of Guerrero, a community-run organization that is dedicated to environmental education, whale conservation and community building in Guerrero.
In 2015, Gabriela Quintero (guitar player from the duo Rodrigo and Gabriela) joined the Whales of Guerrero for a day at sea. When Gabriela heard the sound of the whales singing under water, she was inspired to write a song for the whales. She approached Whales of Guerrero and adopted a whale for the vegan coop she runs and they named her "Motitas" (polka dots) for the many spots on her tail.
Five years later, the song, Motitas' Journey, is ready for its world debut. In addition to this special premiere, accompanied by Pablo Araujo and other special guests, Gabriela will perform a special concert of music prepared just for this event.
Ticket cost: $175 usd. *Includes: Welcome cocktail, three course menu, wine pairing and private concert.
Silent auction
About Gabriela Quintero:
Grammy-winning Gabriela Quintero is rhythm guitarist in the internationally acclaimed Mexican acoustic rock guitar duo Rodrigo y Gabriela with career sales in excess of 1.2 million albums, blockbuster movie scores, and sold out tours worldwide. Her love for animals has extended to different causes; playing for the whales is just one of her many efforts to protect other living species.
http://www.rodgab.com/
About Whales of Guerrero:
The Whales of Guerrero (a US-based tax exempt 501c3 organization EIN# 83-1163579) facilitates community-driven conservation in the fishing village of Barra de Potosí and throughout the southwest Pacific State of Guerrero, Mexico, pioneering a new approach to coastal protection that cultivates local leadership through citizen science, peer learning, and community outreach. After seven years of collaborative marine mammal research, the seeds of stewardship have taken root in our region. We want to help them bear fruit by galvanizing an emerging group of Fishery and Conservation Leaders who will lead the community toward long-term marine restoration and conservation.
https://www.whalesinmexico.com/
Estreno mundial, concierto privado y cena al atardecer.
Ven y disfruta de un concierto privado y cena al atardecer en el hotel Thompson de Zihuatanejo y ayúdanos a recaudar fondos para el proyecto Ballenas de Guerrero, un proyecto dirigido por la comunidad dedicado a la educación ambiental, conservación y trabajo comunitario en Barra de Potosí.
En 2015, Gabriela Quintero (guitarrista del grupo Rodrigo y Gabriela) se acercó a Whales of Guerrero para pasar un día en el mar. Cuando Gabriela escuchó el sonido de las ballenas cantando bajo el agua se inspiró para escribir música para las ballenas. Adoptó una ballena como parte de la Cooperativa Ecovegana que ella dirige, la llamaron "Motitas" por las manchas de su cola.
Cinco años después, la canción "El viaje de Motitas", está lista para ser tocada por primera vez en este estreno mundial. Acompañada por Pablo Araujo y otros músicos invitados, Gabriela tocará un concierto especial creado específicamente para este evento.
Precio del boleto: $175 usd./$3250mx *Incluye: cocktail de bienvenida, menú de tres tiempos con maridaje de vino y conciertoprivada.
Subasta silenciosa
Sobre Gabriela Quintero:
La ganadora al Grammy, Gabriela Quintero es guitarrista rítmica del duo internacional Rodrigo y Gabriela. Con ventas de más de 1.2 millones de álbumes, bandas sonoras cinematográficas y giras en todo el mundo. Su amor por los animales se ha extendido a diferentes causas, escribir música para las ballenas es solo uno de sus muchos esfuerzos para proteger a otras especies animales.
http://www.rodgab.com/
Sobre Ballenas de Guerrero:
Las Ballenas de Guerrero facilitan la conservación impulsada por la comunidad en el pueblo pesquero de Barra de Potosí y en todo el suroeste del estado de Guerrero, México, siendo pionero en un nuevo enfoque de protección costera que cultiva el liderazgo local a través de la ciencia ciudadana, el aprendizaje entre pares y el alcance comunitario.
http://www.whalesinmexico.com/es/inicio/