World On Stage presents WOMEN OF THE WORLD (www.WorldOnStage.com)

Saturday, October 20, 2012 at 4:00 PM (EDT)
Event Details
WOMEN OF THE WORLD
"Wonderful!!!! - Bobby McFerrin, Grammy award-winning vocalist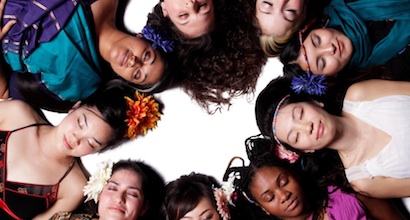 "The music spoke throughout the night—it shouted, it soothed, it pleaded, it celebrated. The visual was as powerful as the music: here were women from around the world, and here was family. But the strongest pulse of all was the palpable joy of these women creating the music together." – Nikki Flionis – The Arts – Fenway News
"It is just amazing to hear Women of the World's multi-faceted talent, the depth and complexity of their pieces, and to watch their passion for what they do. They are a stunning group with incredible talent." - Ann Miller, President of Boston Jazz Voices
Women of the World is an international ensemble currently based in Boston. What started out as a dream four years ago, has become a real musical force. Ayumi Ueda, a Berklee College of Music alumnus from Japan, sought to create an ensemble of women from all over the world to create music for peace. In 2008, Ayumi joined forces with like-minded musicians, Ali Rapetti from the United States, Giorgia Renosto from Italy, and Annette Philip from India in order to manifest this vision.
Complemented by an eclectic band featuring Hinako Sato, Noriko Terada and Kazuyo Kuriya from Japan, Sara Cristal Peña Coffin from Mexico, Shirazette Tinnin and Sue Buzzard of the United States of America, this unique ensemble of women musicians delighted in sharing the beauty of different cultures and what that cross-pollination sounded like in music. Each of the ten women has a strong artistic identity shaped by the culture in which she grew up, and each finds endless excitement in learning and exploring the many cultures of the world. The unique music which stems forth from this mixture of artistry has created for a sound which is all its own – borderless, spirited, and carrying the undeniable message of unity.
The Women of the World repertoire is thus, vast and varied. Constantly searching for new genres to explore, the group has performed in over a dozen of the world's languages. From Bulgarian, Cuban, Ladino, Brazilian, African, Indian and Japanese music to spontaneous improvisation and a-cappella interludes, the sound created by this unique group has grown to have a power that moves not only the members, but huger and huger audiences, as it spreads awareness of different cultures, music, and philosophies.
Through their work, Women of the World created a stir in the community, receiving support from renowned artists such as Grammy-award winning maestro, Bobby McFerrin. In 2010, they shared the stage with the iconic African vocalist, Angelique Kidjo. The group has also supported various causes including fundraisers for victims of natural disasters in Haiti, Pakistan, and most recently, Japan.
Following their recent New York debut concert at the Weill Recital Hall at Carnegie Hall, New York, USA, the ensemble is now gearing up for an international tour in 2012. First two stops: Japan and Kenya.
Besides this, Women of the World is also in the process of recording their debut album to help spread their message of cultural awareness and peace. They are proud winners of the 2011 Iguana Music Fund award and hope to release this album later in 2012.
When & Where

National Heritage Museum
33 Marrett Rd
Lexington, MA 02421


Saturday, October 20, 2012 at 4:00 PM (EDT)
Add to my calendar
Organizer

World on Stage presents life-enriching concerts, theatres  from around the world which are affordable,  and delivered  in nice venues.
Though World on Stage has presented such major talent as the multi grammy winner Tito Puente and his Latin band, Israel's most famous female musician in Israel's history Chava Alberstein , and Europe's king of brass bands the famous gypsy band Boban Markovic Orchestra, the focus of World on Stage is to showcase and promote new and exciting performers on the world music stage.
We invite you to come and experience what is happening in the new and exciting world of international music. And if you have come across a unique and exciting talent that can light up the stage with voice or instruments, we would be delighted to know about it.