World On Stage presents SOUNDS OF KOREA (www.WorldOnStage.com)

Saturday, November 3, 2012 at 6:00 PM (EDT)
Event Details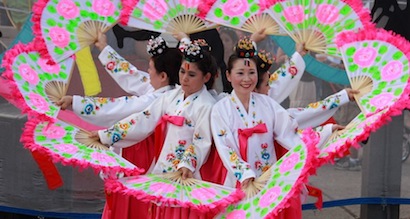 SOUNDS OF KOREA
Sounds of Korea is a unique show which presents the traditional music, song, and dance from Korea by some of the most well known and talented musicians, singers, and dancers in the US. Sounds of Korea is the premier performance group of Korean traditional arts in the U.S.
The director of the Sounds of Korea show, Sue-Yeon Park, is one of the foremost Korean artists in the United States today. A dancer, she was trained under Master Yi Mae Bang, one of South Korea's Living National Treasures, and has obtained the prestigious title of yisuja which designates her mastery at the highest level of Master Yi's performance lineage of Salpuri-chum. She also holds the title of distinction, yisuja, for the preservation of Seungmu.  Sue Yeon Park performs extensively in the U.S. Europe and  South Korea. In her long-time affiliation with the Korean Traditional Performing Arts Association of New York (KTPAA), she has been an instrumental leader and teacher and has been serving as the President and Artistic Director for the last six years. She has produced and presented at such prestigious venues as the Lincoln Center, Symphony Space, Merkin Hall, the Smithsonian Institution, and the Museum of Natural History. She has given guest master classes and adjudicates for the National Foundation for Advancement in the Arts (NFAA) annual competition since 2004. She is a recipient of the New York Governor's "Award of Excellence" in recognition of her outstanding achievements and community service to the Empire State, "Best Artist of the Year" Award from the Foundation for Korean Arts and Culture in Korea, and the "Award of Recognition and Appreciation" from Asian American Cultural Center at Rutgers University for her dedication to Korean art and music. In 2008 Sue Yeon Park was named as a National Endowment for the Arts National Heritage Fellow. She received this honor as a Korean musician and dancer in recognition of her work, for nearly three decades, bringing traditional Korean arts to American audiences. She is the first Korean American artist to receive this honor.
Songhee Lee is the principal dancer of Sounds of Korea and has been actively performing around the world. Ms Lee has performed at such venues as the Greek National Dance Theater, Dora Stratou for the CID UNESCO World Congress on Dance, NEA Montana Folk Festival, Lincoln Center, Symphony Space, International Festival at Chihuahua, Mexico, etc. Currently, Ms. Lee is Artistic Director and Choreographer for the Songhee Lee Dance Company in New York.
Jung Hee Oh is the principal voclist of Sounds of Korea. A Korean traditional vocal artist specializing in gayageum byeongchang (a vocal genre with self-accompaniment of the gayageum) and pansori (a traditional story-telling genre performed by a solo vocalist accompanied by a drummer). She is a protégé of the Korean National Human Treasure of Pansori, Master Suk Sun An. Ms. Oh is an isuja for Intangible Cultural Property No. 23 (gayageum sanjo and gayageum byeongchang), a title granted under the Republic of Korea's Cultural Properties Protection Act to an artist who has met all requirements for qualification as a potential successor to the National Living Treasure for a specific cultural property. She has appeared live throughout the United States and Korea. She also has taught in Korea at Sangmyung University and Seoul Arts University, where she had studied under the tutelage of the late Park Kui-Hee and Ahn Sook-Sun, two of Korea's National Living Treasures. In 2004, she placed second in the Korean Music Association's Jeonju National Competition.
Enjoy !!!
When & Where

National Heritage Museum
33 Marrett Rd
Lexington, MA 02421


Saturday, November 3, 2012 at 6:00 PM (EDT)
Add to my calendar
Organizer

World on Stage presents life-enriching concerts, theatres  from around the world which are affordable,  and delivered  in nice venues.
Though World on Stage has presented such major talent as the multi grammy winner Tito Puente and his Latin band, Israel's most famous female musician in Israel's history Chava Alberstein , and Europe's king of brass bands the famous gypsy band Boban Markovic Orchestra, the focus of World on Stage is to showcase and promote new and exciting performers on the world music stage.
We invite you to come and experience what is happening in the new and exciting world of international music. And if you have come across a unique and exciting talent that can light up the stage with voice or instruments, we would be delighted to know about it.