World On Stage presents A PALO SECO FLAMENCO (www.WorldOnStage.com)

Saturday, October 20, 2012 at 4:00 PM (EDT)
Event Details
A PALO SECO FLAMENCO
" Awesomely fiery".....New York Times
"The artists in A Seco Palo go far beyond showcasing their great musical and dance talent - they offer the experience of being transported by something deep and powerful stirring inside." -..... New York Theatre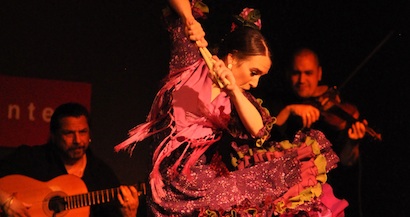 A Palo Seco Flamenco has burst into the US flamenco scene with an amalgation of one of the finest galaxy of flamenco musicians and dancers on stage in the US.
The artistic director and dancer, Rebeca Tomas, has been a solo dancer and company performer with such well known flamenco groups as Soledad Barrio, Noche Flamenco, Flamenco Vivo Carlota, and others. The New Yorker called her "Compact, spring-loaded, and finely trained". Eva Yaa Assantewaa called her "she's truly a well crafted explosive device" The New York Times said of her " When she swept on stage...Ms Tomas was like a burst of springtime...". Ms Rebeca Tomas's formal flamenco training was with some of the best known flamenco teachers in Spain, initially in Granda and later at the famous Flamenco Academy Amor de Dios in Madrid. She has performed in various tablaos in Spain and extensively thruout the US.
The music director, Pedro Cortes, a third generation of family of Spanish Gypsy guitarists, is amongst the top flamenco guitarists on the US flamenco scene.. The Los Angeles Times called him "Dazzlingly deployed virtuosity paced like capriciciously gathering storm.." He uses the experience passed down to him by his Spanish flamenco family to maintain the purity of Flamenco while creating new and original compositions. He has toured with world famous flamenco groups from Spain like Jose Greco and Maria Benitez and has performed with such artists as Farruquita, La Tati, Manolete and late Lola Flores. He has two books on Flamenco, published by the American Guitar Institute. 
A Palo Seco Flamenco is blessed with the exceptional singing voice of David M. Castellano, who is easily one of the country's top flamenco singers. His worldwide performances include musical venues and theatres in France, Mexico, India, Russia, Israel, and many others. His exceptional talent has led him to perform with such great artists as Pilar Rioja (The Queen of Spanish Dance), Middle East pop fusion group Alabina, and has appeared on television and commercial compositions.
Jose Moreno, the dazzling pecussionist on cajon for A Palo Seco Flamenco, is a fixture in the New York and Miami flamenco scene. Born into a family of famous flamenco artists Estrella Morena (dancer) and Pepe de Malaga (singer), Jose started his flamenco career at an early age of 6 under the guidance of his parents. Jose has studied with The Great Manolete, Farroquito, Andres Marin, and cajon with Manuel Soler. Jose has performed with international acclaimed artists such as The Great Manolete, Joaquin Ruiz, Pastora Galvin, El Pecas, Jose Cortes,, Isabel Pantoja, Omayra Omaya, and others. He has appeared at famous venues such as Carnegie Hall in New York City, as well as at well known flamenco festivals.
In Barbara Martinez, Sol "La Argentina", Marina Elana Scannell, and Rebeca Tomas, A Palo Seco Flamenco has some of the finest group of flamenco dancers in the US.
Barbara Martinez hails from a family of artists from Venezuela and grew up in New York City. She  began performing in opera, off-Broadway and film at age 10. Besides her fiery dancing, she is an exceptional flamenco singer. She has performed as a singer and dancer with well known flamenco companies. She has performed in jazz, world music, and flamenco festivals internationally and at such famous venues as Carnegie Hall and the Metropolitan Opera. She also has her own own fusion group which has appeared at Carnegie Hall.
Sol "La Argentina", the other in the exceptional group od dancers, was born in Argentina and moved to the US. She has danced with internationally in numerous tours and productions with the renouned Soledad Barrio and Noche Flamenco, sharing the stage with figures like Soledad Barrio, Alejandro, and Alfonsa Losa. The New York Times said of her "Sol la Algentina harnessed the art form's power with her seductively aggressive "Solea" in which her elegant carriage provided space for tension and relief..."
Marina Elena Scannell, began her training in ballet at a very young age and delved into flamenco dancing soon afterward. She studied flamenco in Spain in Seville and Madrid with Yolanda Heredia, Rosario Toledo, Concha Jareno and Maria Juncal.  She has appeared in world famous flamenco companies, including Maria Benitez's Teatro Flamenco and La Monica's Pasion Flamenco.
When & Where

National Heritage Museum
33 Marrett Rd
Lexington, MA 02421


Saturday, October 20, 2012 at 4:00 PM (EDT)
Add to my calendar
Organizer

World on Stage presents life-enriching concerts, theatres  from around the world which are affordable,  and delivered  in nice venues.
Though World on Stage has presented such major talent as the multi grammy winner Tito Puente and his Latin band, Israel's most famous female musician in Israel's history Chava Alberstein , and Europe's king of brass bands the famous gypsy band Boban Markovic Orchestra, the focus of World on Stage is to showcase and promote new and exciting performers on the world music stage.
We invite you to come and experience what is happening in the new and exciting world of international music. And if you have come across a unique and exciting talent that can light up the stage with voice or instruments, we would be delighted to know about it.