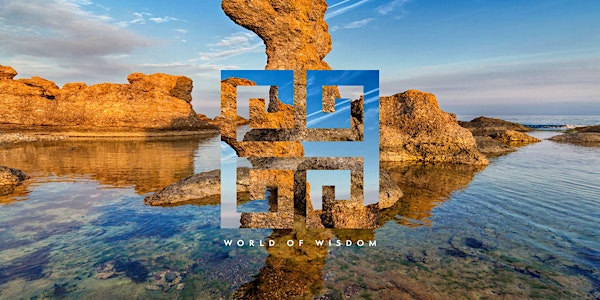 World of Wisdom
WoW August is a co-created online/offline gathering to playfully welcome personal, local and global challenges. Join from anywhere!
Refund Policy
Contact the organizer to request a refund.
About this event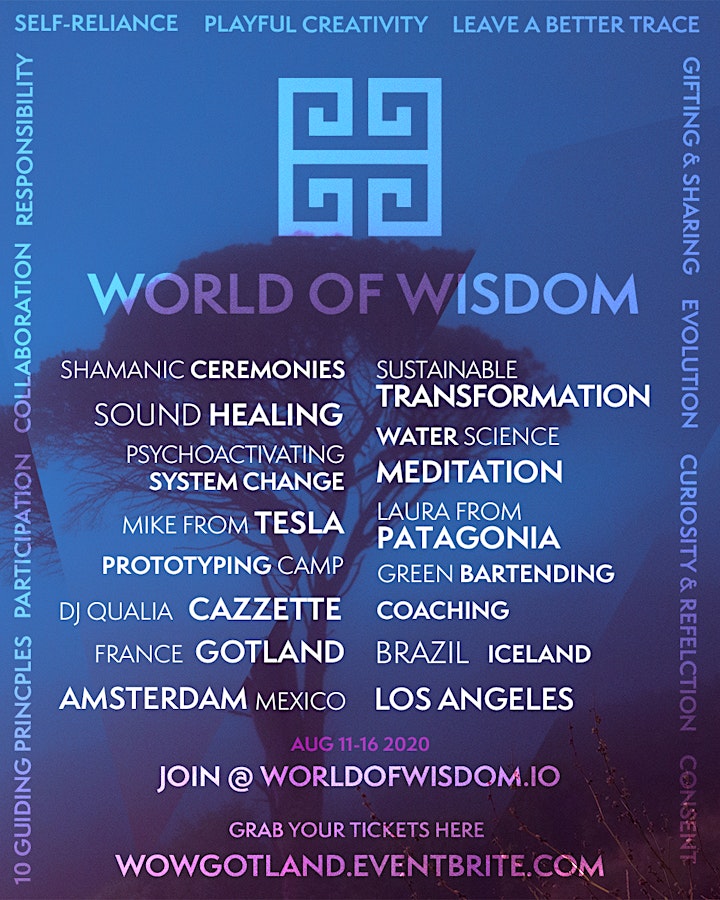 World of Wisdom is an open-source network of co-created online/offline gatherings to playfully explore a better future by welcoming personal, local and global challenges. It combines timeless wisdom, modern knowledge and human creativity.
Anyone can create or join a World of Wisdom gathering anywhere in the world - online and offline - and all gatherings are built on the same 10 guiding principles and simple instruction for how to participate.
____________________
World of Wisdom August 2020 is a gathering initiated from the Swedish island Gotland - where the gathering's host camp (The Seed) will be set up - and connected as a network of multiple small local gatherings around the world, all coming together online.
You are invited to set up your camp, by yourself or with others, wherever you like in the world - and host it online among all other camps in World of Wisdom's virtual village. Create your own local gathering or simply join as an individual from anywhere.
We will come together locally and globally to playfully explore and co-create a brighter future for ourselves, our local communities and the world.
There will be sessions exploring sustainability, regenerative farming, sound healing, conscious tech, holistic coaching, meditation, innovation design, psychoactivation tech, personal purpose, systemic change, shamanism, breathwork, music, ceremony, dancing and much more that you and others create.
So bring your whole self, your challenges and your gifts, and come co-create locally, globally, offline and online - all at once.
August 11-13: The Build up
We take the first few days to set up our camps (on location and/or online), get inspired by others, make some new friends, warm up and relax into the experience.
August 13-16: The Gathering
The opening ceremony will be held both online and offline in the host camp on the evening of the 13th. The closing ceremony will be held in the same place at noon (CET) of the 16th. What happens in between those ceremonies is up to us to explore together.
Read more about the reasoning behind gathering both online and offline.
Join our bi-weekly preparation calls for WoW Gotland, starting June 23rd 2020.
____________________
Ticket prices: We offer standard, low-income and high-income tickets. If you can't afford a ticket at all, contact us and we'll together figure out another way to get you a ticket anyway.
Grants: Can't afford to realize your gifts to the gathering? Apply for grants and/or volunteers here.
Use of funds: As we honor co-creation and transparency, the use of funds is continuously being openly discussed, co-created and decided by the community in the WoW forum.
____________________
Links to learn more and engage:
Our online gatherings platform
Join the overall WoW August conversation
Join the conversation about multiple local gatherings
Join the conversation about camps
Join our weekly and bi-weekly community Zoom calls
Create your own World of Wisdom gathering
____________________
Overall structure and vocabulary:
World of Wisdom is built around online/offline gatherings initiated by hosts (anyone can host!). Gatherings welcome participants who agree to honor the 10 guiding principles and set up camps around challenges and gifts. Camps can offer sessions. The hosts of the gathering set up the host camp and name it as they like. The host camp acts as the hub for any communal ceremonies, e.g. opening and closing ceremonies.
____________________
Regarding COVID-19:
The progress of the pandemic is difficult to predict. Our intention is to do the following: We continue to monitor the situation and will take appropriate action, which primarily involves limiting how many people gather physically in the gatherings and camps.
Also, we see that these are the types of challenges humanity will have to face in the coming years - be it pandemics, climate crisis or other calamities. World of Wisdom is an effort to create community, break isolation and invite unusual, creative solutions to these dire challenges. We hope you will want to embark with us on this journey of playful co-creation, regardless of its physical and digital location.