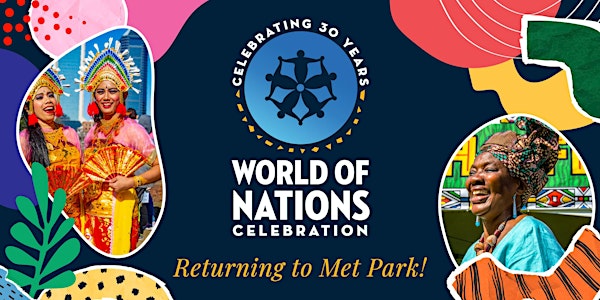 World of Nations Celebration 2022
The City of Jacksonville and local multicultural friends will bring the world to you with this cultural celebration!
When and where
Location
Metropolitan Park 1410 Gator Bowl Boulevard Jacksonville, FL 32202
About this event
Celebrate 30 years of exploration at the 2022 World of Nations Celebration! Experience the cuisine, artistry and customs from lands near and far as you travel throughout Metropolitan Park for this unique two-day event.
Have you ever wanted to travel internationally but weren't sure where to start? Look no further than the World of Nations Celebration! The City of Jacksonville and local multicultural friends will bring the world to you with this fascinating cultural destination that showcases the unique diversity of our planet, and puts the wonderful sights, sounds, and tastes of different nations within your reach. So pack your bags and bring your family, friends and neighbors for a trip around the world!
Countries participating in the World of Nations Celebration include: The Bahamas, Colombia, Costa Rica, Cuba, Dominican Republic, Ethiopia, Ghana, Haiti, Honduras, India, Indonesia, Italy, Jamaica, Japan, Mexico, Nigeria, Palestine, Peru, Philippines, Puerto Rico, South Africa, Spain, St. Lucia, Turkey, U.S.A., U.S. Virgin Islands and Venezuela
Event Dates, Hours and Location
Metropolitan Park: 1410 Gator Bowl Blvd, Jacksonville, FL 32202
Saturday, February 26th: 10 a.m. - 7 p.m.
Sunday, February 27th: 10 a.m. - 6 p.m.
Tickets
Advance ticket purchases are $5 + fees each, children 3 and under are free
Tickets purchased at the entrance the day of the event are $8 for school age children (4 - 17) and $10 for adults.
Please note, all ticket sales are cashless. Only Visa, Discover, American Express and Mastercard Credit and Debit Cards are accepted at the gate.
Cashless Payments
All City of Jacksonville point-of-sale locations will be cashless including: event ticket purchases, beverage booths which include beer, wine, soda and water. Debit or credit cards will only be accepted (wireless and mobile payment will not be available).
Cashless payments are highly encouraged at all locations within the event.
Parking
Public parking will be available in Lot J at TIAA Bank Field for $10 per vehicle. Lot J will open one hour prior to event opening. Please note, only cashless payments will be accepted for this lot.
Bag Policy
Security will be checking all bags upon entry. Clear bags are strongly encouraged to speed up this process.