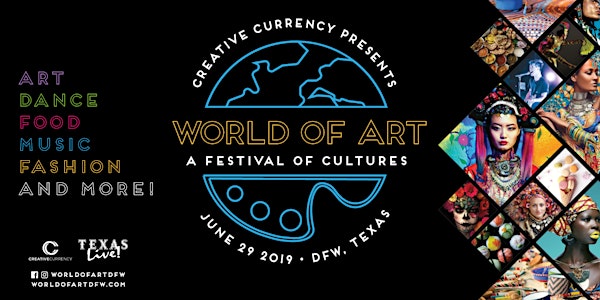 Location
Arlington Backyard
1650 E. Randol Mill Rd.
Arlington, TX 76011
World of Art is a festival that brings together all forms of art and culture from all over the world, in a one-night event of discovery.
About this event
Guests will be given a passport to travel the world through visiting a curated world arts experience made up of art, performances, and presentations all from local artists. This is a new multi-sensory experience unlike anything DFW has ever experienced before!
Music Acts - Performance Arts - Fashion Shows - Hair - Makeup - Body Paint - Food & Drink Vendors - Visual Artists - Accessories & More!
Tickets are available now! Use promo code WOADFW for $5 off until 4/30 or get $5 off at the door with a flyer.
To be a featured artist/vendor please submit application at our website.