World INLIGHT Partners' Monthly MasterHeart Session - NOVEMBER

Thursday, November 28, 2019 from 6:30 PM to 8:00 PM (CET)
Event Details
There is so much information available to us, that the BIGGEST CHALLENGE we face now is 'HOW do we stay connected with WHO WE ARE and to our own very unique and important LIFE MISSION without being distracted, confused and/or stressed out'? 
In other words...   
HOW do we truly NURTURE OUR LIGHT (our ultimate power!), so that
we can put all of our knowledge, wisdom and consciousness to use for the GREATER PLAN 
WHILE enjoying a balanced, fulfilling life and a flourishing business?

 
Are you like us?
You've done a lot of business and personal development (there are so many beautiful courses, seminars and workshops available to us nowadays) and you might even have hired private coaches.


You've invested a lot of time, money and energy in bettering yourself and boosting your business

You've opened yourself to the many profound teachings about the law of attraction, consciousness, spirituality, etc.


Have you, like us, been struggling with the PRACTICE part and...
Feeling that, despite all of this work, deep inside, something is amiss and that there is a greater role you're here to play?


Realising that, in this hubbub, you just can't seem to gain the clarity about your real Life Mission and/or to get it going?
Getting overwhelmed at times, noticing that it has started to affect your confidence and that stress and frustration are creeping in?

BOTTOM LINE...

You just know that you're not in a good place, that you must change something - and that NOW is the time for you to get out of this rut!


The real question is 'HOW' ?? 
Quite frankly, it is not that we don't want to apply what we know - it is that, sometimes, we just don't know HOW to go about it! Is that the case for you too?
 So, if, like us...
You've been looking for ways to obtain more CONCRETE RESULTS using powerfully what you know, and


You'd love to have more CONCRETE TECHNIQUES on HOW to implement all of this rich knowledge into your daily activities


Then you'll be excited to hear about what follows! 
It's about...


HOW,  from all of this 'knowledge',
do we get CONCRETE RESULTS? 
Having more theory and information will not help, we now know that!
... so WHAT WILL?


PRACTICE - PRACTICE - PRACTICE !
That's IT!
 
AND... the GOOD NEWS is that
World INLIGHT Partners (WIP) brings a SOLUTION to YOU: 
A new Success Support System that ensures EXPEDITIOUS AND CONCRETE RESULTS! 

It's a revolutionary approach, convenient and highly effective through ONLINE Practice Sessions. These monthly virtual gatherings are open to anyone who desires to reach a New Dimension of Success:
JOY + COMMITMENT = FREEDOM = FULFILLMENT = SUCCESS
THE NEXT PRACTICE TIME SESSION (ONLINE) IS ON 
THURSDAY November 28th, 6:30PM TO 8PM CEST TIME
Join in!
Come and practice with us: 
we will show you the HOW  and support you!

CLICK HERE to discover what platform WIP brings to awakened influencers like YOU. 

US TOO, WE WANT RESULTS!
Once for all, our incredibly rich knowledge produces CONCRETE RESULTS, thanks to the clear and simple Practices on HOW to use precisely the power of our consciousness and spirituality in our daily activities.
YOUR entire life AND business will also be propelled into the New Dimension 

Check out what Muna Mogorosi, CEO of Netrising Projects, from Johannesburg, South Africa, 
has to share after only 4 months into the WIP Practices - click here for the video

---
WHAT DOES A 'PRACTICE TIME SESSION' LOOK LIKE

AND WHAT  WILL YOU GET?
During the session:

You have the WHAT (the knowledge). We provide the HOW (concrete Practices)*
During each Practice Time Session, we share one specific practice and show you HOW to make it part of your daily routine - AND we do it with you!
*A new Practice is transmitted each month, allowing each one of us to build up towards our own breakthrough and transformation.

You gain confidence and inspiration to finally get in action to create the Life that you really want, build and/or grow the business that you know you're here to lead - faster and easier than ever before, this time with more power. 
After the session:
We want to make sure that you get CONCRETE RESULTS: we SUPPORT and ENCOURAGE you weekly via a short audio recording* that provides you with additional tools, techniques and real life examples for ways to work/play with the Practice
*This is made available to those who are committed to their transformation and train with us monthly.


NOTE: We GUARANTEE RESULTS if you apply the WIP Practices daily, just as we guarantee no result at all if you just show up once in a while, when you think about it or when you're facing a challenge. 

---
WHO IS THIS FOR?
Whether you are a mega successful entrepreneur, the CEO of a large company, an employee, an entrepreneur getting started, a mom at home or the President of a country... the question is:
ARE YOU READY to access a whole new state of being, a whole new vibration,
a whole new level of freedom?

ARE YOU READY, WILLING AND COMMITTED TO OPEN TO
A WHOLE NEW DIMENSION OF SUCCESS?
In other words, this event is open to anyone who's been seeking to go deeper and would find value. Please pass on the invite to those whom you know would resonate. 
---
---
RESERVE YOUR SPACE FOR THIS UNIQUE TRAINING TODAY!
 The link to the virtual room will be sent to you the morning of the event

**Number of participants limited**
This webinar will be hosted by the founder of the WIP movement and creator of the profound techniques shared in each and everyone of the WIP Practice Time Sessions: International Speaker, Business Coach and Spiritual Mentor Stéphanie Rottet. 
The Leaders of WIP Johannesburg, Business Implementation Coach, Nikki Sing and WIP Amsterdam, Clarity Specialist in Business, Henriette Versteijnen will be co-hosting.

We look forward to welcoming you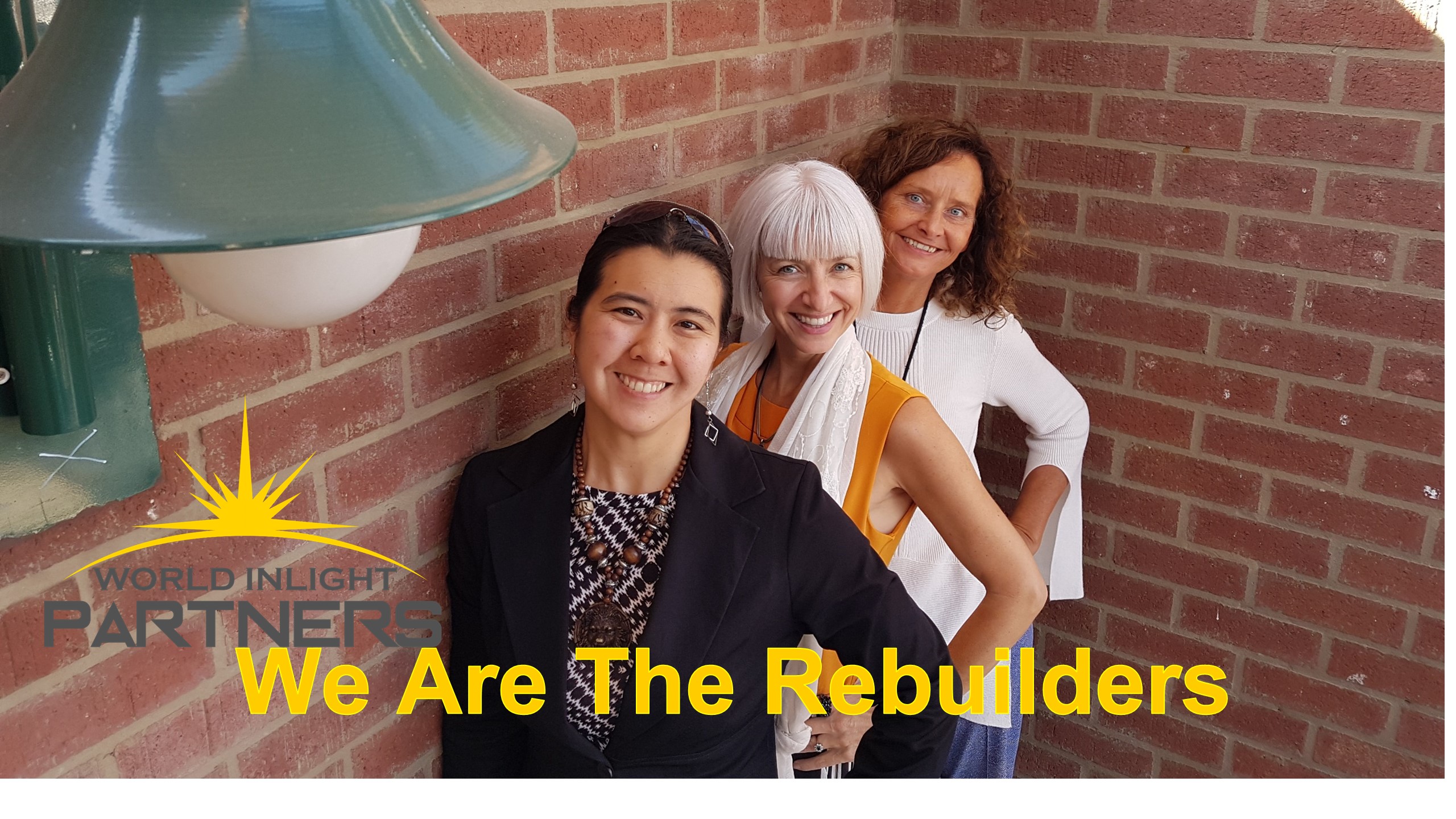 Left to right: Nikki, Stéphanie and Henriette
---
---
WE'D LOVE TO BE IN TOUCH WITH YOU!
World INLIGHT Partners is powered by THE LOVE ARMY, an army of awakened influencers who can't wait to welcome you in the troops and support YOU to access yet a New Dimension of Freedom and Success!


Website:  visit www.worldinlightpartners.com

Come and say hello to us on Facebook:
Our group page: World INLIGHT Partners - powered by THE LOVE ARMY™

Meet the WIP Coaches: Nikki Sing (WIP Johannesburg) - Henriette Versteijnen (WIP Amsterdam) 
Meet WIP Founder and Spiritual Business Coach: Stéphanie Rottet (Switzerland) - or here on LinkedIn
When & Where

From Your Home (ONLINE gathering)




Thursday, November 28, 2019 from 6:30 PM to 8:00 PM (CET)
Add to my calendar
Organizer
Stéphanie Rottet has shared the stage with some of the most successful and inspiring world shakers, celebrities, business and wealth experts of our time.
As a Business Coach, Spiritual Mentor and International Speaker, she has inspired and trained entrepreneurs around the world by sharing her breakthrough strategy for ACHIEVING SUCCESS IN THE NEW DIMENSION, which leads to success on a personal, professional AND planetary level!
With the launch of the global movement World INLIGHT Partners (a.k.a 'The Love Army'), today Stéphanie and a whole army of INLIGHTened Leaders are spreading the good news that there is another Dimension to life, business and success - and they show HOW to access this 'New Dimension'. They demonstrate that True Power and Ultimate Wealth come from the decisions we make, the actions we take, the words we speak, the intentions we set and the moves we make - and that when Business is done with Heartelligence, in alignment with our True Nature and the Greater Purpose to bring healing and transformation to our World... WE KNOW 'TRUE SUCCESS'!
Prior to her career as a coach, Stéphanie obtained a Master Degree in Business and led the Sales and Marketing department of different companies in Canada. Today, she is bridging 15 years of Business and 15 years of Spirituality.