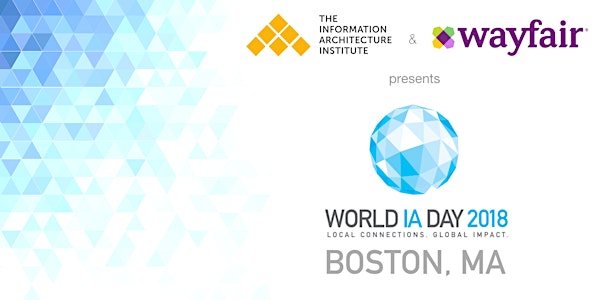 World IA Day Boston 2018
When and where
Location
HubSpot 2 Canal Park Cambridge, MA 02141
Description
The IAI and Wayfair presents: World IA Day Boston 2018
This is a free design conference in Boston that celebrates the organization and structure of information for usability, understandability, desirability, and accessibility.
The goal for this day is to promote the practice and education of Information Architecture. You will find this day useful if you're involved in: design, development, products, services, digital strategies, and interested in anything that involves the organization of information.
This is an event that takes place in all corners of the globe from Los Angeles to London, from Stockholm to Sydney, and from Barcelona to Boston. By thinking globally, we're recognizing that the human condition is universal and we can improve and grow together.
Agenda:
Registration 8:30 am – 9 am

Margot Bloomstein (Opening Keynote) 9 am ​- 10 am ​

​15 min break​ ​​

Alexandra Chandler 10​:15 am ​- ​11 am

15 min break

Dana Chisnell 11:15 am -​ 12 pm

​12pm - 1:00 pm - lunch​ provided​

Eduardo Ortiz 1:​00pm - 1:30 pm

Adam Connor - ​1:30 pm -2:00 pm

​​15 min break

Nathan Felde -​ ​2:15 pm - 2:45 pm ​​

Aaron Irizarry - 2:45 pm - 3:15 pm

​​15 min break

Christina Wodtke (Closing Keynote) - 3:30 pm – 4:30 pm
Code Of Conduct
Our conference is dedicated to providing a harassment-free conference experience for everyone, regardless of gender, gender identity and expression, age, sexual orientation, disability, physical appearance, body size, race, ethnicity, religion (or lack thereof), or technology choices. We do not tolerate harassment of conference participants in any form. Sexual language and imagery is not appropriate for any conference venue, including talks, workshops, parties, Twitter and other online media. Conference participants violating these rules may be sanctioned or expelled from the conference at the discretion of the conference organizers.