Description
*Visit the World IA Day Manila website, for more information.
Listen to real-life challenges and advice for organizing and architecting information in the Philippines - whether it's the userflow of an e-commerce platform or qualitative data for a social welfare project.
---


Recognizing Useful Design
World Information Architecture Day is a one-day, annual celebration -- composed of simultaneous meet-ups and conferences by, and for, people who care about architecting (managing, planning and structuring) information.
World IA Day started in New York and 14 other cities in 2012, and has now spread to 66 cities, where enthusiasts can listen to and share their own thoughts on how to improve their work (websites and apps, maps, workflows, services and systems) through well-architected information.
World IA Day in the Philippines
Here in Manila, we invited local practitioners from different fields (Design, Data, Development and Content) to share how they work on their widely-used projects.
We often read about experts abroad who apply IA and UX in their work, but it would also be uniquely helpful to see how these processes are applied locally, and to talk to the Filipinos who are making their own progress (or facing their own challenges) in trying to improve the services and products that we use.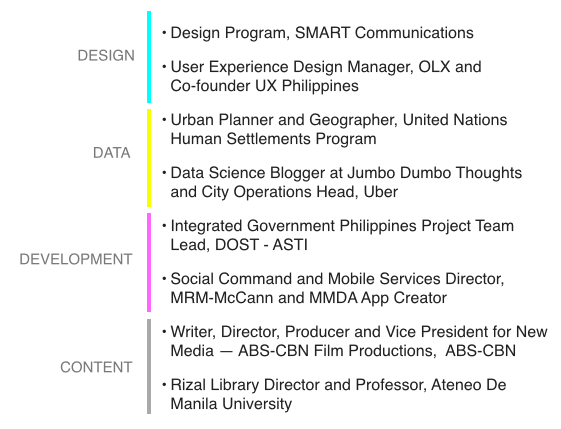 World IA Day Manila is for a community who wants to learn from each other; from how different fields manage the streams of information they encounter day-to-day, so please bring an open mind and a healthy willingness to share what you know, too.
The Philippines is full of technical talent, and World IA Day Manila is a venue where we can discuss how to put that talent to good use.
World IA Day Manila, is presented by Priority Studios, with community partner A SPACE Philippines.

FAQs
Is my registration/ticket transferrable?
Tickets are free, but space is limited. If you suddenly find that you won't be able to make it, we'd like to ask that you inform us so that we can free up ticket slots for other people who may want to go as well. Thank you!
As a bonus, thanks to World IA Day's global sponsors, all registered attendees get:
3 Months of access to myBalsamiq

3 months of an Invision full license

60-day full-featured trial of Proto.io
[Featured image created by web and graphic designer Rodrigo Acuzar, Jr. of Just Go, Pilipinas!]