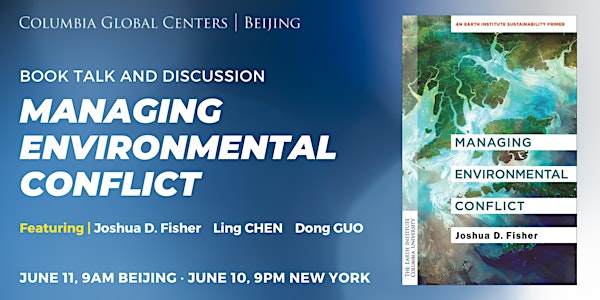 World Environment Day 2022: Managing Environmental Conflict
This book is a primer on the causes of and solutions to environmental conflicts.
About this event
Time: June 10, 2022, 9:00PM-10:30PM (New York) | June 11, 2022, 9:00AM-10:30AM (Beijing)
Event language: English
The annual World Environment Day is approaching, a perfect time for us to celebrate the planet and put a spotlight on the perils it is facing. This year's theme is "Only One Earth", which stresses the need for the world to unite in order to improve the environment. A closer look at the causes and solutions to environmental conflicts may help us illuminate what the future holds. Columbia Global Centers | Beijing and Columbia University Press are pleased to present the book talk and discussion on Managing Environmental Conflict and cordially invite you to join and share your thoughts.
Nowadays, with the deterioration of global and regional environmental problems such as climate change, water shortage, ozone layer destruction, marine pollution, etc., environmental conflicts caused by resource allocation and pollution control have become an important factor leading to social instability. Events including the fight for natural resources in the Amazon Basin, the oil spill in the Gulf of Mexico, and Japan's plan to release Fukushima water into the Pacific have all triggered confrontations and conflicts in local and regional communities. In reality, conflicts frequently arise over environmental issues such as land use, natural resource management, and laws and regulation, emerging from diverging interests and values among stakeholders.
To avoid conflict escalation, we need to learn the theory and practice of collaborative approaches to managing environmental disputes, experiment with new approaches to collaborative conservation in critical ecosystems, and develop and test a variety of approaches to conflict management.
About the Book
Managing Environmental Conflict is a primer on the causes of and solutions to such conflicts. Joshua D. Fisher explains the core concepts in collaborative conflict management and presents a clear, practical, and implementable framework for understanding and responding to environmental disputes. He details strategies to bring stakeholders together in pursuit of collective solutions, emphasizing ongoing processes of dialogue, analysis, action, and learning. The primer examines why and how system dynamics can constrain or expand the possibility of constructive management of conflicts. It features a case study from the Amazon Basin, where local communities, extractive industry operators, conservationists, and land managers have often clashed over access to natural resources, drawing out lessons to illustrate how to adapt the conflict management framework to distinct contexts.
This book synthesizes knowledge, methods, and practices spanning consensus building, collaborative governance, complex adaptive systems science, environmental conflict resolution, and environmental peacebuilding. Its presentation of this important and timely topic will be invaluable for academics and practitioners alike, including decision-makers, scientists, and conflict management professionals.
Speakers
Joshua D. Fisher is a research scientist at the Earth Institute at Columbia University, where he is also the director of the Advanced Consortium on Cooperation, Conflict, and Complexity. He is also a specially appointed professor at Hiroshima University's Network for Education and Research on Peace and Sustainability. He works with public, private, and nonprofit partners to develop conflict-sensitive approaches to land-use planning and natural resource management and has worked in environmental management around the globe, including in sub-Saharan Africa, Latin America, the Asia-Pacific region, and on public lands in the western United States.
Ling CHEN is the Associate Professor at the School of Public Policy & Management and Deputy Director at the Center for Industrial Development and Environmental Governance (CIDEG) at Tsinghua University. Her fields of interest include policy process studies, science and technology policies, and industrial innovation policies. Professor Chen teaches the required course for doctoral students "Public Policy II", the optional course for doctoral students "National Governance Theory and Practice Frontier" and the required course for postgraduates and MPA students "Public Policy Analysis" at Tsinghua University.
Moderator
Dong GUO is the Associate Director of the Research Program on Sustainability Policy and Management at Columbia University, where he also serves as an associate research scholar. Guo is an adjunct faculty at Columbia's School of International and Public Affairs and the School of Professional Studies, where he has been teaching graduate-level courses in Microeconomic Policy and Analysis and Sustainability Metrics. He is also a senior advisor for recruitment at the School of Professional Studies, and formerly served as the director of the Earth Institute China Initiative at Columbia University. Guo is a non-resident fellow at the Asia Society Policy Institute in New York. Guo helped design an urban sustainability measurement system which produces annual rankings of 100 Chinese cities based on their sustainability performance. He has co-edited Blue Books on Sustainable Development in China, co-authored The Financial Ecosystem— the Role of Finance in Achieving Sustainability (with Satyajit Bose and Anne Simpson) and The Sustainable City, 2nd Edition (with Steven Cohen).