This Conference is organized by an international cooperation of encephalitis and autoimmune encephalitis organizations.
About this event
The World Encephalitis Day (WED) 2020 Conference welcomes survivors, caregivers and medical professionals to attend and interact while celebrating World Encephalitis Day. In this way, we hope to improve the world's understanding of the impact of encephalitis and autoimmune encephalitis. Register to attend today!
____________________________
STEP 1: Complete your WED 2020 Conference Registration
The WED 2020 Conference Registration Fee will be $170 US per person. This fee includes:
your attendance at World Encephalitis Day presentations at this 3-day Conference;
Friday evening Welcome Reception (light snacks served);
Saturday coffee break, boxed lunch and Texas-style buffet dinner; and
Sunday coffee break and boxed lunch.
Your World Encephalitis Day E-Shirt (when registered on or before 31 January 2020).
STEP 2: Book your WED 2020 Conference Hotel room
2330 W. Northwest Highway
Dallas, Texas 75220
All activities for the World Encephalitis Day 2020 Conference will happen at the MCM Eleganté Hotel. WED attendees are offered a very special room rate of $99 US per night (before taxes and fees). This rate includes:
Non-smoking hotel room, either 1 king size bed or 2 double-queen size beds are available
Two complimentary adult drink ticket coupons per night
FREE Full Breakfast each day with Eggs Cooked-To-Order
FREE Shuttle to both Dallas Love Field & DFW International Airports
FREE Shuttle Service within a five mile radius of the hotel
Click MCM Eleganté Hotel for direct access to our WED 2020 Special Room Rate. For attendees who plan to arrive one day early or stay one extra night, this Special Rate will be available for one day before and one day after the WED 2020 Conference.
_______________________
For the very first time, this Conference is brought to you with pride by:
Autoimmune Encephalitis Alliance , The Anti-NMDA Receptor Encephalitis Foundation , Encephalitis 411, the Encephalitis Society, HESA (Hashimoto's Encephalopathy (SREAT) Alliance), and Encephalitis Global.
Please join us in Dallas Texas for history in the making!
WED 2020 Conference Program
Content for the WED 2020 Conference will be published and updated here in real time as activities and speakers are confirmed.
Content confirmed to date includes:
Maddy Boehme, speaker, AE survivor
Stephen Chock, , PhD, Psychologist, PhD, Therapy and evaluation of psychological and neurocognitive function, Dallas TX.
Sonia Gramcko , Musician, survivor
Robert Haley, MD, epidemiologist and West Nile authority, UT Southwestern Medical Center
Kristi Kelley , Speech Pathologist at Baylor Institute for Rehabilitation
Angela Madden, speaker, AE Caregiver
Chris Maxwell , author, peer navigator and survivor
David Salisbury, Psy.D., Clinical Director , Pate Rehabilitation
Jacob Savoie, filmmaker and survivor
Steven Vernino, MD, Neurology/Autoimmune Neurology, UT Southwestern Medical Center
Cindy Wang, MD, Pediatrics/Autoimmune Neurology, UT Southwestern Medical Center
Robert Weir, MD, Neuro/Psychiatry , UT Southwestern Medical Center
Brett White, PGA and survivor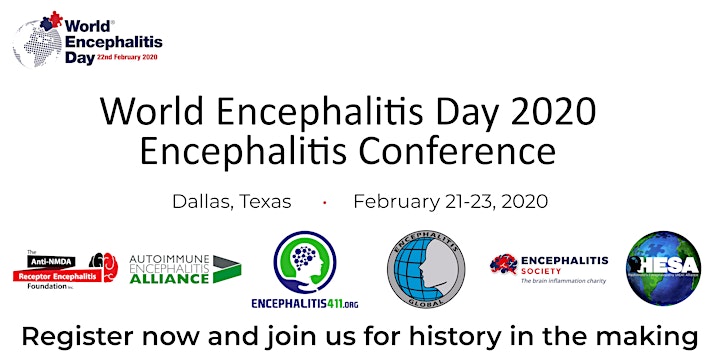 Organizer of World Encephalitis Day Conference 2020