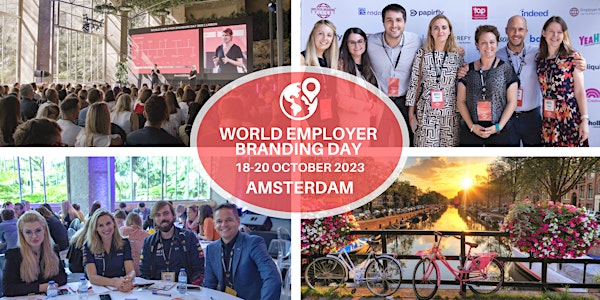 World Employer Branding Day 2023
CELEBRATING EMPLOYER BRAND EXCELLENCE AROUND THE WORLD
By Employer Branding College
Date and time
October 19 · 9am - October 20 · 2pm CEST
Location
DeLaMar Theater Marnixstraat 402 1017 PL Amsterdam Netherlands
About this event
1 day 5 hours

Mobile eTicket
To pay online by credit card, please "Choose the pay 'PAYPAL" option and if you don't have an account it will allow you to check out as a guest and pay by credit card or debit card on the second screen.
********************************************************************************************************
AGENDA
18 October 2023: Pre-Event Workshops Day
19 October 2023: World Employer Branding Day- International Employer Branding Summit & Evening Cocktail Party
20 October 2023: Amsterdam Discovery Guided Walking Tour
Join us in 2023 as we unite the employer branding global community IN-PERSON to share knowledge, ideas and opinions to advance the 'Business of Employer Branding.'
World Employer Branding Day 2023 will bring together more than 500 industry leaders and 40 country partners from 50+ countries for 3 INCREDIBLE days of INSPIRATIONAL IDEAS, NETWORKING & ACTIONABLE LEARNINGS from many of the world's leading brands.
There is no more important function in business today than strategic employer brand leadership. The major challenges companies face today all have people at their core. Whether it is break through discoveries in health or science or advances in technology that are changing the way we work, connect and live, it is attracting and retaining the right people that lead to an organisation's success or failure.​
Employer branding is the #1 priority for organizations as they navigate this new business landscape and 2023 is the industry's biggest year in history to make a paradigm shifting impact on businesses.
With a strong focus on networking with industry leaders, you will be inspired by actionable case studies of how the world's leading employers are connecting and engaging with their people for success.
Join us in person at World Employer Branding Day in October 2023 as we unite the employer branding global community to share best practice, ideas and opinions to thrive in a post-pandemic world.
DESIGNED FOR
This event will appeal to all levels including CEO's, Business Owners, HR, Talent, Recruitment, Marketing, Communications, PR and Employer Branding professionals.
THE AGENDA
Conducted in English
30+ International speakers from many of the world's leading brands.
Agenda updates will be published on the official World Employer Branding Day website at www.worldemployerbrandingday.community/agenda
THE KEY THEMES
Strategic Leadership: Breakthrough strategies to engage senior leaders to adopt employer branding as a people-first strategy to thrive in a post-pandemic world
Rethinking Employer Branding: One in - all in! Building employer brand leadership capability across the organisation so that all leaders are invested in your employer brand
Empowered Networks: Fostering an authentic, diverse, equitable and inclusive culture to attract and retain talent that will thrive in your organisation
People, AI & Technology: Strategies to find the right balance between technological advances, efficiencies and a human centred approach to employer branding
Employer Branding Networks: Building an ecosystem of trusted partners and collaborators to ensure your strategy is innovative, agile and relevant
Personalised & Motivating Experiences: Personalising the employee experience to foster well-being, engagement and performance
Future Proofing your Employer Brand: Agile strategies to ensure your employer brand strategy adapts to market threats and challenges head on
Measuring the Impact: Measuring and tracking employer branding data that matters
Please read before purchasing tickets
By purchasing a ticket(s) to World Employer Branding Day 2023 you agree to the terms & conditions and privacy policy click here >
Speakers and agenda may change and any changes will be advertised on the event website as soon as practical.
About the organizer
The Employer Branding College was founded in 2011 and has continued to pioneer employer brand leadership education and Certification ever since. With a purpose to build employer brand leadership capability in organizations around the world to create a better and fairer world of work, we are proud to be celebrating our 10th Year in 2021. We have delivered world class training programs for Senior-Executive level leaders in more than 70 countries.
Thousands of leaders from more than 70 countries have participated in our individual and group training events and programs from organizations including Accenture, Mars, PwC, Coca-Cola, IBM, Mercedes Benz, Google, EY, Amazon, McDonalds, Facebook, H&M, Apple, Indeed, LinkedIn and IHG Hotels.
​Our focus is on providing a best-in-class education experience that develops the skills, competencies, networks and experiences required to lead employer branding as a strategic business function, not limited to talent acquisition.
We strongly believe that what you promise to current and future employees and partners must be matched by the experience you provide and how they value their experience over the long term.
​We enjoy strong links with academia and industry ,and in 2015 we founded World Employer Branding Day, the world's largest employer branding event that unites the world of employer branding "To advance industry practice by connecting leaders, agencies and ecosystems around the world."​
At World Employer Branding Day 2020 more than 1200 leaders from 59 countries participated and engaged with 95 International Speakers and 60 of the World's leading employer branding agencies and service providers.​
With access to the world's largest employer branding library of more than 600 books, case studies, published articles, whitepapers and research reports, leaders in our programs study the latest workforce trends and learn from the latest best practices and case studies.
​Our blended programs offer leaders the opportunity to apply their knowledge in practical group assignment projects with other leaders from around the world and access to 1-1 and 1-group coaching with industry experts.
​With an active Alumni consisting of Business Owners, CEO's, Executives and Senior Managers from more than 70 countries, our Certification program is designed to be the global standard and is widely recognized and trusted by companies around the world.