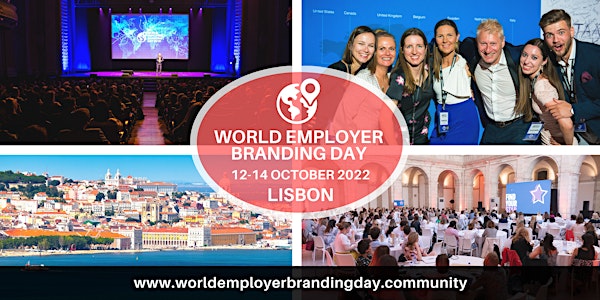 World Employer Branding Day 2022
CELEBRATING EMPLOYER BRAND EXCELLENCE AROUND THE WORLD
When and where
Location
Estufa Fria Parque Eduardo VII 1070-051 Lisboa Portugal
About this event
Due to limited tickets remaining for World Employer Branding Day 2022, tickets can only be paid by credit or debit card at the time of registration.
Choose the pay BY PAYPAL option and if you don't have an account it will allow you to check out as a guest and pay by credit card or debit card.
If you require an invoice before registering, please contact Andrea at andrea@employerbrandingcollege.com
*********************************************************************************************************
MICROSOFT—UNILEVER—MARS—BOSTON CONSULTING GROUP (BCG)—VODAFONE—DELOITTE—BARCLAYS—AMAZON—THERMO FISHER SCIENTIFIC—BAXTER & MANY MORE OF THE WORLD'S LEADING BRANDS
AGENDA
12 October 2022: Pre-Event Workshops Day
13 October 2022: World Employer Branding Day-Papirfly International Employer Branding Summit & Papirfly Evening Cocktail Party
14 October 2022: Lisbon Discovery Tour
14 October 2022: Farewell Lunch (optional)
Join us in 2022 as we unite the employer branding global community IN-PERSON to share knowledge, ideas and opinions to advance the 'Business of Employer Branding.'
World Employer Branding Day 2022 will bring together more than 500 industry leaders and 40 country partners from 45+ countries for 3 INCREDIBLE days of INSPIRATIONAL IDEAS, NETWORKING & ACTIONABLE LEARNINGS from many of the world's leading brands.
The past 20 months has thrust the importance of employer branding into the spotlight as talent shortages are causing change, not only in a company's day to day operations, but to the business model they have relied upon for decades to drive success. Employer branding has become a #1 priority for organizations as they navigate the new talent landscape.
Today talent are actively seeking companies that can deliver on what they promise. In a hybrid world, the competition to attract, engage and retain talent is magnified and overcoming these challenges requires a new way of working, thinking and a growth mindset with people at the centre of strategy and design.
With a strong focus on networking with industry leaders, you will be inspired by actionable case studies of how the world's leading employers are connecting and engaging with their people for success.
DESIGNED FOR
This event will appeal to all levels including CEO's, Business Owners, HR, Talent, Recruitment, Marketing, Communications, PR and Employer Branding professionals.
THE AGENDA
Conducted in English
35 International speakers from many of the world's leading brands including Microsoft, MARS, Unilever, Boston Consulting Group (BCG), Vodafone and many more.
Agenda updates will be published on the official World Employer Branding Day website at www.worldemployerbrandingday.community/agenda
THE KEY THEMES
Authentic Leadership: Adopting a people-first culture to thrive in a post-pandemic world
Talent Everywhere: Identifying & leveraging talent pockets of excellence that exist around the world
Inspired Communities: Using the network effect to build a community of advocates across key stakeholder groups
Intelligent Technology: Solving complex talent challenges using data & insights
The Employer Branding Ecosystem: Building competitive advantage with employer branding
Hybrid Working: Personalising the employee experience to foster agility, positive sentiment and performance
Employee Empowerment: Where to focus your efforts & investments. What's next for the employer branding industry?
The Future of Employer Branding: Building a diverse, equitable and inclusive environment that develops high levels of trust
Please read before purchasing tickets
By purchasing a ticket(s) to World Employer Branding Day 2022 you agree to the terms & conditions and privacy policy click here >
Speakers and agenda may change and any changes will be advertised on the event website as soon as practical.
To attend the farewell lunch on 14 October 2022, delegates must have a ticket to attend the events on 12-13 October 2022.